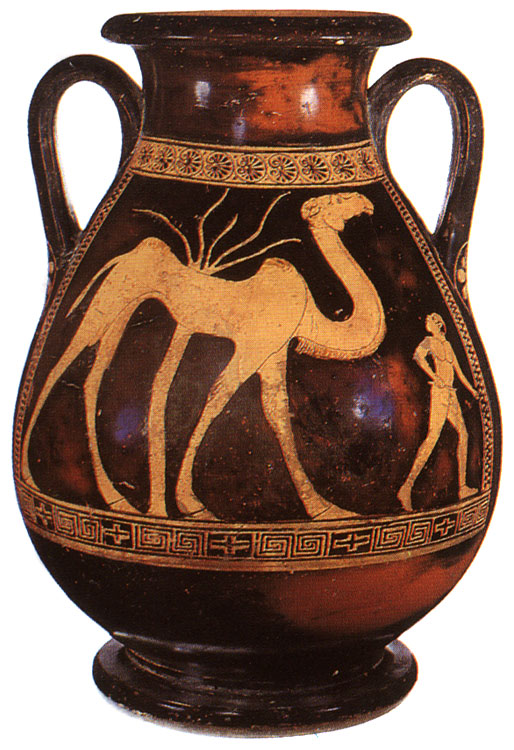 The drover with a camel.
Red-figure pelike. Attic.
By the Argos Painter.
Clay. Ca. 480 BCE.
Height 36 cm.
Inv. No. Á. 1570 (St. 1603, Á. 614).
Saint Petersburg, The State Hermitage Museum
Origin:
Unknown; from the Campana collection, acquired in 1862.
Description:
Side A
represents a contest (
agon
) for musicians performing a kitharodia, singing accompanied by a lyre. A kitharodos is standing on a podium wearing a
chiton
under his mantle.
To his right, a bearded judge is sitting on a stool holding a staff in his left hand. The two central figures are flanked by two spectators, also wearing the himation and leaning on staffs. Originally, the Pythian Games comprised only the performance of a hymn in honour of Apollo. On side B, a rare, somewhat African scene: a camel and, behind it, a man of Negroid type, his head turned towards the camel to be sure that it is following him. In his right hand, he holds a staff. The animal is portrayed in great detail. The vase bears a graffito.
L. Utkina, D. Vanhove
Literature:
J. Â. Beazley, ARV2(Oxford, 1963) no. 11 p. 288. A. A. Peredolskaya, Krasnofigurnye Atticheskie vazy (Leningrad, 1967) no. 61 p. 59, pl. XLI, CLXX, 9.
Credits:
© 1993. Photo, text: OLYMPISM IN ANTIQUITY. Olympic Museum Lausanne. Bertelsmann UFA. Industria Gráfica S. A. Barcelona, 1993, p. 69 cat. no. 12.
© Photo — M. Verhasselt (Brussels-Dilbeek).
© 1993 — Comité International Olympique.