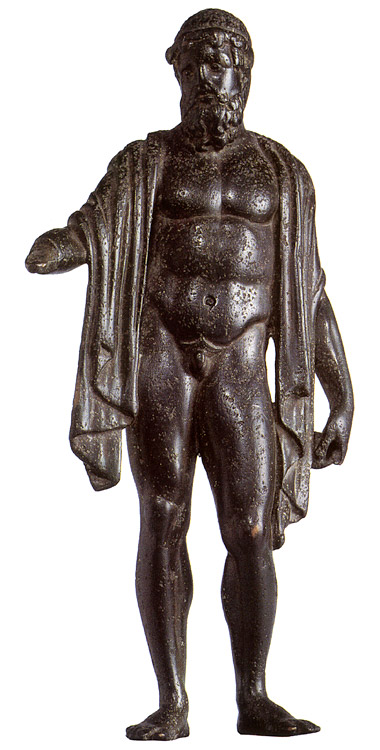 Statuette of Poseidon.
Bronze. 470 BCE.
Height 15 cm.
Inv. No. Á. 286.
Saint Petersburg, The State Hermitage Museum
Origin:
Unknown; from the Laval collection, acquired in 1852.
Description:
The god is represented standing. The right hand and the attributes in the left hand have been lost. The god's shoulder is covered with a cloak whose numerous soft, deep folds form a zigzag ornamentation. Poseidon is represented with a long, curly beard and hanging moustache. The head, encircled with a headband, is turned to the right. The hair, which frames the face, is pulled back in a small plait. The oblong, prominent eyes were originally inlaid. The musculature is attractively modelled. The abdomen and the contour of the hips are well drawn. A magnificent example of the severe style, produced by a workshop in southern Italy.
N. Gulaeva
Literature:
Stéphani, Bull. Ac. Sc. de St-Petersbourg 17: M2L. gr.-rom. III no. 621; O. Waldhauer, Eine Poseidon-statuette der Ermitage, AA (1928) pp. 518—522, pl. 1—3; Bronzes antiques, (note: illustration 6 Exhibition catalogue) (Leningrad, 1973) no. 8 p. 12. In Polyklet. Der Bildhauer der griechischen Klassik, Liebighaus-Museum alter Plastik (Frankfurt-am-Main), 1990) no. 200 p. 662, this statue is identified with Zeus.
Credits:
© 1993. Photo, text: OLYMPISM IN ANTIQUITY. Olympic Museum Lausanne. Bertelsmann UFA. Industria Gráfica S. A. Barcelona, 1993, p. 74 cat. no. 17.
© Photo — M. Verhasselt (Brussels-Dilbeek).
© 1993 — Comité International Olympique.