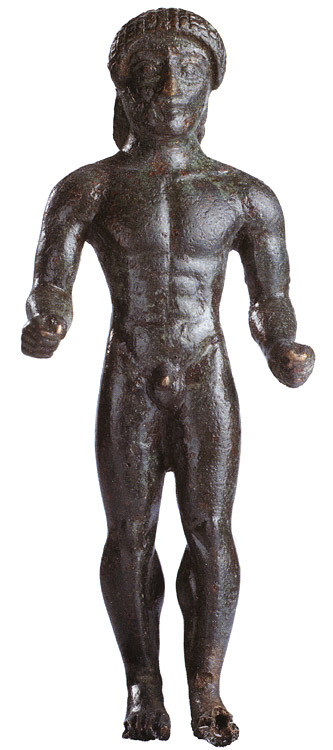 Statuette of an athlete.
Bronze. 520—485 BCE.
Height 9.5 cm.
Inv. No. Á. 725.
Saint Petersburg, The State Hermitage Museum
Origin:
Unknown; from the collection of M. and F. Golitsin, acquired in 1887.
Description:
The athlete, of the familiar archaic type, is naked. He is standing with the left leg forward expressing a desire for movement.
The two arms, hands clenched, are bent forward. The mass of the hair is treated decoratively: it follows the simplified form of the head to form a sort of skullcap. Stylized locks in rows are arranged in an arc around the forehead and down to the nape of the neck.
The statuette is characterized by the exaggerated broadness of the shoulders, the prominence of the buttocks and the excessive thickness of the thighs, a rather flat face, prominent cheeks, large eyes and a solid jaw. The pectoral and abdominal muscles are marvellously accentuated.
N. Gulaeva, D. Vanhove
Literature:
Bronzes antiques. Exhibition catalogue (Leningrad, 1973) no. 5 p. 12.
Credits:
© 1993. Photo, text: OLYMPISM IN ANTIQUITY. Olympic Museum Lausanne. Bertelsmann UFA. Industria Gráfica S. A. Barcelona, 1993, p. 79 cat. no. 22.
© Photo — M. Verhasselt (Brussels-Dilbeek).
© 1993 — Comité International Olympique.