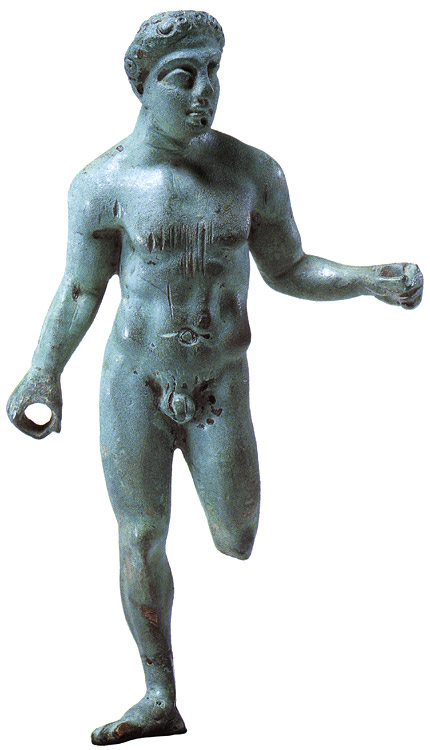 An athlete.
Bronze. Second half of the 5th century BCE. Thessalian.
Height 11.95 cm (with attachment tang: 12.25 cm).
Private collection, Geneva
Origin:
No indication.
Description:
Solid-cast by the lost wax process and worked in the cold. Each clenched hand pierced with two cylindrical holes.
Condition: patina a light green, a surface that was originally very smooth; traces of blackish earth, the bronze visible where the right shin has received a blow. Left leg missing below the knee and the tang
1
below the right foot broken and missing in part. This statuette with its powerful body and earthy heaviness conforms to the two main characteristics that Biesantz ascribes to Thessalian output
2
. Somehow, this author perceives a rapport as to general build and feel with a bronze in Berlin
3
said to be from Thessaly, though dated around 470 B.C. and thus considerably earlier. Also, his rather gauche provincial heaviness is in harmony with the spirit of the sculpting which emanates from Thessalian grave reliefs. There are no satisfying parallels and no indication as to what he was holding in his hands.
—————————
1 Originally pierced with a round hole for affixing by means of a nail peg to the stand, probably of bronze. Presently missing from the middle of the hole downwards.
2 H. Biesantz, Die thessalischen Grabreliefs (1965); p. 160. 182.
3 Antiken Museum Misc. 8093: W.-D. Heilmeyer, Antikenmuseum Berlin (1988), pp. 150—1, no. 9.
G. Ortiz
Literature:
Exhibited and Published: Le Sport dans la Grèce Antique. Du Jeu à la Compétition, Palais des Beaux-Arts, Brussels, 23 January — 19 April 1992 (catalogues in French and Flemish); El deporte en la Grecia Antigua. La génesis del olimpismo, Centre Cultural ol the Fundació "la Caixa", Barcelona, 13 May — 9 August 1992 (catalogues in Spanish and Catalan); cat. no. 107 p. 243.
Credits:
© 1993. Photo, text: OLYMPISM IN ANTIQUITY. Olympic Museum Lausanne. Bertelsmann UFA. Industria Gráfica S. A. Barcelona, 1993, p. 82 cat. no. 25.
© Photographer — P. Goetelen (Geneva).
© 1993 — Comité International Olympique.