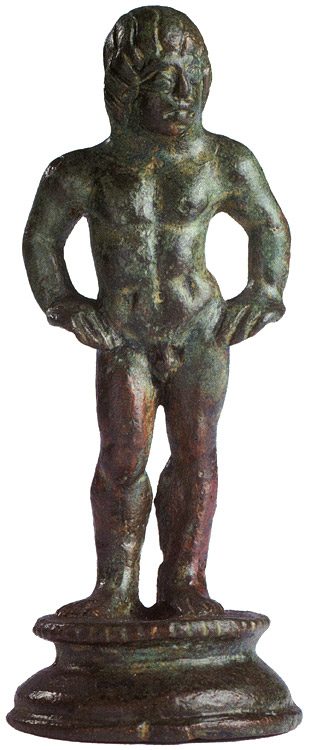 Statuette of an athlete.
Bronze. 4th BCE.
Height 8 cm.
Inv. No. Á. 193.
Saint Petersburg, The State Hermitage Museum
Origin:
Unkown; Etruscan, from the Pizzati collection, acquired in 1851.
Description:
This statuette of a standing naked athlete was the ornament from the top of a candelabrum. The athlete, with his pronounced musculature, is turning his head slightly to the left. He has his weight on his left leg and the right leg is projecting slightly forward. He is holding his arms away from his body and his hands are resting on his hips. The slightly sad and coarse face is framed by hair which ends in broad locks on the forehead. The modelling is fairly coarse and superficial generally.
N. Gulaeva, D. Vanhove
Literature:
Bronzes antiques. Exhibition catalogue (Leningrad, 1973) no. 135 p. 57.
Credits:
© 1993. Photo, text: OLYMPISM IN ANTIQUITY. Olympic Museum Lausanne. Bertelsmann UFA. Industria Gráfica S. A. Barcelona, 1993, p. 83 cat. no. 26.
© Photo — M. Verhasselt (Brussels-Dilbeek).
© 1993 — Comité International Olympique.