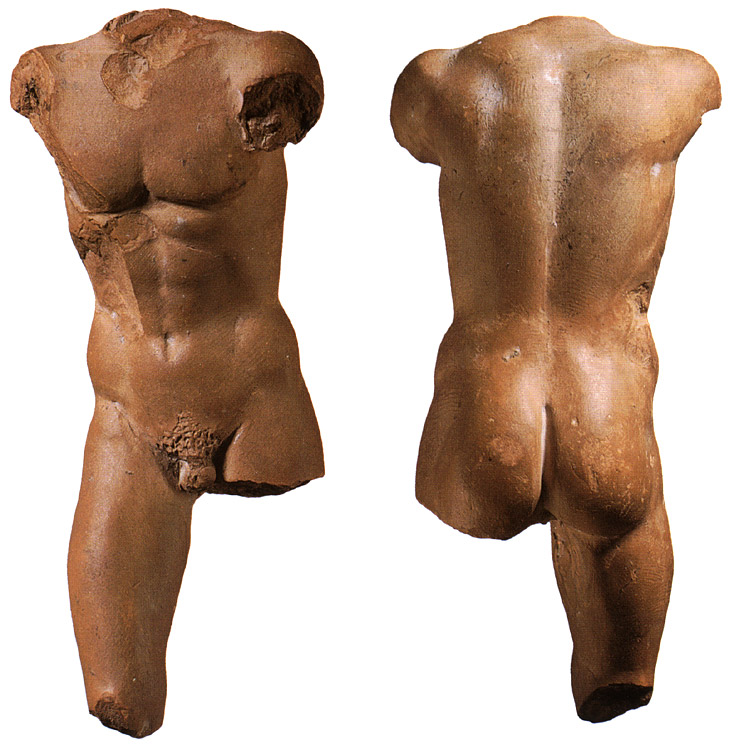 Torso of a young man.
Terracotta. 4th—3rd centuries BCE.
Height 9.3 cm.
Inv. No. Ï.1978.52.
Saint Petersburg, The State Hermitage Museum
Origin:
Unknown; from the necropolis at Kertsch, acquired in 1878.
Description:
The head and both arms are missing from this statuette. The right left is preserved up to the knee and the left leg up to the groin. The young man was probably resting on his left leg with the right leg projecting forward. The musculature of the body is very well rendered and the modelling fine. As it is a solid terracotta, it was probably modelled as a prototype for a mould.
L. Davidova, D. Vanhove
Literature:
Unpublished.
Credits:
© 1993. Photo, text: OLYMPISM IN ANTIQUITY. Olympic Museum Lausanne. Bertelsmann UFA. Industria Gráfica S. A. Barcelona, 1993, p. 84 cat. no. 27.
© Photographer — M. Verhasselt (Brussels-Dilbeek).
© 1993 — Comité International Olympique.