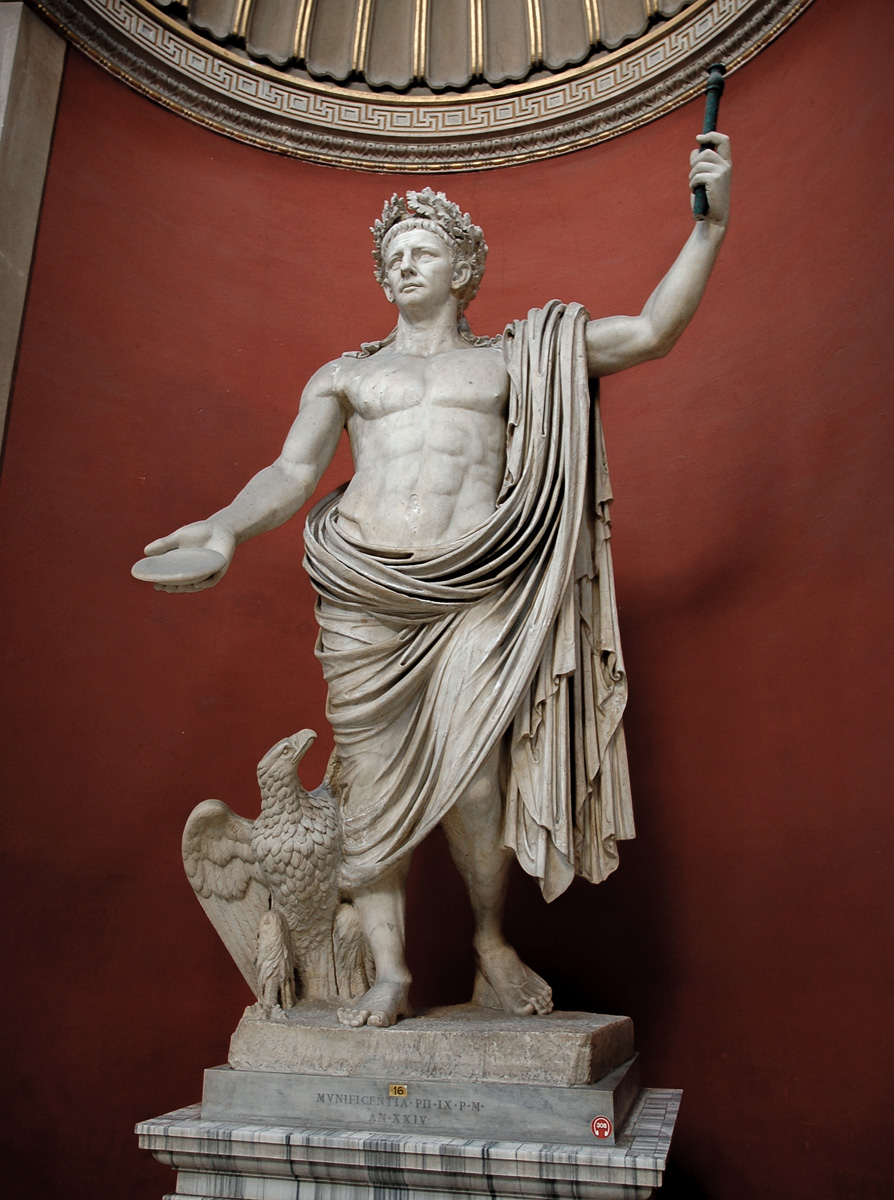 Statue of Claudius as Jupiter
White fine-grained marble.
Ca. 50 CE.
Inv. No. 243.
Rome, Vatican Museums, Pius-Clementine Museum, Round Room, 16
Photo by Sergey Sosnovskiy
Statue of Claudius as Jupiter.
White fine-grained marble.
Ca. 50 CE.
Inv. No. 243.
Rome, Vatican Museums, Pius-Clementine Museum, Round Room, 16
(Roma, Musei Vaticani, Museo Pio-Clementino, Sala rotonda, 16)
Description:
16. Statua colossale di Claudio nelle vesti di Giove
Venne ritrovata nel 1865 a Lanuvio (Civita Lavinia) e subito fu donata a Pio IX; probabilmente costituiva una delle statue onorarie allestite nel teatro locale. La testa triangolare, cinta dalla corona civica (con fogliette di quercia), la frangetta fitta, con ciocche appena divaricate sulla fronte, ed in genere tutti i lineamenti, molto realistici, permettono di riconoscere nel volto un ritratto maturo dell'imperatore Claudio, relativo al suo terzo tipo ufficiale e databile agli anni di poco successivi all'inizio del regno (37—54 d. C.). Egli è colto nella veste divina di Giove, con l'aquila ai suoi piedi, lo scettro nella mano sinistra e la patera nella destra; un lungo mantello, gettato dietro la spalla sinistra, ricade con un ampio umbo (risvolto del panneggio) a coprire il ventre e le gambe, per poi esser richiamato dietro il fianco destro. Tale assimilazione voleva ricordare che come Giove regna sull'Olimpo, così l'imperatore regna sul suo impero. Un'iscrizione conservata nella vicina Galleria Lapidaria (XXXVII, 6, inv. 6922; CIL XIV 2097) reca la dedica all'imperatore Claudio probabilmente di una statua — da parte del senato e del popolo lanuvino — databile al 42/43 d. C.: è possibile che questa lastra sia riferibile proprio al basamento della presente statua colossale o, comunque, che l'occasione della dedica e quella della statua coincidano.
Giandomenico Spinola
Literature:
Inv. 243;
G. Lippold, Die Skulpturen des Vatikanischen Museums, III 1, Berlin 1939, p. 137 n° 550 tavv. 40—42;
Das römische Herrscherbild: M. Wegner, Die Herrscherbildnisse in antoninischer Zeit, Berlin 1939, pp. 101, 284—285;
M. Stuart, Portraiture of Claudius, New York 1938, p. 46 e ss. e 69 n° 3;
B. M. Felletti Maj, Museo Nazionale Romano. I Ritratti, Roma 1953, pp. 67—68;
A. Giuliano, Catalogo dei ritratti romani del Museo Profano Lateranense, Città del Vaticano 1957, pp. 33 e 37;
W. Helbig, Führer durch die öffentlichen Sammlungen klassischer Altertümer in Rom, I, (4a ed.), Tübingen 1963, 45;
H. G. Niemeyer, Studien zur statuarischen Darstellung der römischen Kaiser, Berlin 1968, n° 95 tav. 34, 1;
P. Zanker, Studien zu den Augustus-Portaits. I. Der Actium-Typus, Göttingen 1973, p. 29 nota 35;
K. Fittschen, Katalog der antiken Skulpturen in Schloss Erbach, Berlin 1977, p. 58 note 8a e 10;
M. Bieber, Ancient Copies, New York 1977, p. 42 fig. 92;
Das römische Herrscherbild: A.-K. Massner, Bildnisangleichung, Berlin 1982, p. 136 nota 754;
E. D. Hertel, Untersuchungen zu Stil und Chronologie des Kaiser- und Prinzenporträts von Augustus bis Claudius, Bonn 1982, pp. 289—290;
L. Nista, in A. Giuliano (ed.), Museo Nazionale Romano. Le Sculture, I/1—I/11, Roma 1979—1991: I/7, p. 369;
C. Maderna, Iuppiter, Diomedes und Merkur als Vorbilder für römische Bildnisstatuen, Heidelberg 1988, pp. 18—19, 44, 157—158 n° JS 2 e pp. 160, 162, 168, 230 tav. 3, 1;
H. R. Goette, Studien zu römischen Togadarstellungen, Mainz am Rhein 1990, p. 23 nota 98;
G. Calcani, in RM, 98, 1991, p. 240 tav. 57, 3;
Ch. Vorster, Vatikanische Museen. Museo Gregoriano Profano ex Lateranense. Römische Skulpturen des späten Hellenismus und der Kaiserzeit. 1, Mainz 1993, p. 39 nota 12;
F. Canciani, in Lexicon Iconographicum Mythologiae Classicae, I—VIII, Zürich-München 1981—1997: VIII, p. 456 n° 413.
Credits:
(сс) 2005. Photo:
Sergey Sosnovskiy
(
CC BY-SA 4.0
).
© 1986. Text: Guide to the Vatican: Museums and City. Pontifical Monuments, Museums and Galleries. Tipografia Vaticana, p. 49.
© 1999. Description: G. Spinola. Guide cataloghi Musei Vaticani, 4. Il Museo Pio Clementino, 2. Città del Vaticano, Roma, 1999,
p. 260, cat. no. SR 16
.
Keywords: γλυπτική sculptura sculpture sculptural scultura skulptur ρωμαϊκό roman romana romano romani römisch römische römisches römischen römischer romain romaine romains romaines αυτοκρατορικό imperial imperiale kaiserliches impérial ρωμαϊκή μυθολογία mythologia mythology mitologia mythologie γιούπιτερ jupiter iupiter juppiter iuppiter jovis iovis jove giove ρωμαίος αυτοκράτορας κλαύδιος imperator claudius emperor i imperatore claudio kaiser empereur claude ιουλιο-κλαυδιανή δυναστεία iulio-claudia iulii-claudii julii-claudii the julio-claudian dynasty dinastia giulio-claudia julisch-claudische dynastie famille julio-claudienne julio-claudiens ἄγαλμα άγαλμα statua statuae statue statues statui statuen statuons απεικόνιση portrait portraiture ritratto ritrattistica porträtmalerei porträt of a man male maschile uomo männliches mann masculin un homme porträtstatue as god come il dio als der gott comme le dieu standing in piedi stehende pédestre white marble marmo bianco weiße weißer marmor marbre blanc λευκό μάρμαρο fine-grained grana fine feinkristalliner feinkörniger à grain fin λεπτό λεπτόκοκκο taenia tainia band ribbon fillet tenia tänie binden tænia ténia ταινία corona civica querquensis civic crown wreath oak leaves di quercia bürgerkrone kranz aus eichenblättern couronne civique patera umbo nodus sceptrum sceptre scettro zepter σκήπτρο aquila eagle adler aigle αετός lanuvium lanivium from da lanuvio von sr 16 inv no 243