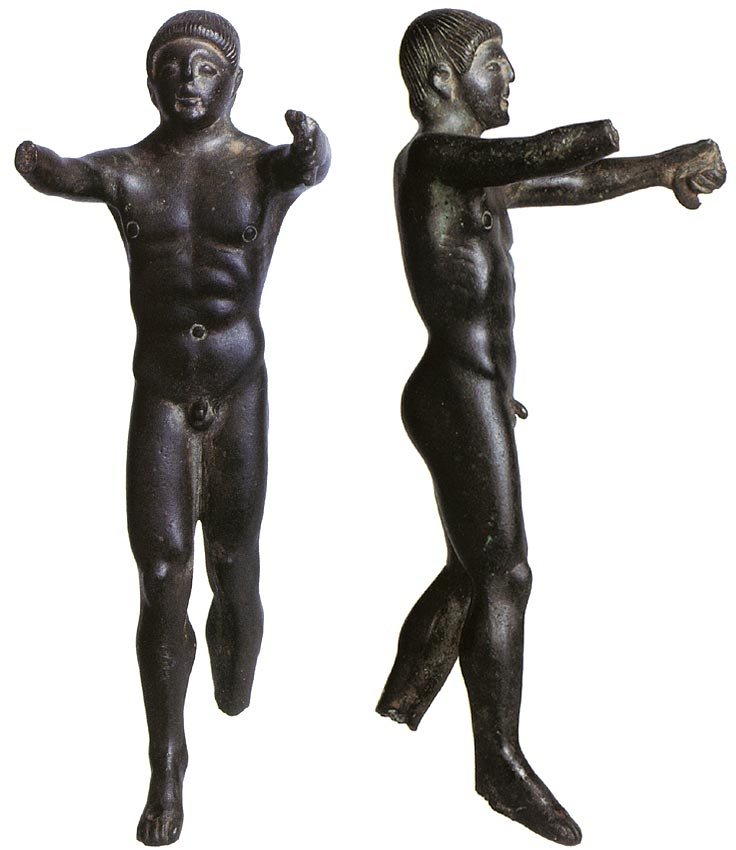 Statuette of an athlete.
Bronze. Ca. 460 BCE.
Height: 15 cm.
Inv. No. Á. 44.
Saint Petersburg, The State Hermitage Museum
Origin:
unknown; donation from the collection of Catherine II, acquired in 1831.
Description:
Statuette of an athlete jumping; he is standing on tiptoe, his arms stretched forward. In the left hand, he holds a fragment of a weight. His right hand is missing. The musculature of the torso and abdomen is in relief and the ribs are modelled by repousse work. The sole of the left foot has not survived. The statuette was fashioned by an Ionian master in southern Italy. It is a particuarly interesting piece by virtue of the choice of subject, which is quite a rare one in sculpture.
N. Gulaeva
Literature:
Stéphani, Bull. Ac. Sc. de St-Petersbourg I Mél. gr.-rom. no. 69. O. Waldhauer, On the Statue of Protesilaos in the Metropolitan Museum of Art, in : Metropolitan Museum Studies, IV.2 (1933) pp. 198—203, ill. 4-5. Bronzes antiques. Exhibition catalogue (Leningrad, 1973) no. 9 p. 13.
Credits:
© 1993. Photo, text: OLYMPISM IN ANTIQUITY. Olympic Museum Lausanne. Bertelsmann UFA. Industria Gráfica S. A. Barcelona, 1993, p. 96 cat. no. 39.
© Photograph — M. Verhasselt (Brussels-Dilbeek).
© 1993 — Comité International Olympique.