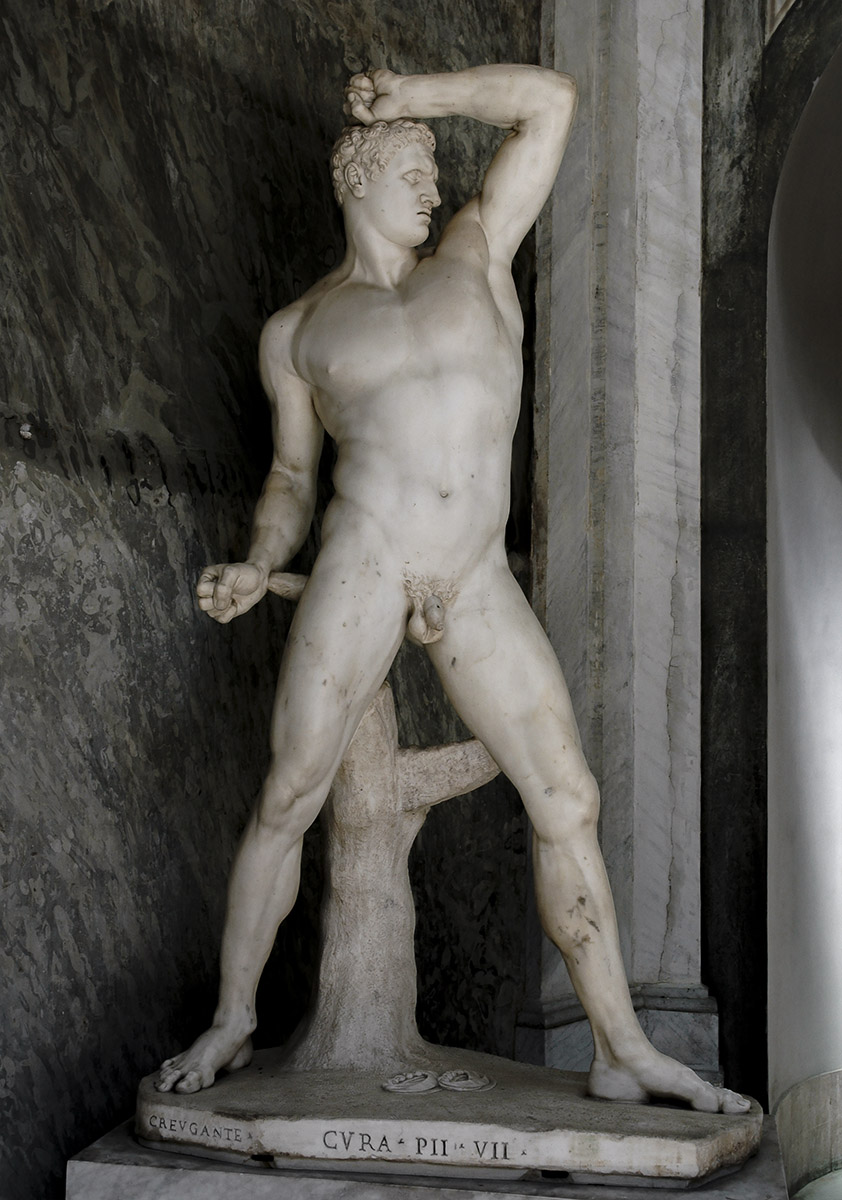 Kreugas.
Antonio Canova (1757—1822).
Marble. 1800.
Inv. No. 968.
Rome, Vatican Museums, Pius-Clementine Museum, Octagonal Court, Cabinet of Canova (Perseus), 4
(Musei Vaticani, Museo Pio-Clementino, Cortile Ottagono, Gabinetto del Canova (Perseo), 4)
Description:
PER 2 e 4. Statue di Damoxenos e Kreugas (del Canova)
Il Canova scolpì il Kreugas nel 1801 e subito dopo il Damoxenos, dietro un compenso di 2500 zecchini per ognuna delle due statue. Le opere del Canova compensarono parzialmente le gravi perdite subite dai Musei Vaticani durante l'occupazione francese, quando, a partire dal 1798, Napoleone fece trasferire a Parigi un gran numero di opere d'arte, quasi tutte restituite nel 1815 a seguito del trattato di Tolentino. Kreugas e Damoxenos erano due pugili che, secondo il racconto di Pausania (8, 40, 3—4), combatterono a lungo senza superarsi, fin quando Damoxenos penetrò con un pugno il ventre dell'avversario, strappandone poi l'intestino. A quel punto il giudice, scolvolto da tanto orrore, squalificò Damoxenos e considerò vincitore Kreugas, ormai morto.
Invv. 970 e 968;
W. Helbig, Führer durch die öffentlichen Sammlungen klassischer Altertümer in Rom, I, (4a ed.), Tübingen 1963, 234;
C. Pietrangeli, La provenienza delle sculture dei Musei Vaticani, in Bollettino dei Monumenti, Musei e Gallerie Pontificie, VIII, 1988, p. 156;
A. Zanella, Canova e Roma, in "Itinerari d'arte e cultura-Musei", pp. 22—23;
AA. VV, Antonio Canova, Venezia 1992, pp. 278—279 n° 131 e p. 274 n° 130.
Giandomenico Spinola
According to Pausanias (8, 40, 3—4), the two engaged in a boxing match at Nemea, the outcome of which was uncertain; Damoxenos consequently stabbed his opponent in the abdomen, and tore out his intestines. The referee disqualified Damoxenos, and declared the dead Kreugas the winner.
Guide to the Vatican
Credits:
(ññ) 2005. Photo:
Sergey Sosnovskiy
(
CC BY-SA 4.0
).
© 1996. Description (1): Spinola G. Guide cataloghi Musei Vaticani, 3. Il Museo Pio Clementino, 1. Città del Vaticano, Roma, 1996, p. 112, cat. nos. PER 2, 4.
© 1986. Description (2): Guide to the Vatican: Museums and City. Pontifical Monuments, Museums and Galleries. Tipografia Vaticana, p. 43.