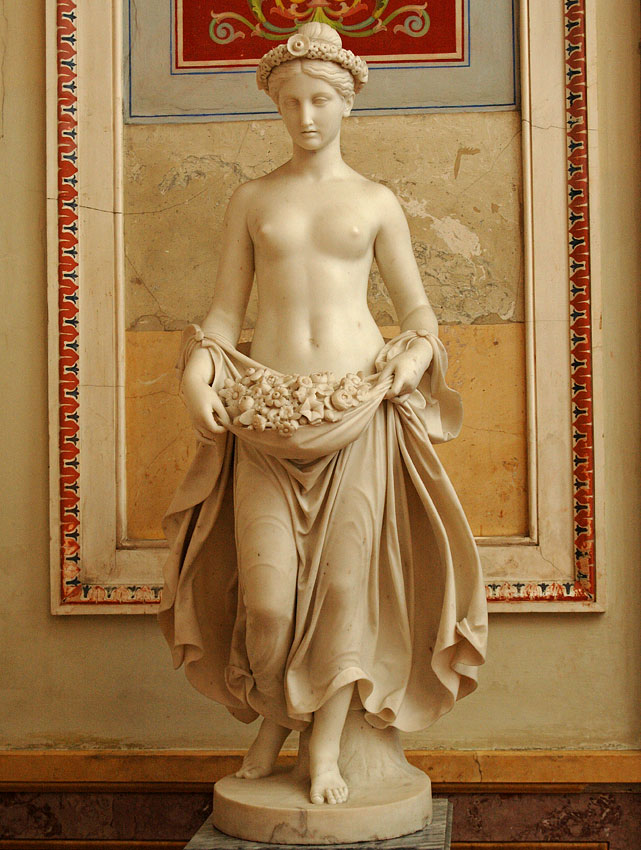 Flora
Pietro Tenerani (1798—1869).
Marble. 1840.
Height 163 cm.
The signature behind on a tree trunk: P. TENERANI / FACEVA. IN. ROMA / MDCCCXXXX
Saint Petersburg, The State Hermitage Museum
Inv. No. Н.ск. 253.
Photo by Sergey Sosnovskiy
Flora.
Pietro Tenerani (1798—1869).
Marble. 1840.
Height 163 cm.
The signature behind on a tree trunk: P. TENERANI / FACEVA. IN. ROMA / MDCCCXXXX
Inv. No. Н.ск. 253.
Saint Petersburg, The State Hermitage Museum
Origin:
Purchased from the author in Rome in 1840.
Literature:
G. Campori, Memorie biografiche degli scultori, architetti, pittori... Modena, 1873, p. 244; O. Raggi. Dalla vita e delle opere di Pietro Tenerani. Firenze, 1880, p. 178, 573; Scultura a Carrara. Ottocento. Saggi di M. de Micheli, L. Mellini, M. Bertozzi. Biografie degli artisti di R. Carozzi. Carrara, 1993, p. 105, 134.
Credits:
(сс) 2005. Photo:
Sergey Sosnovskiy
(
CC BY-SA 4.0
).
© 1996 Text: I Marmi degli Zar. Gli scultori carraresi all'Ermitage e a Petergof. Edizioni CHARTA, Milano. P. 224.