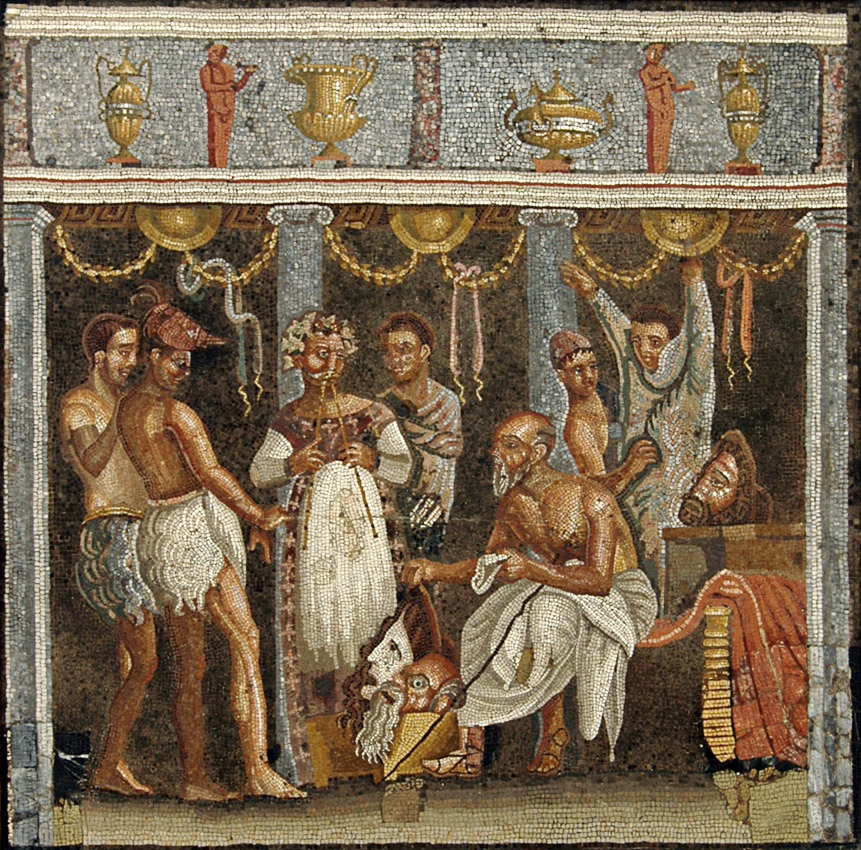 Choirmaster and actors
69—79 CE.
Inv. No. 9986.
Naples, National Archaeological Museum
Photo by Sergey Sosnovskiy
Choirmaster and actors.
Naples, National Archaeological Museum
(Napoli, Museo archeologico nazionale).
Pompeii, House of the Tragic Poet (VI, 8, 5).

Origin:

From Pompeii (House of the Tragic Poet, VI, 8, 5, tablinum).

Description:
Preparation of a satyr play, mosaic from Pompeii, House of the Tragic Poet (VI, 8, 5).
The theme of this celebrated mosaic is the preparation of the actors for a satyr play, the performance that traditionally concluded the Greek theatrical trilogy in classic times. The action is portrayed within a portico with Ionic columns decorated with oscilla, garlands and streamers and a frieze comprising vases and herms. Seated to the right and wearing the same mantle (himation) as the statues of Attic playwrights from the 4th century B.C. is the leader of the chorus, possibly also the author of the comedy. He is watching two actors partly dressed in goatskin costumes who are practising dance steps to the music of an aulos played by a musician who is wearing a mask and a sumptuous costume with a garland on his head. On the right an assistant is helping another actor into the costume of Silenus. Masks from both tragedy and satyr plays are scattered about. In reproducing in mosaic the original painting, which dated from the late 4th or early 3rd century B.C. and may have been a votive offering for victory in a theatrical contest, the Roman mosaicist, working in the Flavian era, got the illusion of space created by the side pilasters in the foreground and the columns further back irremediably wrong. We have here a proto-II style similar to that found in Macedonian painted tombs.
Stefano De Caro
Credits:
(сс) 2006. Photo:
Sergey Sosnovskiy
(
CC BY-SA 4.0
).
Text: museum inscription to the mosaic.
© 1996. Description: Stefano De Caro, The National Archaeological Museum of Naples. Soprintendenza Archeologica di Napoli e Caserta. Electa, Napoli, 2001, p. 184.
Keywords: μωσαϊκό mosaic mosaics mosaica mosaici mosaik mosaïque ρώμη rome roman roma romano rom römisches romaine musical instrument strumento musicale musikinstrument de musique μουσικό όργανο tibia tibiae double flute aulos aulòs αὐλός αυλός pompeii pompei pompeji pompéi πομπηία house of the tragic poet vi 8 5 casa del poeta tragico mosaico choirmaster and actors theatre theater mask actor wreath garland leader a chorus ionic ionian column pillar vase jug pitcher hermae herm herma herme term erma male footwear footgear ribbon himation costume mantle oscilla inv no 9986