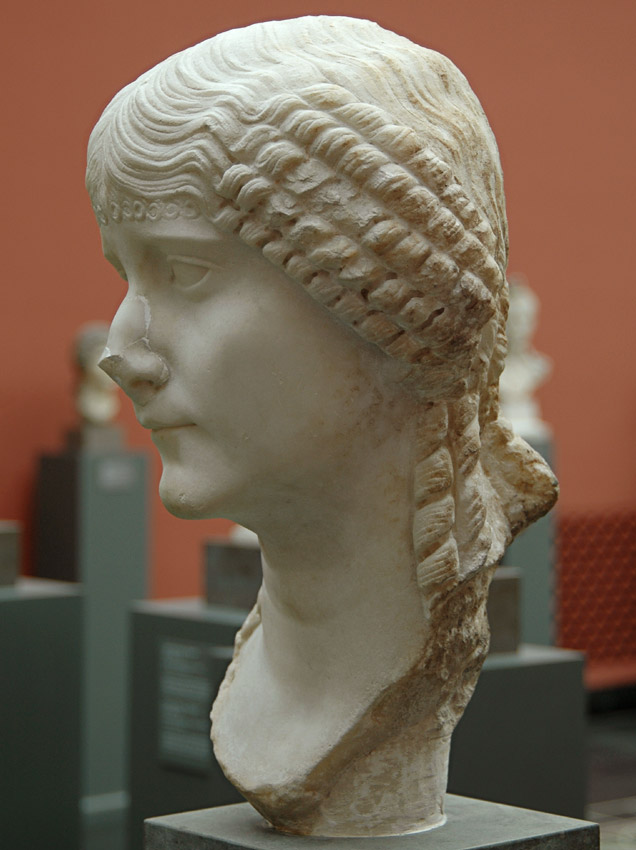 A Roman Woman
Marble.
30—50 CE.
Height 39 cm.
Inv. No. 751.
Copenhagen, New Carlsberg Glyptotek
Photo by Sergey Sosnovskiy
A Roman Woman.
Marble.
30—50 CE.
Height 39 cm.
Inv. No. 751.
Copenhagen, New Carlsberg Glyptotek
(København, Ny Carlsberg Glyptotek)
Origin:
Acquired in 1887 from Count Tyszkiewicz's collection in Rome. Possibly found in The Licinian Tomb.
Description:

63. Pl. CVI—CVII.
Aggripina Minor. Tête de marbre. I.N. 751. Achetée en 1887 à Paris au Comte Tyszkiewicz par l'entremise de Helbig. Indiquée comme ayant été p.98 trouvée en 1885 dans le « tombeau des Liciniens » près de Porta Pia à Rome, comp. les Nos. 1, 39, 67 à 76.
H. 0,39. Marbre blanc avec traces de dépôts calcaires dans les cheveux. Le nez est assemblé de fragments qui ne sont vraisemblablement pas tous antiques. Un morceau de la partie postérieure de la tête a été brisé mais est remis en place. Le cou est taillé comme pour être placé sur une statue.
Cet important portrait de femme appartient d'après la coiffure et le style à l'époque des empereurs claudiens. Comme la personne représentée qui n'est pas toute jeune, doit être un membre de la famille claudienne, ce que révèle la physionomie et en particulier la forme de la bouche et des yeux, la seule interprétation acceptable est Aggripina Minor, qui survécut à son dernier époux, Claude, pour être assassinée alors qu'elle était âgée de 44 ans à l'instigation de son fils Néron. Cette femme fatale qui dans ses jeunes années avait la beauté d'une chatte (voir No. 61) est représentée ici comme la mère tragique. On ne connaît aucune répétition de ce portrait dont les plus proches parents sont une statue à Olympie et une tête qui se trouvait antérieurement dans la Coll. Woodyat (Die Antike 14, 1938, p. 277 fig. 19. Ancienne Coll. Woodyat, Enchères Rome 1912, No. 290, pl. 20).
V. Poulsen
Literature:
Cat. 630. Billedtavler LI. Röm. Mitt. 7, 1892, p. 234 (Mau). Arndt-Bruckmann 711-712. Steininger, Haartrachten p. 22. Furtwängler-Urlichs, Denkmäler, 3ème édition, fig. 63. Hekler, Bildniskunst 213. Ahrem, Das Weib in der antiken Kunst fig. 269. Strong, Art in Ancient Rome I p. 194. Lawrence, Classical Sculpture p. 335, pl. 132 b. West, Röm. Porträt-Plastik I p. 180, pl. 44, 194. Acta Arch. 17, 1946, p. 41. Journ. Walters Art Gall. XI, 1948, p. 10. Bull. Beschav. 31, 1956, p. 21, fig. 36. Helga von Heintze, Röm. Porträt-Plastik p. 9, pl. 10.
Credits:
(сс) 2008. Photo:
Sergey Sosnovskiy
(
CC BY-SA 4.0
).
Text: museum inscription to the sculpture.
© 1973. Description: V. Poulsen. Les portraits romains. Vol. I. République et dynastie Julienne. Copenhague, Ny Carlsberg Glyptotek, 1973, pp. 97—98, cat. no. 63.
Keywords: γλυπτική sculptura sculpture sculptural scultura skulptur ρωμαϊκό roman romana romano romani römisch römische römisches römischen römischer romain romaine romains romaines αυτοκρατορικό imperial imperiale kaiserliches impérial ιουλιο-κλαυδιανή δυναστεία iulio-claudia iulii-claudii julii-claudii the julio-claudian dynasty dinastia giulio-claudia julisch-claudische dynastie famille julio-claudienne julio-claudiens ιουλία αγριππίνα η νεότερη julia iulia agrippina minor re556 empress younger imperatrice giulia minore kaiserin die jüngere impératrice agrippine la jeune άγνωστη γυναίκα of a unidentify unknown woman women female donna ignota sconosciuta femminile unbekannte frau weiblich inconnu femme απεικόνιση portrait portraiture ritratto ritrattistica porträtmalerei porträt κεφάλι κεφαλή head testa kopf tête weibliches de portraitkopf marble marmo marmor marbre μάρμαρο hairdo hairstyle pettinatura acconciatura weibliche frisur coiffure féminine θηλυκό χτένισμα frizzle curl arricciamento arricciolamento ricciolo riccio krause ringel frisure frisottis noble lady nobile edle matrone matrona braided hair capelli intrecciati geflochtenes haar cheveux tressés wavy waved mossi ondulata welliges gewellte ondulés ondulée long lock lungo lunghi riccioli lange locken locke boucle anglaises scribonia from licinian tomb licinii von aus dem liciniergrab inv no 751