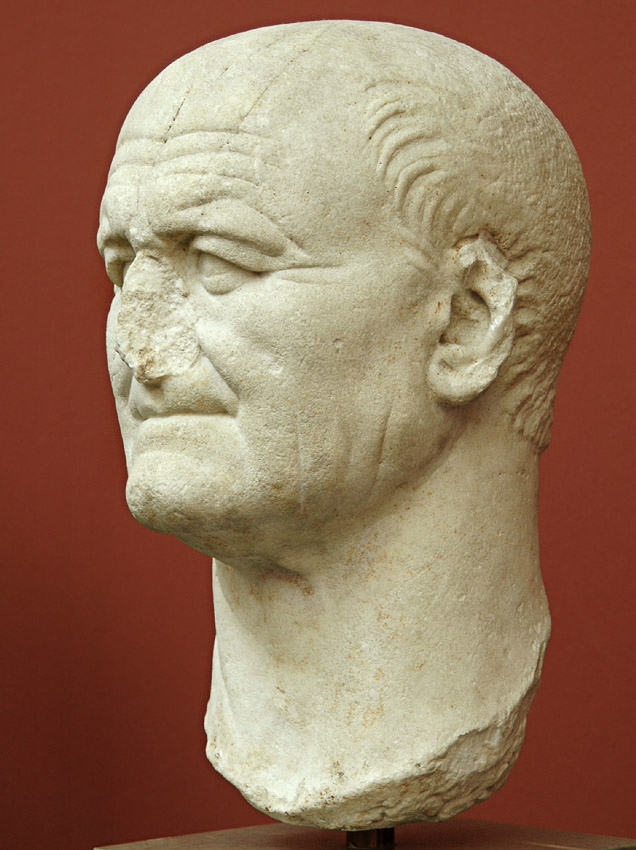 Vespasian
Marble. Ca. 70 CE.
Height 40 cm.
Inv. No. 2585.
Copenhagen, New Carlsberg Glyptotek
Photo by Sergey Sosnovskiy
Vespasian.
Marble. Ca. 70 CE.
Height 40 cm.
Inv. No. 2585.
Copenhagen, New Carlsberg Glyptotek
(København, Ny Carlsberg Glyptotek)
Origin:
From Naples. Acquired in 1911 from Hartwig in Rome.
Description:

3. Pl. V—VI.
Vespasien. Tête de marbre. I. N. 2585. Acquise en 1911 auprès de Hartwig, à Rome. Serait originaire de Naples.
H. 0,40. Marbre blanc avec patine grisâtre. Oreilles mutilées. Dans l'ensemble, surface quelque peu effritée. Différents rajouts retirés en 1950 et 1972, d'où apparition du cou original, destiné à une statue. La reproduction des cheveux sur les tempes indique que le sujet était chauve; du reste, le sommet du crâne et la nuque ne sont que sommairement ouvragés. Deux goujons de bronze révèlent que la tête a été surmontée d'une couronne en métal.
Ce portrait représente l'empereur Vespasien en vieillard à la tête chauve et à la bouche édentée. C'est le portrait le plus marqué par l'âge que nous connaissions de lui et qui doit se placer vers la fin de son décennat (69-79 ap. J.-C.).
Cat. 659a. Tillæg til Billedtavler XI. Röm. Mitt. 29, 1914, p. 44 sqq. (Frederik Poulsen). Delbrück, Bildn. Röm. Kaiser, pl. 11. West, Röm. Porträt-Plastik II, p. 11, pl. 1, 5. Meddelelser 2, 1945, p. 41 (Gjødesen). Magi, Rilievi Flavi della Cancelleria, p. 58. Voit-Bengl, Römisches Erbe, 1950, pl. 45. Vagn Poulsen, Oldtidsmennesker, p. 91. Enciclopedia dell'Arte Antica 7, p. 1146. Daltrop-Hausmann-Wegner, Die Flavier, pp. 10, 13, 15, 75, pl. 3. C. Saletti, Ritr. Sev., p. 56. Arch. Jahrb. 82, 1967, p. 135. Der Altsprachliche Unterricht 12, 1, 1969, pp. 5, 15 (G. Fries). J. D. Breckenridge, Likeness, p. 202, fig. 106. H. Jucker, Jhb. Bern. Hist. Mus. 41-42, 1961-62, 331 sq. Th. Kraus, Das römische Weltreich, 1967, fig. 298. G. Connor, Art Bulletin of Victoria 1971-72, p. 22 sq., fig. 17-18. A. M. McCann, Ath. Mitt. 79, 1972, 252.
Credits:
(сс) 2008. Photo:
Sergey Sosnovskiy
(
CC BY-SA 4.0
).
Text: museum inscription to the sculpture.
© 1974. Description: V. Poulsen. Les portraits romains. Vol. II. De Vespasien à la Basse — Antiquité.
Copenhague, Ny Carlsberg Glyptotek, 1974, p. 40, cat. no. 3.
Keywords: γλυπτική sculptura sculpture sculptural scultura skulptur ρωμαϊκό roman romana romano romani römisch römische römisches römischen römischer romain romaine romains romaines αυτοκρατορικό imperial imperiale kaiserliches impérial ρωμαίος αυτοκράτορας βεσπασιανός imperator vespasianus emperor vespasian imperatore vespasiano kaiser empereur vespasien απεικόνιση portrait portraiture ritratto ritrattistica porträtmalerei porträt κεφάλι κεφαλή head testa kopf tête gens flavia flavii the flavian dynasty dinastia flavier dynastie famille flaviens marble marmo male maschile männliches männlicher portraitkopf the emperor vespasian flavius flavio vespasiano flavii dynasty inv no 2585 659 a 659a inv