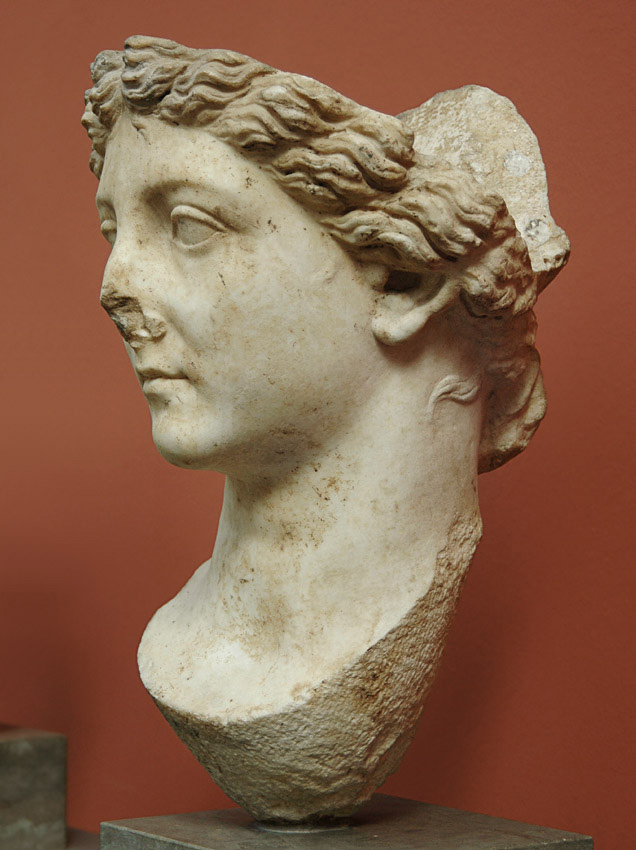 Livia as Salus
Marble.
41—54 CE.
Height 47 cm.
Inv. No. 1422.
Copenhagen, New Carlsberg Glyptotek
Photo by Sergey Sosnovskiy
Livia as Salus.
Marble.
41—54 CE.
Height 47 cm.
Inv. No. 1422.
Copenhagen, New Carlsberg Glyptotek
(København, Ny Carlsberg Glyptotek)
Origin:
Found in Cerveteri. Acquired in 1895 in Frascati.
Description:

37. Pl. LVIII—LIX.
Livie. Tête de marbre. I. N. 1422. Achetée en 1895 à Frascati avec plusieurs autres sculptures. L'acquisition a été faite par l'entremise de Helbig qui indiqua que cette tête, de même que les portraits de Claude et d'Octavie (Nos 41 et 58) avait été trouvée à Cervetri, dans le théâtre ou dans le temple de Gens Julia indiqué comme se trouvant à côte du théâtre. Il paraît naturel de mettre ce renseignement en rapport avec les grandes trouvailles en 1840 et 1846 de portraits claudiens qui se trouvent maintenant au Latran (Benndorf-Schoene, Die antiken Bildwerke des lateranischen Museums p. 121. Giuliano, Cat. Ritr. Rom. Lat. p. 22. Röm. Mitt. 50, 1935, p. 310).
H. 0,47. Marbre blanc avec patine brun jaunâtre. Une partie du nez brisée. Une grande partie du sommet du crâne était rapportée. Elle manque maintenant qu'une restauration moderne a été enlevée en 1955. Cette tête a été exécutée pour être encastrée dans une statue.
Cette tête majestueuse, de format colossal, était ornée d'un diadème dont un court morceau a été conservé au-dessus du p.73 chignon sur la nuque. Ce n'est pas un portrait contemporain, mais une image à la mémoire de la mère de la familie impériale claudienne, probablement exécutée sous le règne de l'empereur Claude à l'époque de l'apothéose de Livie.
Cat. 617. Billedtavler L. Frederik Poulsen, Kejserindeprofiler p. 29. Journ. Rom. Stud. 12, 1922, p. 34. R. West, Röm. Porträt-Plastik I, p. 127. Bull. Beschav. 31, 1956, p. 16, fig. 19. Giuliano, Ritr. Rom. Lat. p. 24. Studi Sarsinati 1957 (Studi Romagnoli V) p. 227. Gnomon 32, 1960, p. 156. Boll. d'Arte 45, 1960, p. 13.
Credits:
(сс) 2008. Photo:
Sergey Sosnovskiy
(
CC BY-SA 4.0
).
Text: museum inscription to the sculpture.
© 1973. Description: V. Poulsen. Les portraits romains. Vol. I. République et dynastie Julienne. Copenhague, Ny Carlsberg Glyptotek, 1973, pp. 72—73, cat. no. 37.
Keywords: γλυπτική sculptura sculpture sculptural scultura skulptur ρωμαϊκό roman romana romano romani römisch römische römisches römischen römischer romain romaine romains romaines αυτοκρατορικό imperial imperiale kaiserliches impérial ιουλιο-κλαυδιανή δυναστεία iulio-claudia iulii-claudii julii-claudii the julio-claudian dynasty dinastia giulio-claudia julisch-claudische dynastie famille julio-claudienne julio-claudiens ρωμαϊκή αυτοκράτειρα λιβία δρουσίλλα ιουλία αυγούστα livia drusilla iulia augusta re37 empress julia imperatrice giulia kaiserin impératrice livie απεικόνιση portrait portraiture ritratto ritrattistica porträtmalerei porträt κεφάλι κεφαλή head testa kopf tête of a woman female femminile donna weibliches frau de femme portraitkopf marble marmor marmo as salus female hairdo hairstyle coiffure acconciatura pettinatura femminile from cerveteri caere 617 inv no 1422