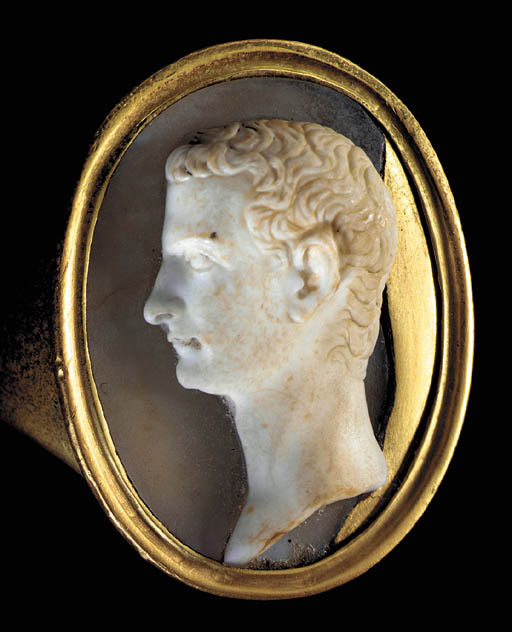 Portrait of Caligula
Onyx.
37—41 CE.
Christie's Fine Art Auction House, New York
Portrait of Caligula.
Christie's Fine Art Auction House, New York.
Origin:
Keith Partinson, Kingston-on-Hull, England, 1930s.
Christie's Fine Art Auction House, New York, Rockefeller Plaza. Sale 9666 Lot 248, 8 June 2001.
Estimate: $25000—$35000. Price Realized: $52875 (price includes buyer's premium).
Description:
A ROMAN ONYX CAMEO PORTRAIT OF CALIGULA
Circa 37—
41 A.D.

The idealized portrait sensitively sculpted, the emperor in profile to the left, with a broad forehead capped with typical Julio-Claudian short curly locks but with a noticeable and characteristic hollow at the temple, the face with a deep-set eye, slender nose, characteristic protruding upper lip, and narrow chin; mounted in a modern gold finger ring 2.7 cm long.

Lot Notes

Gaius Julius Caesar Germanicus, nicknamed Caligula or "little boots" by the troops of his father Germanicus, became Emperor of Rome in A.D. 37. The young Caligula enjoyed widespread popularity for a brief period at the beginning of his reign, but soon his behavior became increasingly autocratic and megalomaniacal. Following his assassination on January 24th in A.D. 41, the Senate passed official sanctions against his memory (damnatio memoriae) and ordered the destruction of his public images. As a result, only very few of his portraits survive.

For a recent discussion of the portraiture of Caligula see pp. 96—125 in Varner, ed., From Caligula to Constantine, Tyranny & Transformation in Roman Portraiture. For a related cameo portrait of the emperor, slightly re-worked, see no. 296 in Vollenweider, Deliciae Leonis, Antike geschnittene Steine und Ringe aus einer Privatsammlung.
Credits:
Keywords: gemma glyptics gem gems glittica gliptica gemme glyptik glyptique αυτοκρατορικό imperial imperiale kaiserliches impérial ρωμαίος αυτοκράτορας γάιος καλιγούλας imperator caius caligula roman emperor gaius caesar imperatore romano gaio cesare caligola römischer kaiser empereur romain ιουλιο-κλαυδιανή δυναστεία iulio-claudia iulii-claudii julii-claudii the julio-claudian dynasty dinastia giulio-claudia julisch-claudische dynastie famille julio-claudienne julio-claudiens romana romani römische romaine καμέα κάμερες cameo cameos cammeo cammei kamee camée kameo απεικόνιση portrait portraiture ritratto ritrattistica porträtmalerei porträt römisches onyx male head of