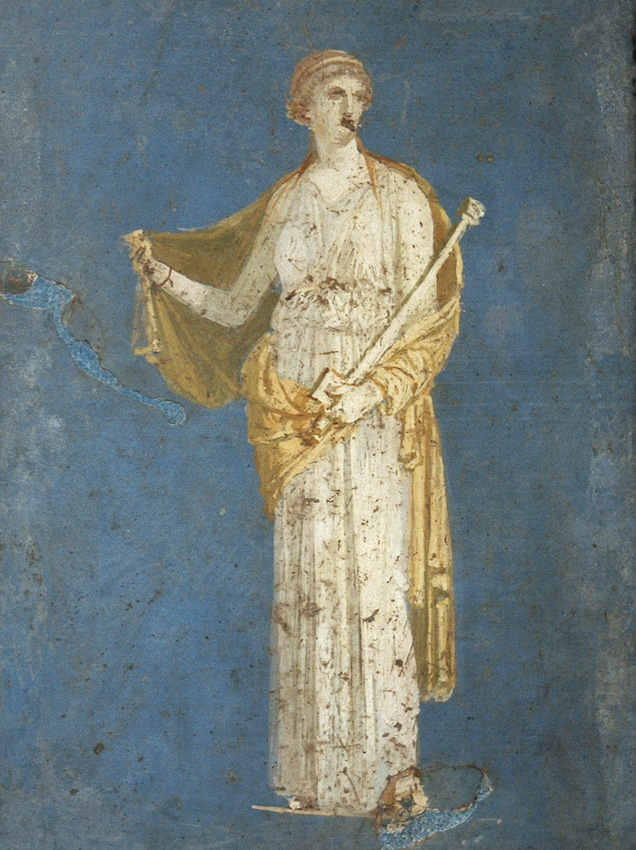 Medea. Fresco from Stabiae (cubiculum of the Villa of Ariadne).
Inv. No. 8978.
Naples, National Archaeological Museum
(Napoli, Museo archeologico nazionale di Napoli)
Description:

Probabilmente, nell'ambiente W26, un cubicolo aperto verso il peristilio quadrato W2 si trovavano le famosissime vignette: la così detta
Flora
, la "Forza che presiede a tutto ciò che fiorisce" e
Leda con il cigno
, sembianze sotto cui si cela Zeus per unirsi alla sposa di Tindaro, entrambe su fondo verde hanno una posa sinuosa accentuata dal movimento degli abiti, al contrario di Medea che sembra voler coprire con il manto la spada, e
Diana
o, come altri autori preferiscono a motivo della lunga veste, insolita per la dea cacciatrice, Penelope che prepara l'arco di Ulisse, che sul fondo azzurro sembrano immobili nel momento di riflessione che precede la preparazione dell'arma e il compimento del gesto fatale.
Credits: