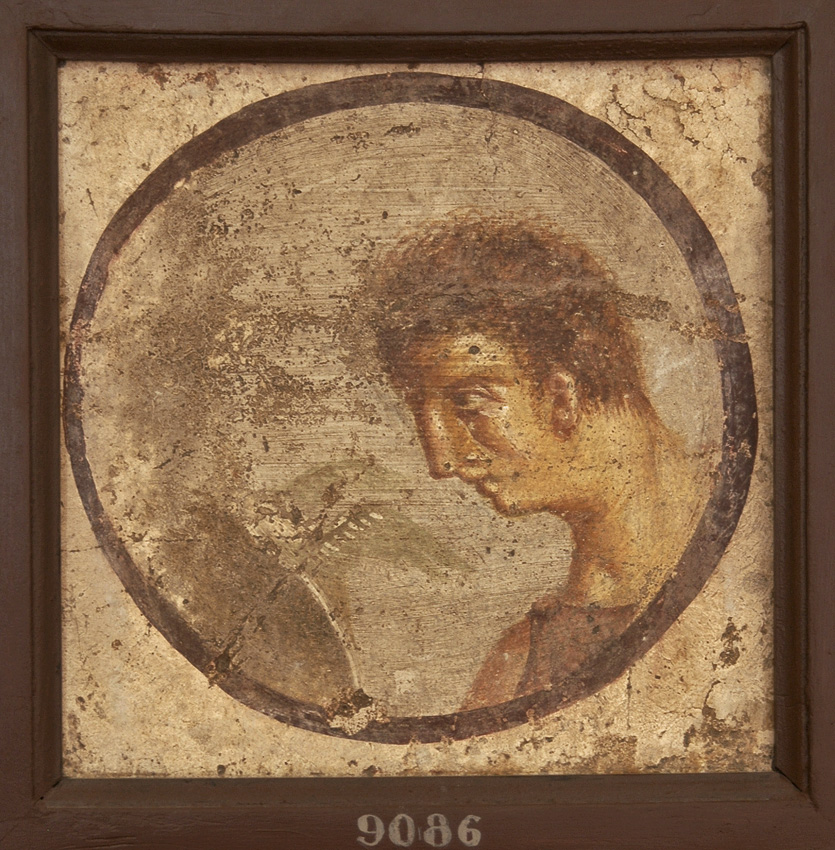 Medallion with male profile
Naples, National Archaeological Museum
Inv. No. 9086.
Photo by Sergey Sosnovskiy
Medallion with male profile.

Inv. No. 9086.
Naples, National Archaeological Museum
(Napoli, Museo archeologico nazionale di Napoli)
Origin:
Pompeii, HGW06, Villa of Cicero, 25th October 1760.
Literature:
M. Paganao and R. Prisciandaro, Studio sulle provenienze degli oggetti rinvenuti negli scavi borbonici del regno di Napoli. Naples: Nicola Longobardi, 2006. P. 36.
Credits:
Keywords: ζωγραφικήί pictura ars picturae painting pittura malerei peinture ρωμαϊκές roman romana romano romani römisch römische römisches römischen römischer romain romaine romains romaines απεικόνιση portrait portraiture ritratto ritrattistica porträtmalerei porträt πομπηία pompeii pompeian pompei pompeiano pompeji pompeianischen pompejanischen pompéi pompéien of a man male maschile uomo männliches mann masculin un homme paint painting pittura dipinto porträtmalerei gemalte peinture φρεσκογραφία τοιχογραφία νωπογραφία wall fresco frescos frescoes opera parietale murale opere parietali murali affresco affreschi freskomalerei frischmalerei wandmalerei fresko fresken fresque fresques medallion medaillon medaglione médaillon tondo profile profilo profil προφίλ bird birds uccello vogel oiseau πουλί pompei pompeji pompéi pompeii πομπηία villa of cicero villa detta di cicerone hgw06 inv no 9086