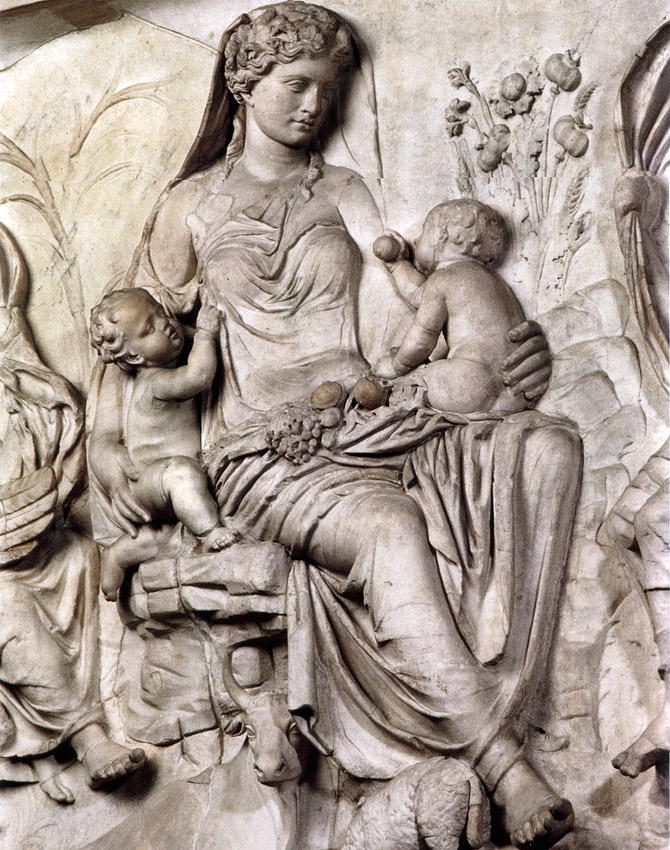 Panel of Tellus. Detail
Marble.
13—9 BCE.
Rome, Museum of the Altar of Augustan Peace (Ara Pacis Augustae)
Panel of Tellus. Detail.
Rome, Museum of the Altar of Augustan Peace (Ara Pacis Augustae)
(Roma, Museo dell'Ara Pacis).
Description:
The engraving by the Dominican friar Benedetto De Greyss representing the Ara Pacis Tellus appears for the first time in the work of Anton Francesco Gori, Inscriptiones antiquae in Etruriae urbibus exstantes, published in Florence in 1727. This print demonstrates that the many restored parts of this panel (almost the entire child to the left of the goddess; the face of the one on the right; the head and the neck of the swan; the head, the neck and the front legs of the crouching on the front part of the head of the sea monster and other lesser parts) can in no way be ascribed to Francesco Carradori, who will set to work on the procession slabs only in 1784. The style of the added parts, together with the consideration that an original piece of marble from the Ara Pacis, with a portion of festooned frieze on one side was reused to integrate the ox at Tellus' feet, point at a 16th-century restoration that is likely to have been carried out in Florence, where the Tellus panel arrived in 1569, or even earlier, in Rome, where of course many fragments of the altar, considered of secondary importance, were easily on hand.
Credits:
© 2007. Photo, text: O. Rossini. Ara Pacis. Rome, Electa, 2007, p. 38.
Keywords: ρωμαϊκή μυθολογία mythologia romana roman mythology mitologia römische mythologie romaine dea tellus mater terra goddess tellure göttin déesse γλυπτική sculptura sculpture sculptural scultura skulptur ρωμαϊκό romano romani römisch römisches römischen römischer romain romains romaines ανακούφιση relief rilievo ara pacis augustae altar of augustan peace altare della pace augustea des friedens augustus autel de la paix auguste marble august venus demeter demetra ceres cerere personification italy pax augusta wreath fruit and flowers fruits flower boy boys children kids babies grain ear ears wheat poppy lily grapes pomegranate veil female dress garment garments clothes clothing outerwear chiton tunic cloak cane rush reed