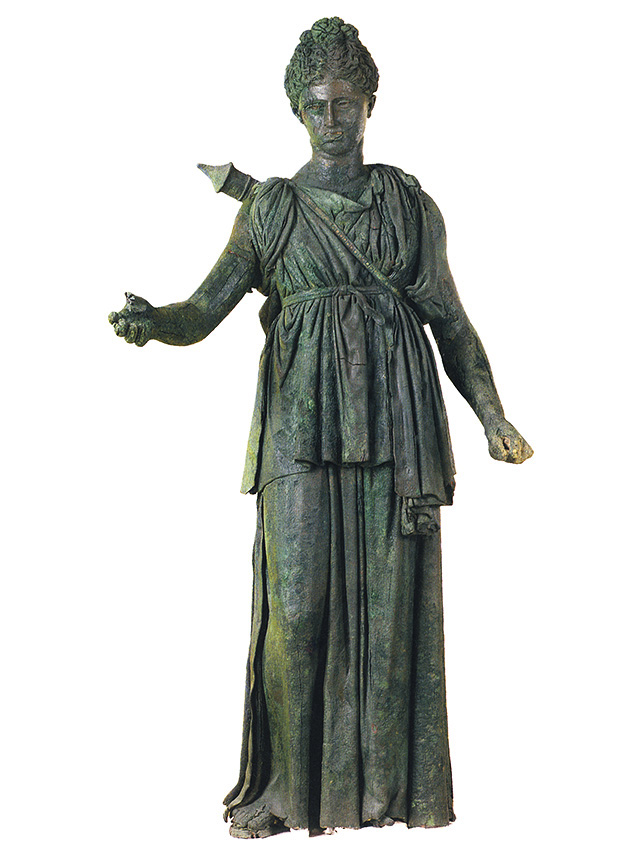 Artemis.
Bronze. Mid-4th century BCE.
Height 155 cm.
Inv. No. 4648.
Athens, Archaeological Museum of Piraeus
(Αθήνα, Αρχαιολογικό Μουσείο Πειραιά)
Origin:
Found in Piraeus in 1959.
Description:
4648. Bronze statuette of Artemis. The very careful workmanship is apparent in spite of the bad state of preservation. The goddess wears a high-girded Attic peplos and a himation. She was holding a libation bowl in her right hand and a bow in her left hand. The type belongs to the school of Praxiteles, known from the Attic reliefs of the end of the 4th century B.C.
Credits:
© Photo, text: Sofia Suli. Grecheskaya mifologiya. Per. s grech. ó Izdatelístvo: AFINY, MIHALIS TUBIS A.E., 1995, s. 39.
© 1995 ó Izdatelístvo: MIHALIS TUBIS A.E.
Text of description:
museum inscription to the sculpture
.