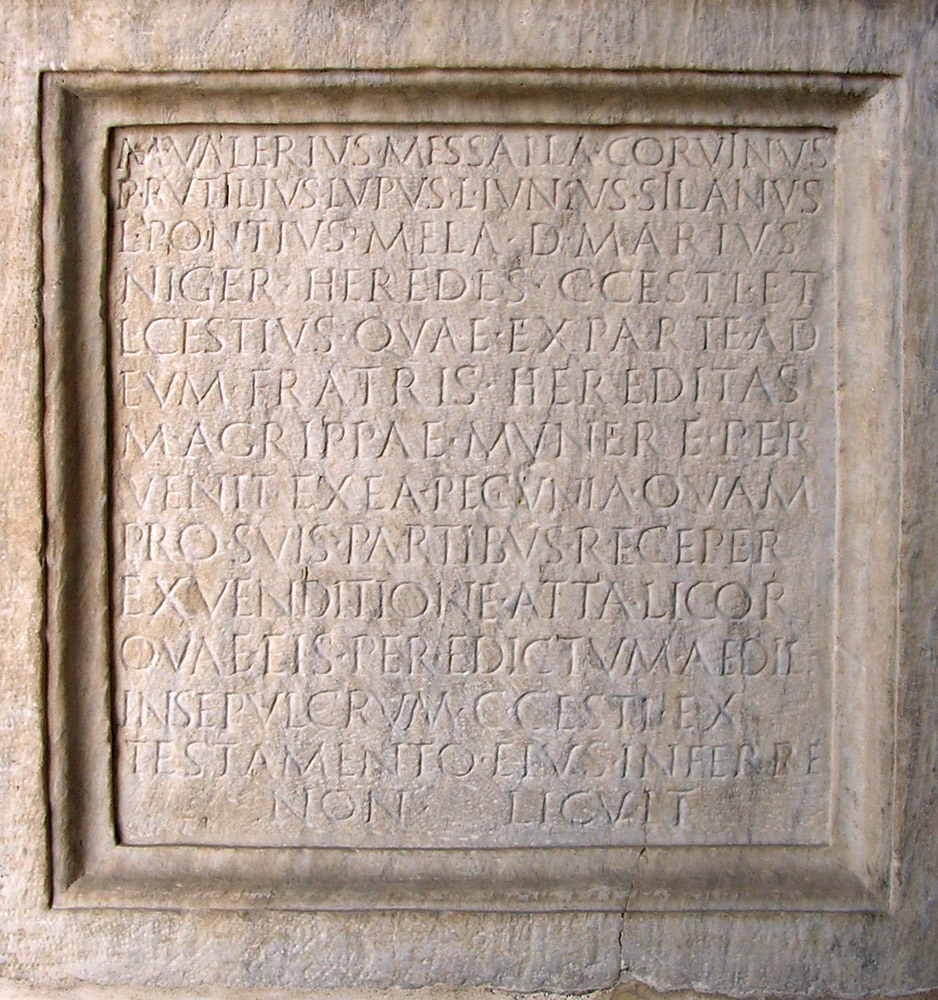 Base with the inscription of the heirs of Gaius Cestius.
Ca. 25—12 BCE.
CIL VI 1375 = ILS 917a.
Inv. No. NCE 2386.
Rome, Capitoline Museums, Palazzo Nuovo, Atrium
(Musei capitolini, Palazzo Nuovo, Atrio)
Origin:
Via Ostiense, the pyramid of Gaius Cestius.
Description:
CIL VI 1375 = ILS 917a:
M(arcus) Valerius Messalla Corvinus / P(ublius) Rutilius Lupus L(ucius) Iunius Silanus / L(ucius) Pontius Mela D(ecimus) Marius / Niger heredes C(ai) Cesti et / L(ucius) Cestius quae(!) ex parte ad / eum fratris hereditas / M(arci) Agrippae munere per/venit ex ea pecunia quam / pro suis partibus receper(unt) / ex venditione Attalicor(um) / quae eis per edictum / aedilis in sepulcrum / C(ai) Cesti ex testamento / eius inferre non licuit
Marcus Valerius Messalla Corvinus, Publius Rutilius Lupus, Lucius Iunius Silanus, Lucius Pontius Mela, Decimus Marius Niger, the heirs of Gaius Cestius, and Lucius Cestius, as a part of his brother's legacy had come to him due to the generousity of Marcus Agrippa, [erected this statue] off the money gained for their parts after the sale of the Attalic [clothes] when the edict of aedile forbade to place them into the sepulchre of Gaius Cestius according to his testament.
Credits:
Keywords: Base inscription heirs heir pyramid Gaius Cestius Epulo Marcus Vipsanius Agrippa Inv No NCE 2386 6694 6695 CIL VI 1375 ILS 917 a Marcus Valerius Messalla Corvinus Publius Rutilius Lupus Lucius Iunius Silanus Lucius Pontius Mela Decimus Marius Niger heredes Cai Cesti et Lucius Cestius quae ex parte ad eum fratris hereditas Marci Agrippae munere pervenit ex ea pecunia quam pro suis partibus receperunt ex venditione Attalicorum quae eis per edictum aedilis in sepulcrum Cai Cesti ex testamento eius inferre non licuit g227 g273 g138