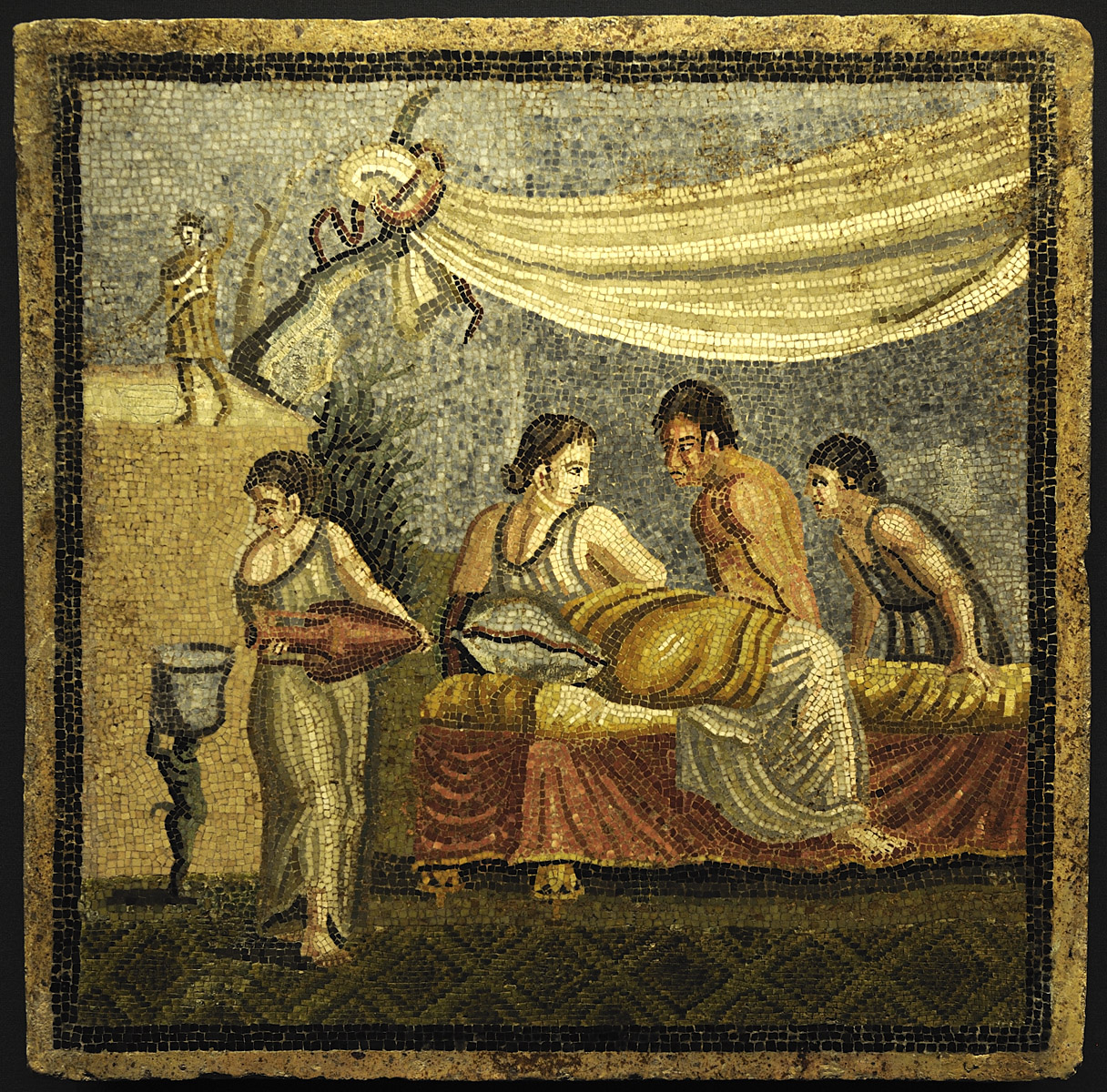 Amorous scene
Mosaic. Roman. 2nd century CE.
39.7 × 38.6 × 4.2 cm.
Inv. No. II 9.
Vienna, Museum of Art History
Photo by Ilya Shurygin
Amorous scene.
Mosaic. Roman. 2nd century CE.
39.7 × 38.6 × 4.2 cm.
Inv. No. II 9.
Vienna, Museum of Art History
(Wien, Kunsthistorisches Museum).
Origin:
From Centocelle, near Rome.
Description:
In the middle of this mosaic a young woman is reclining on a couch (kline) with a bedspread and pillows. She is looking at a man with a naked torso sitting to her right on the bed and turned towards her. Two female servants frame this intimate scene; the one at the left edge of the picture is pouring wine or water from a pointed amphora into a metal pot, which is supported by a bronze stand in the form of a Satyr. The bush behind the servant and the awning fixed to a tree are indications that this is an outdoor scene. At the upper left of the picture a statue is visible, probably representing the goddess Artemis (Diana).
The present mosaic was found in a Roman villa at Centocelle near Rome in 1865 and acquired for the imperial collections in 1874. Other mosaic pictures were discovered in the villa, one of which is the same size as our mosaic. It depicts a "comic mask" from the genre of New Comedy and is now in the Collection of Classical Antiquities in Berlin.
Pictures such as the present one provided the central motifs for large-size mosaic floors. While the extensive, frequently geometric patterns were directly applied to the floor in three layers of plaster of varying thickness, the central panels were often created separately. In a workshop the picture was assembled in a clay frame from stones only a few millimetres in size (opus vermiculatum). Afterwards, the completed emblema (Greek: emblema, literally, insertion or appliquéd decor), including the frame, was set into the floor.
A depiction of the same intimate scene was discovered in a wall-painting in a room of the Villa Farnesina in Rome (today in the Museo Nazionale Romano, Palazzo Massimo, Rome). This painting, which dates from around the birth of Christ, differs from the present mosaic in some details and thus suggests that both pictures are based on a common Hellenistic model. The execution and style as well as the circumstances of its discovery in a Roman Villa at Centocelle support the assumption that the Vienna mosaic dates from the 2nd century AD.
Credits:
© 2012. Photo:
Ilya Shurygin
.
Info: museum information materials.
© 2006. Description: Masterpieces in the Collection of Greek and Roman Antiquities. Kunsthistorisches Museum. SKIRA, 2006, p. 196, cat. 85.
Keywords: μωσαϊκό mosaic mosaics mosaica mosaici mosaik mosaïque ρώμη rome roman roma romano rom römisches romaine amorous erotic love scene couch bed bedstead canopy pillow bedspread wine amphora servant maidservant housemaid servants menial satyr satyrs female garment garments clothes clothing outerwear inv no ii 9