Funerary inscription of Charmosynus.
Ca. 1—14 CE.
CIL VI 4020.
Inv. No. 4468.
Rome, Capitoline Museums, Palazzo Nuovo, Gallery
(Musei capitolini, Palazzo Nuovo, Galleria)
Origin:
Rome, the columbarium of Livia.
Description: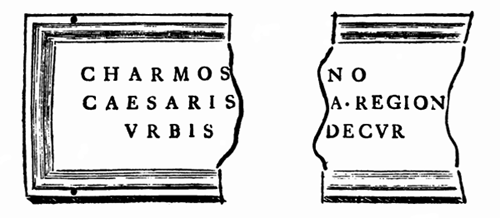 Gorius A. F. Monumentum sive Columbarium libertorum et servorum Liviae Augustae et Caesarum. Florentia, 1727. P. 84.
CIL VI 4020
Charmos[y]no / Caesaris a region(ibus) / urbis decur(ioni)
To Charmosynus, [the slave] of Caesar, in charge the regions of the City.
Credits:
THE GALLERY OF ANCIENT ART
Keywords: funerary inscription of Charmosynus regions of the city Inv No 4468 CIL VI 4020 Charmosyno Caesaris a regionibus urbis decurioni