Funerary inscription of Clemens, the husband of Callityche.
Ca. 14—40 CE.
CIL VI 4145.
Inv. No. 4465.
Rome, Capitoline Museums, Palazzo Nuovo, Gallery
(Musei capitolini, Palazzo Nuovo, Galleria)
Origin:
Rome, the columbarium of Livia.
Description: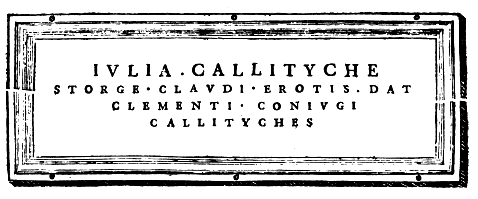 Gorius A. F. Monumentum sive Columbarium libertorum et servorum Liviae Augustae et Caesarum. Florentia, 1727. P. 204.
CIL VI 4145
Iulia Callityche / Storge Claudi Erotis dat / Clementi coniugi / Callityches
Julia Callityche Storge, [? the wife] of Claudius Eros, has given [the urn] to Clemens, [the previous?] husband of Callityche.
Credits:
THE GALLERY OF ANCIENT ART
Keywords: Claudius Eros Clemens husband Inv No 4465 CIL VI 4145 Iulia Callityche Storge Claudi Erotis dat Clementi coniugi Callityches