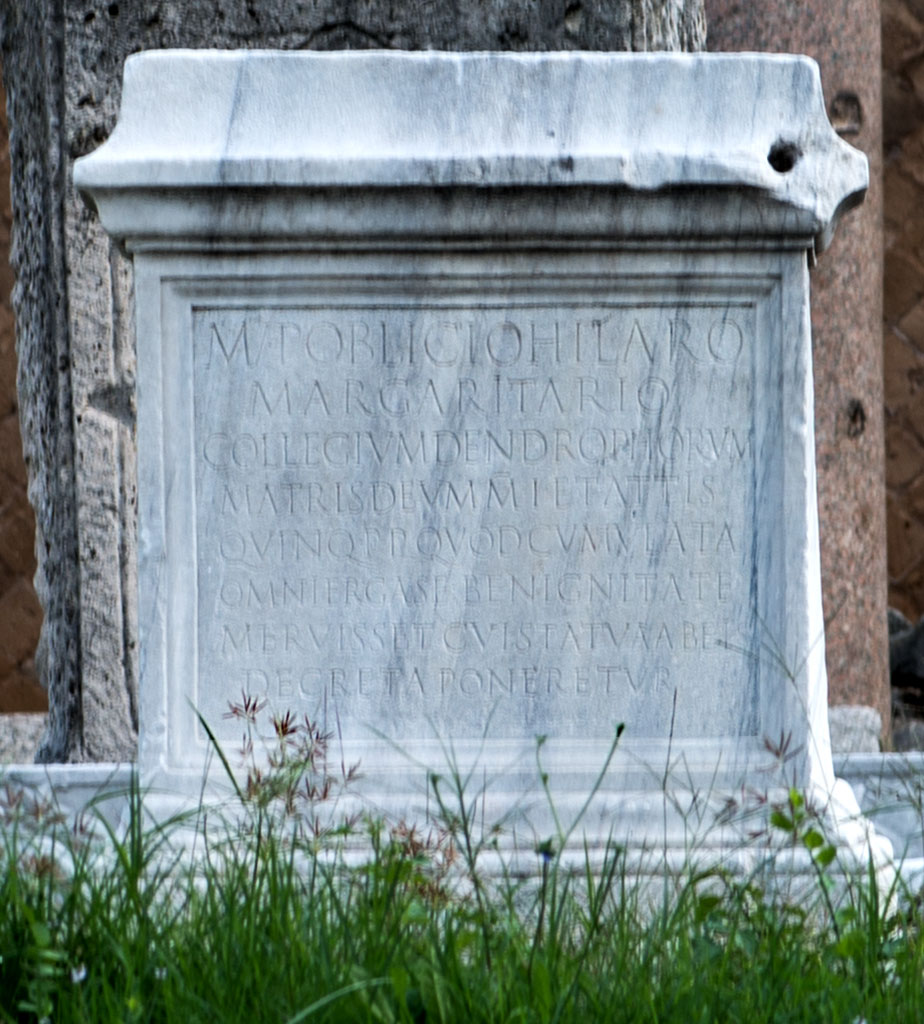 The base of a statue of Manius Poblicius Hilarus.
Luna marble. Mid-2nd cent. CE.
H 1.26, B 0.92 m, Th 0.53 m.
CIL VI 30973 b.
Inv. No. NCE 3009.
Rome, Capitoline Museums, Antiquarium on the Caelian Hill
(Musei capitolini, Antiquarium al Celio)
Origin:
Area of l'Ospedale Militare al Celio, Roma. Now in the Antiquarium of Musei Capitolini al Celio.
Description:
M(anio) Poblicio Hilaro / margaritario / collegium dendrophorum / Matris deum M(agnae) I(daeae) et Attis / quinq(uennali) p(er)p(etuo) quod cumulata / omni erga se benignitate / meruisset cui statua ab eis / decreta poneretur.
Literature:
1. Bullettino della Commissione Archeologica Comunale di Roma, 1890, p.18-22.
2. Am. J. Arch. and Hist. of the Fine Arts. 1890, V. VI, p. 229-230.
3. Francesco Diosono. Note sull'Arbor Sancta a Urso e Roma. HABIS 37 2006, p. 393—396.
Credits:
Keywords: Luna marble Luni marble marmo lunense base pedestal of a statue of Marcus Poblicius Hilarus Cybela Attis dendrophori Manius Poblicius Hilarus Basilica Hilariana Inv No NCE 3009 CIL VI 30973 b Manio Poblicio Hilaro margaritario collegium dendrophorum Matris deum Magnae Idaeae et Attis quinquennali perpetuo quod cumulata omni erga se benignitate meruisset cui statua ab eis decreta poneretur