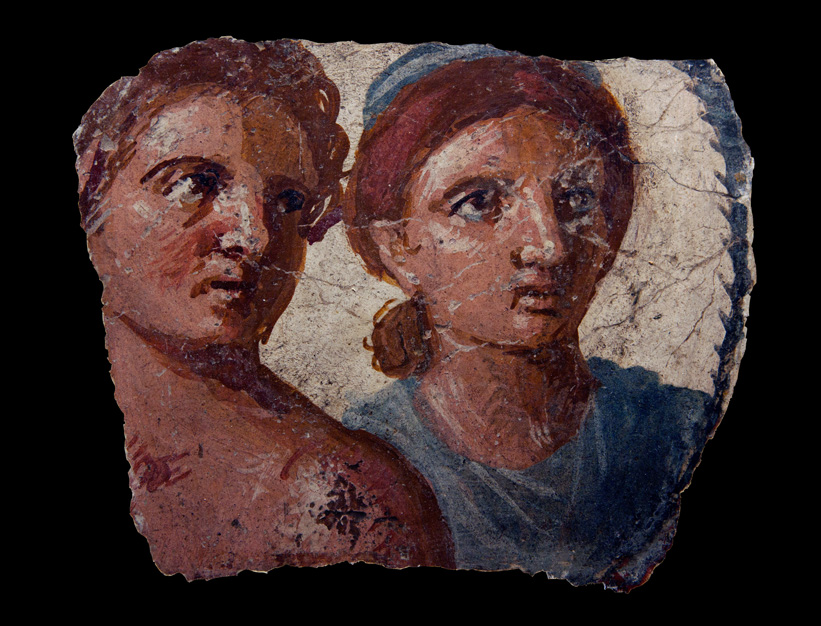 Pompeian portrait of a man and woman
Ca. 20 BCE — ca. 20 CE.
Inv. No. GR 1856.12-26.1621
London, The British Museum
Photo by Roger B. Ulrich
Pompeian portrait of a man and woman.
Ca. 20 BCE — ca. 20 CE.
Inv. No. GR 1856.12-26.1621
London, The British Museum
Origin:
From Pompeii.
Description:
A fragment of a Pompeian wall painting that shows the portraits of a man and a woman. The original setting (context) of the painting is lost. The heads were painted in a circular field ("tondo" or medallion). The painting is dated to ca. 20 BCE to ca. 20 CE. (thus to the period of Rome's first emperor, Augustus). Compare the woman's hairstyle to contemporary stone portraits. Gift to the British Museum by Sir William Temple (inv. GR 1856.12-26.1621; Painting 37).
Credits: