Aphrodite (so-called Niobe).
Fine-grained marble.
Head — Roman copy of the 2nd century CE, bust — modern.
Inv. No. 8586.
Rome, Roman National Museum, Palazzo Altemps
(Museo nazionale romano, Palazzo Altemps)
Origin:
From the Ludovisi collection.
Description: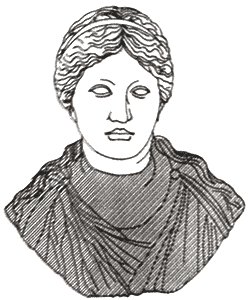 This portrait is known in the Ludovisi family inventories as Niobe, or niobid, a character in the Greek myth from the cycle about the sons of Leto. The bust is restored. The head bears traits and a hairstyle that are typical of the Aphrodite of Cnidos, so much so that it could have been the model for the seventeenth-cenlury restoration of the nearby statue of Aphrodite.
Credits:
THE GALLERY OF ANCIENT ART
Keywords: marble head bust of Aphrodite Venus Afrodite Venere so-called Niobe Niobide from the Ludovisi collection Inv No 8586