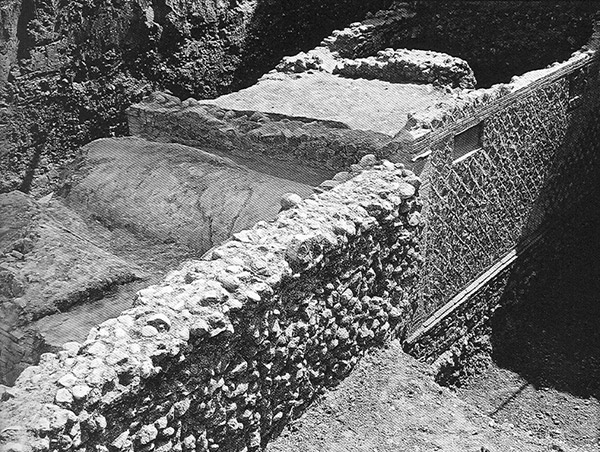 Fig. 1. A double funerary building.
Notice no. 3937, 2002.
Patras, Langoura, Samou and Aristomenou Streets. M. Petropoulos (Στʹ ΕΠΚΑ) reports the completion of the excavation of the double funerary building. The roof of the first structure (divided into a chamber and antechamber) had collapsed. Niches were cut in the walls, two of which contained female busts. In the floor of the main chamber, a subterranean cist grave with a tile cover was found looted. It contained a number of crania and a few offerings, mostly lamps, which date its latest use to the end of the first or beginning of the second century AD.
Fig. 2. Two marble heads.
Both chambers had wallpaintings. Incised into the plaster of the antechamber wall in very small letters was a Greek inscription in dactylic hexameters, probably of the third century AD. On the south exterior wall, a Latin inscription records the donor and (first) recipient of the tomb (perhaps also commemorated by the two busts):
MARCIAE MAXIMAE
C.(AII) LAETILI CLEMENTIS
UXORI
PAVIA FECIT MATER
The roof of the second, later, chamber survives, but no burial was found inside. Both chambers were entered from the south. Their preservation is due to burial in a deposit of sand and gravel left by flooding of the river Diakoniari.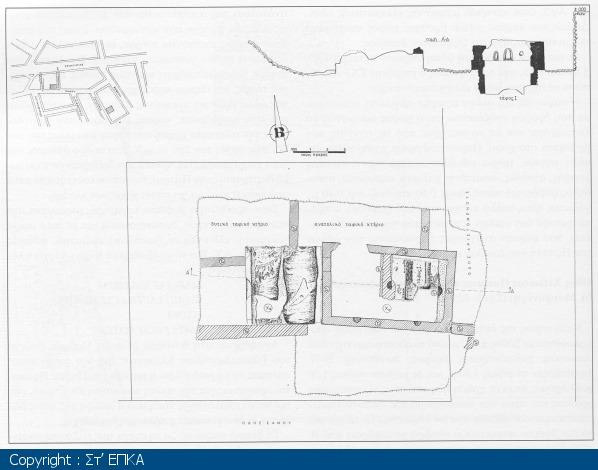 Fig. 3.
Bibliography: ADelt 56-59 (2001-2004) B4, 543.
MORGAN Catherine