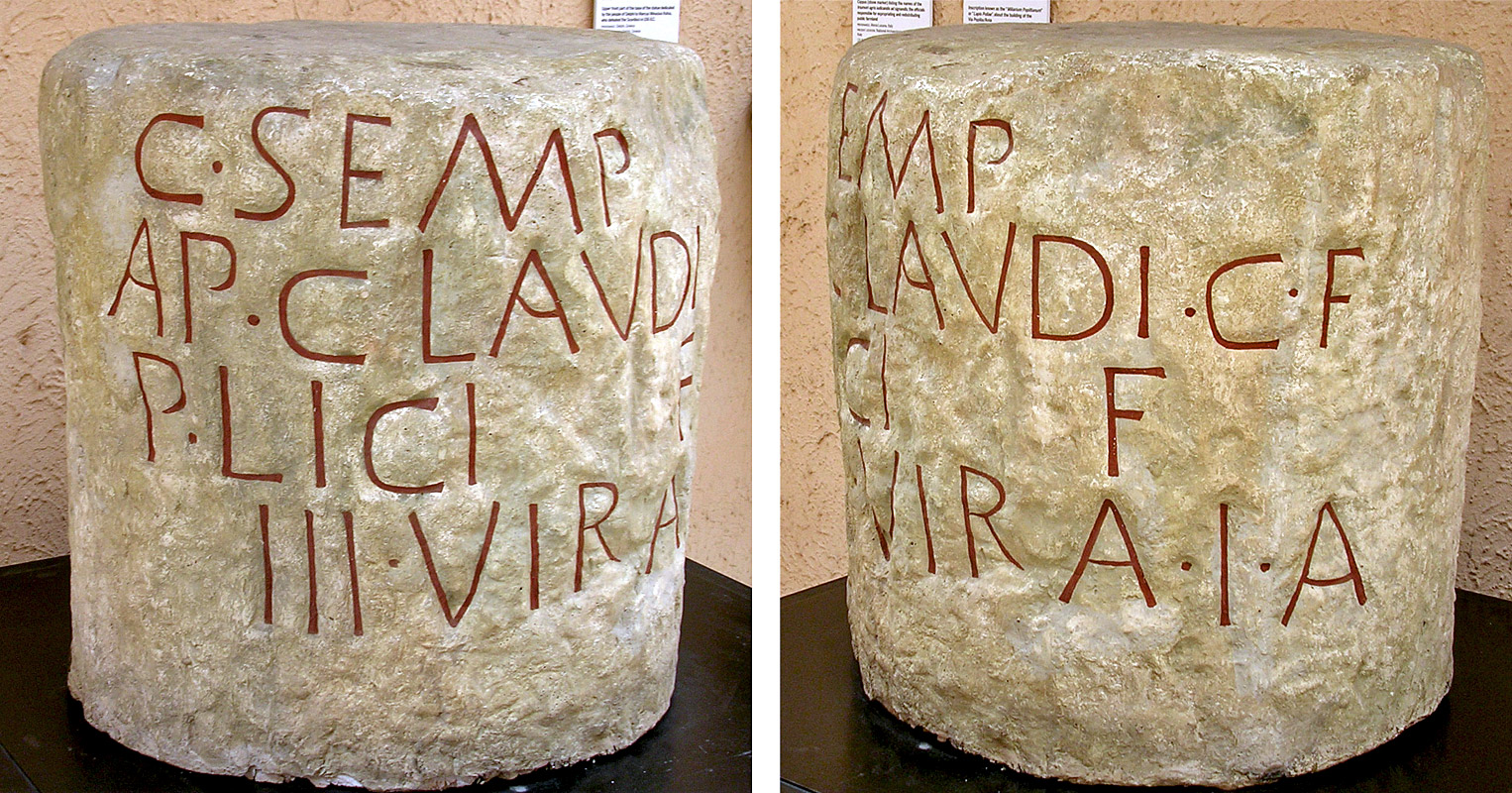 Cippus (stone marker) listing the names of the triumviri agris iudicandis adsignandis, the officials responsible for expropriating and redistributing public farmland
131 BCE. Copy.
CIL I2 639 = ILLRP 470.
Inv. No. MCR 145.
Rome, Museum of Roman Civilization
(Museo della civiltà romana)
Origin:
Atena Lucana (ancient Atina), Italy. Original in National Archaeological Museum, Naples, Italy.
Description:
CIL I
2
639 = ILLRP 470
C(aius) Sempronius Ti(beri) f(ilius) / Ap(pius) Claudius C(ai) f(ilius) / P(ublius) Licinius P(ubli) f(ilius) / IIIvir(i) a(gris) i(udicandis) a(dsignandis) / k(ardo) VII
Gaius Sempronius, son of Tiberius; Appius Claudius, son of Gaius; Publius Licinius, son of Publius; triumviri with judicial powers for dividing the land; 7th limiting line from north to south
Credits:
© 2009. Photo:
S. Tariverdieva
Text of the description: the inscription in the museum.
Latin text: Inscriptiones Latinae Liberae Rei Publicae / Cur. A. Degrassi. Firenze, 1965. P. 272, No. 470.
Keywords: Cippus stone marker listing the names of the triumviri agris iudicandis adsignandis the officials responsible for expropriating and redistributing public farmland Gracchus Gracchi Pulcher Crassus Dives Mucianus land agrarian comission lex Semprinia agraria Inv No MCR 145 CIL I 639 ILLRP 470 g495 g494 g541 Caius Sempronius Tiberi filius Appius Claudius Cai filius Publius Licinius Publi filius triumviri IIIviri agris iudicandis adsignandis kardo VII