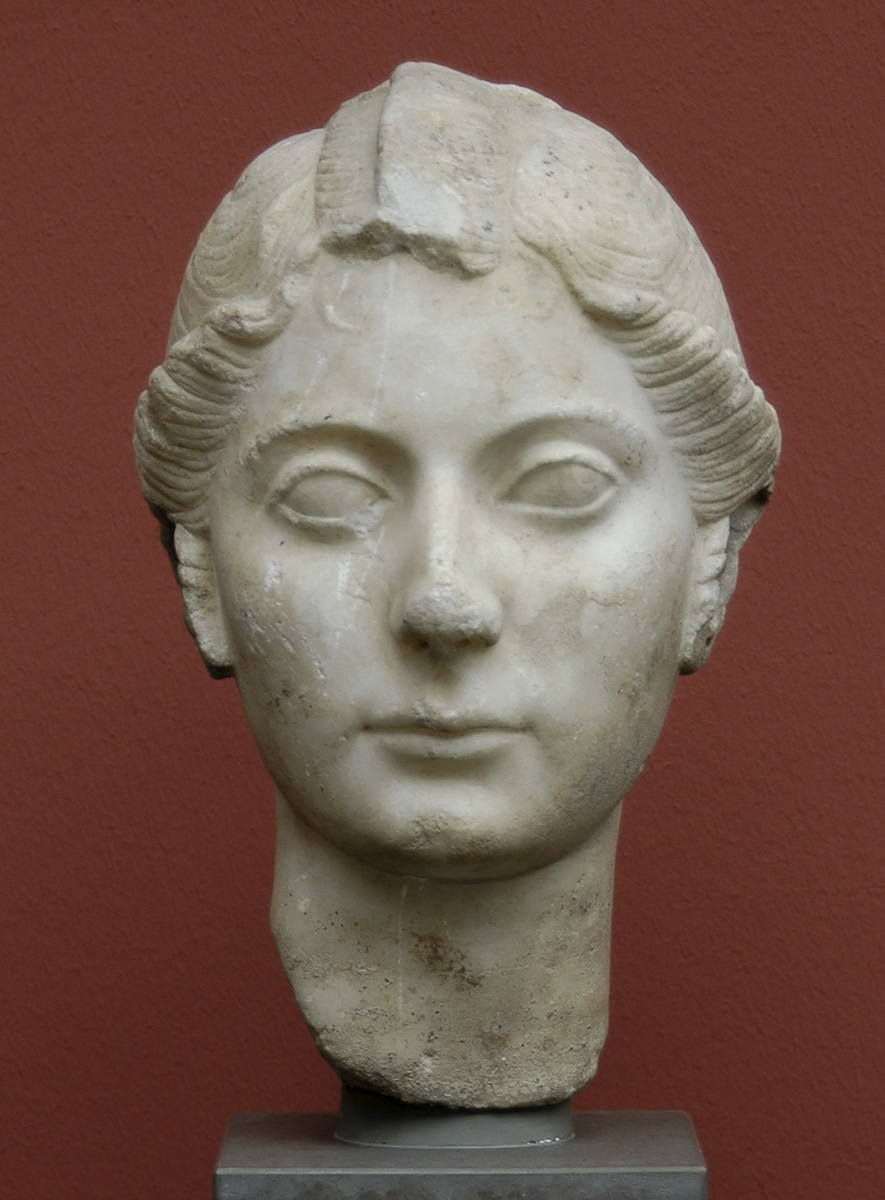 A Roman girl
Marble. End of the 1st cent. BCE.
Height 28 cm.
Inv. No. 3175.
Copenhagen, New Carlsberg Glyptotek
Photo by Sergey Sosnovskiy
A Roman girl.
Marble. End of the 1st cent. BCE.
Height 28 cm.
Inv. No. 3175.
Copenhagen, New Carlsberg Glyptotek
(København, Ny Carlsberg Glyptotek).
Origin:
Found at Via del Corso, Rome. Acquired in 1958.
Description:
41. Roman Girl
The beautiful young girl's hair is uniquely styled. The hair is pressed in over the temples, but around the ears it is braided and this plait continues down into a small bun at the back of the head, from where a system of two criss-crossing braids and one vertically ascending braid lead up toward a knot on the top of the crown. This top-knot is flat, indicating that it must have originally accommodated a metallic ornament.
Vagn Poulsen connected the portrait with a tessera (theater ticket) which pictured the head of a woman that has been suggested as being Julia, the daughter of Augustus (Antike Münzen (2. 4. 1958) no. 287, tav. X), but the identity of the portrait on this tessera is not accompanied by an inscription. Julia (born in 39 B. C.) was the only daughter of Augustus and Scribonia. In 25 B. C., she was married with Marcellus. She was married once again to Agrippa and for the third time to Tiberius. In 2 A. D. she was sent into exile. She died in 14A. D.
Original: End of the 1st cent. B. C.
I. N. 3175.
Head.
Marble. H. 0. 28.
Minor injuries to the tip of the nose, the eye, the chin, the mouth, and the hair. There were once holes drilled into the ears. At the top of the crown, there is a smoothly hewed circular surface. In this place, a knot of hair, made in some other material — most likely metal — was fastened.
Acquired in 1958 from Rome. This portrait was presumably discovered at the Corso between San Marcello and Piazza Venezia, together with 6.
Bibliography:
Cat. 620, but not in F. Poulsen 1951; V. Poulsen 1973, Cat. 40; W. Trillmich, Das Torlonia Mädchen, Abh. Göttingen III, 99 (1976) 53 f, Taf. 14 f; Kockel, Porträtreliefs, 37, n. 301; D. Boschung, JRA 6 (1993) 48; F. Johansen, MedKøb 49 (1993) 106, fig. 14.
Credits:
(сс) 2008. Photo:
Sergey Sosnovskiy
(
CC BY-SA 4.0
).
Text: museum inscription to the sculpture.
© 1994. Description with b/w photo: F. Johansen. Catalogue Roman Portraits, vol. I, Ny Carlsberg Glyptotek, 1994. P. 106, cat. no. 41.
Keywords: απεικόνιση portrait portraiture ritratto ritrattistica porträtmalerei porträt roman romana römisches romain αυτοκρατορικό imperial imperiale kaiserliches impérial ιουλιο-κλαυδιανή δυναστεία iulio-claudia iulii-claudii julii-claudii the julio-claudian dynasty dinastia giulio-claudia julisch-claudische dynastie famille julio-claudienne julio-claudiens γλυπτική sculptura sculpture sculptural scultura skulptur ρωμαϊκό romano romani römisch römische römischen römischer romaine romains romaines κεφάλι κεφαλή head testa kopf tête marble marmor marmo femminile of julia maior iulia giulia g139 female hairstyle acconciatura hair style inv no 3175 620