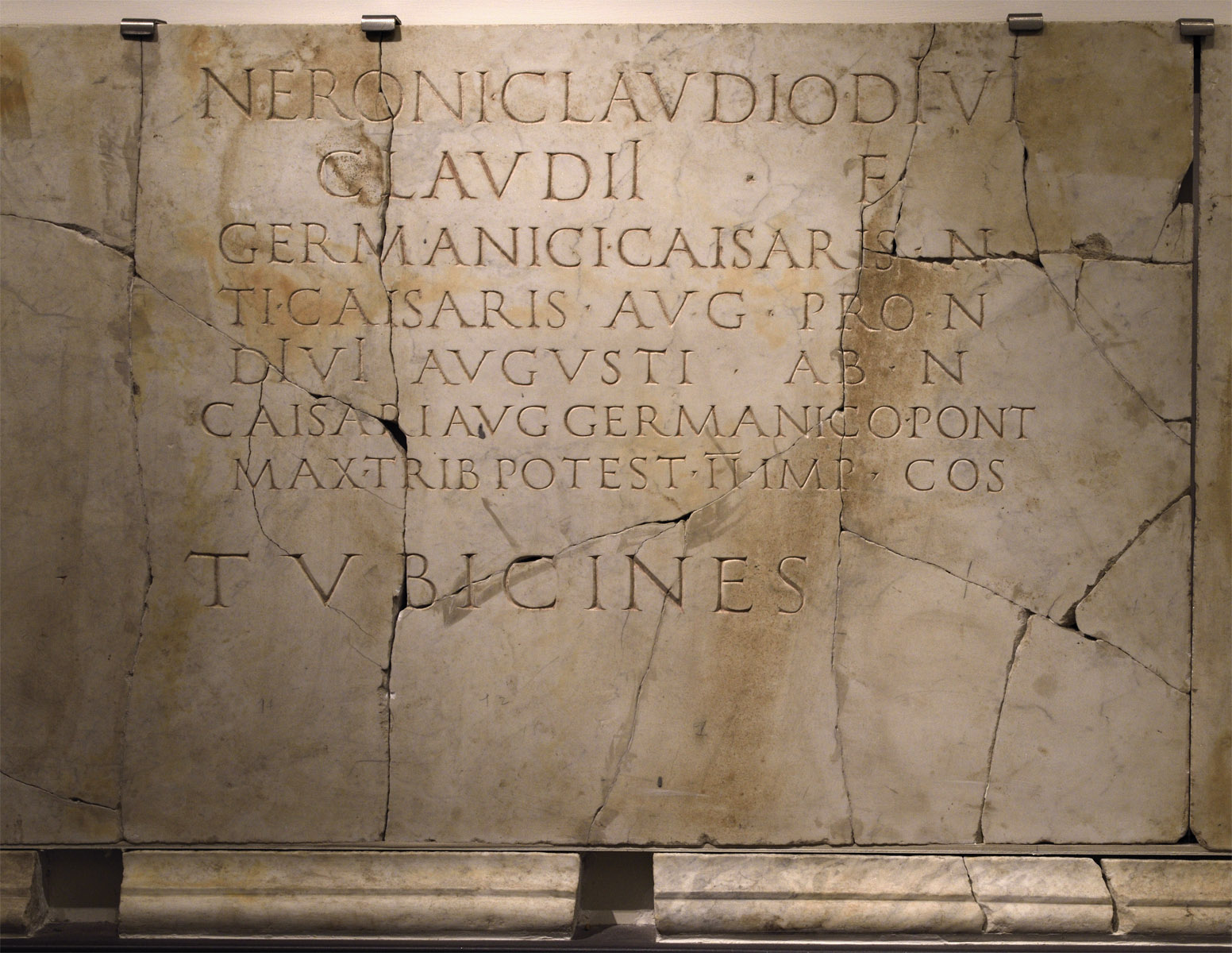 Inscription from the Curiae Veteres in honour of emperor Nero.
CIL. VI. 40307 = AE. 1996. 246.
Luna marble. 55—56 CE.
Height 0.76 m, width 2.1 m, depth 0.035 m, height of the letters 0.028—0.045 m.
Hall 5, Inv. No. 574363.
Rome, Roman National Museum, Baths of Diocletian
(Museo nazionale romano, Terme di Diocleziano)
Origin:
Rome, piazza del Colosseo, the excavations of Meta Sudans, between the Arch of Constantine and Meta Sudans, 1989.
Description:
CIL. VI. 40307 = AE. 1996. 246.
Neroni Claudio Divi
Claudii f(ilio),
Germanici Caisaris n(epoti),
Ti(beri) Caisaris Aug(usti) pron(epoti),
Divi Augusti abn(epoti),
Caisari Aug(usto) Germanico, pont(ifici)
max(imo), trib(unicia) potest(ate) II, imp(eratori), co(n)s(uli).
Tubicines.
To Nero Claudius Caesar Augustus Germanicus, son of Divine Claudius, grandson of Germanicus Caesar, grand-grandson of Tiberius Caesar Augustus, great-grandson of Divine Augustus, pontifex maximus, invested with tribunician power for 2nd time, emperor, consul. Trumpet-players.
Credits:
Keywords: Luna marble Luni marble marmo lunense Nero Claudius Caesar Augustus Germanicus pontifex maximus tribunicia potestas tribunician power imperator emperor consul trumpet-players Curiae Veteres AE 1996 246 CIL VI 40307 Neroni Claudio Divi Claudii filio Germanici Caisaris nepoti Tiberi Caisaris Augusti pronepoti Divi Augusti abnepoti Caisari Augusto Germanico pontifici maximo tribunicia potestate II imperatori consuli