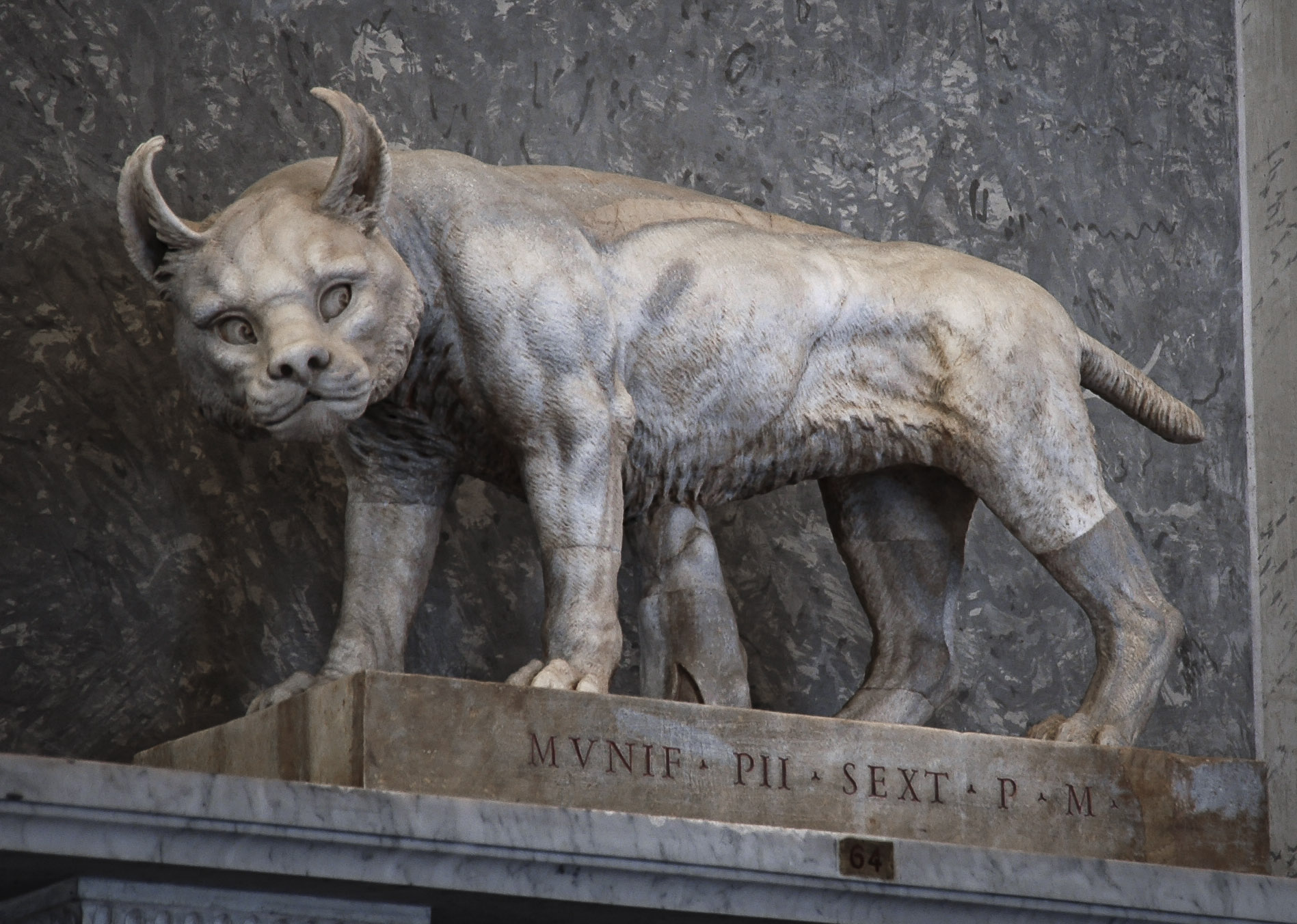 Lynx.
Scagliola. The work of the 18th century.
Inv. No. 447.
Rome, Vatican Museums, Pius-Clementine Museum, Room of the Animals, 64
(Musei Vaticani, Museo Pio-Clementino, Sale degli animali, 64)
Description:
SA 64. Lince
Si tratta di un «modello di scagliola del lupo cerviero copiato dal vivo che sta nel Cortile del R. Palazzo di Varsavia» e che venne donato nel 1781 dal Nunzio di Polonia a Pio VI. Sono integrati le orecchie, la coda, la parte inferiore delle gambe ed il tronco di sostegno, ma anche il resto del felino è un'opera settecentesca di buona qualità. La lince (lynx vulgaris), che nel '700 era ancora abbastanza diffusa in tutti i boschi europei (oltre che in America ed in Asia), è un carnivoro, precisamente un felino, che nelle conoscenze popolari era talvolta erroneamente classificato tra i canidi e per questo motivo veniva chiamato "lupo cerviero".
Literature:
Inv. 447;
W. Amelung, Die Sculpturen des Vaticanischen Museums, II, Berlin 1908, p. 390 n° 230 tav. 44;
C. Pietrangeli, La provenienza delle sculture dei Musei Vaticani, II, in Bollettino dei Monumenti, Musei e Gallerie Pontifìcie, VIII, 1988, p. 183.
Credits:
(ńń) 2006. Photo:
Sergey Sosnovskiy
(
CC BY-SA 4.0
).
© 1996. Description: Spinola G. Guide cataloghi Musei Vaticani, 3. Il Museo Pio Clementino, 1. Città del Vaticano, Roma, 1996, p. 147, cat. no. SA 64.