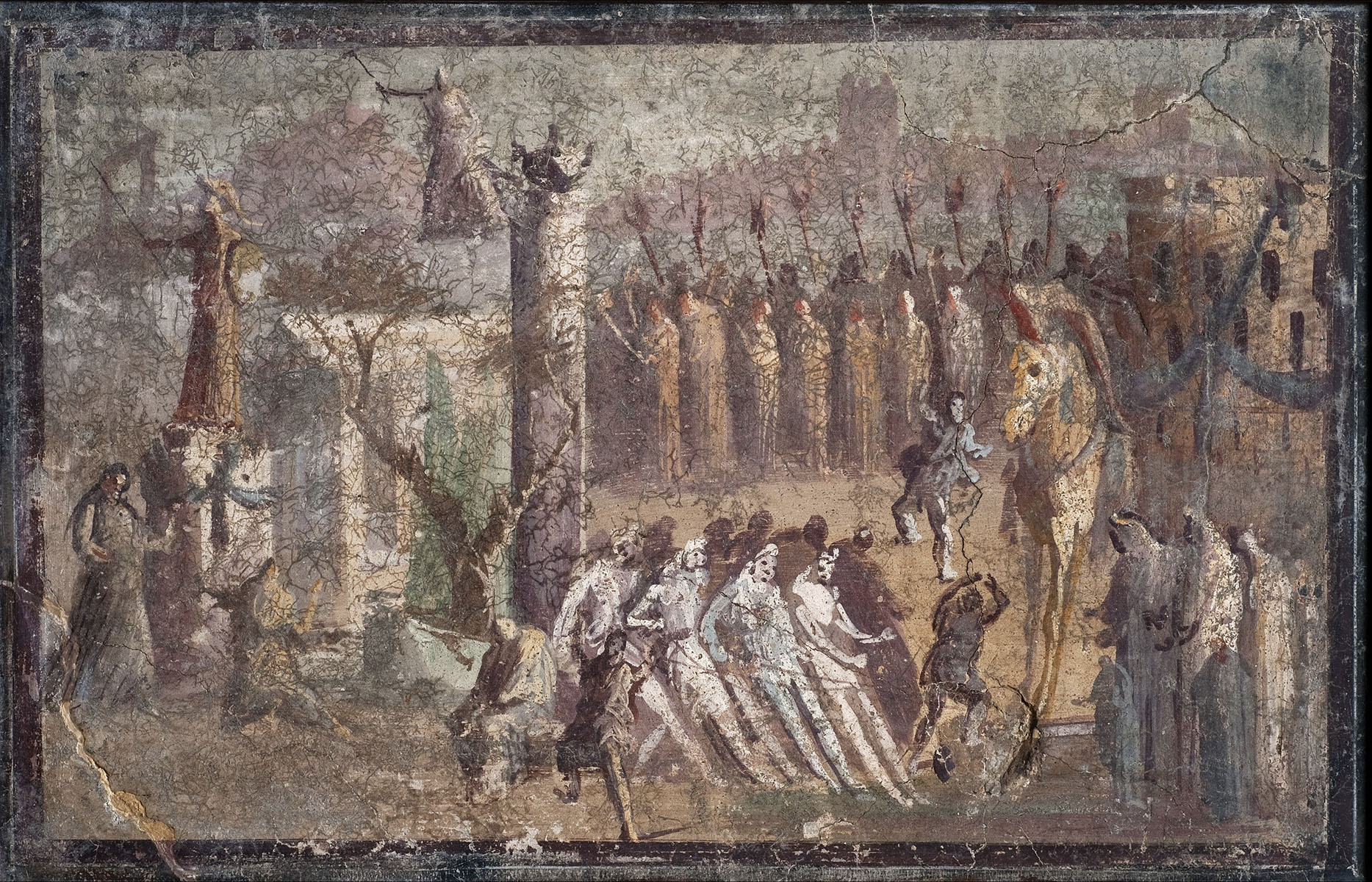 Trojan horse
Fresco of the Fourth style from Pompeii (VII. 6. 38).
45—79 CE.
40 × 62 cm.
Naples, National Archaeological Museum, Hall LXXIII
Inv. No. 9010.
Photo by Luigi Spina
Trojan horse.
Fresco of the Fourth style from Pompeii (VII. 6. 38).
45—79 CE.
40 × 62 cm.
Inv. No. 9010.
Naples, National Archaeological Museum, Hall LXXIII
(Napoli, Museo archeologico nazionale di Napoli, Sala LXXIII)
Origin:
Pompeii, VII. 6. 38, House of Cipius Pamphilus, exedra 23.
Description:
1. 1. 3. L'ingresso del cavallo in città
Un quadro dalla Casa di Cipius Pamphilus29 (figg. 8—9) raffigura il momento dell'ingresso del cavallo a Troia, realizzato con una composizione articolata: al centro del quadro, troiani distribuiti su più file trascinano il cavallo tirando lunghe corde, accompagnati da una folla, in secondo piano, che regge lunghe torce accese; nel mezzo, un uomo corre verso il cavallo brandendo una lancia, chiaramente Laocoonte che si appresta a scagliare l'arma nel fianco dell'idolo; un secondo personaggio si agita proprio ai piedi del cavallo; lungo il margine destro si riconosce un'alta torre ai cui piedi sono cittadini sontuosamente abbigliati; la metà sinistra è occupata da un'area sacra costituita da un tempio, un'alta colonna sovrastata da un vaso, un albero frondoso ai cui piedi siede un uomo anziano atteggiato nel caratteristico gesto della meditazione30, nonché il Palladio collocato su alta base e davanti Cassandra inginocchiata a braccia aperte; lo sfondo del quadro è occupato dalla veduta delle mura di Troia mosse da torri e dall'altura del monte Ida a sinistra. Veglia su tutta la scena una figura di divinità femminile, pesantemente abbigliata, con la torcia nella mano destra.
La torre collocata alla destra del quadro presenta alla sommità profonde crepe, tra le quali è passato un vistoso nastro annodato nella parte anteriore della struttura.
Isabella Colpo (2010)
29
Pompei, VII 6, 38; esedra (23); IV stile (40 × 62 cm). Oggi MNN, inv. 9010.
Le pitture antiche di Ercolano e contorni incise con qualche spiegazione. Antichità di Ercolano illustrate ed esposte
, t. I—
IV, Napoli 1767: t. III, pp. 199—205 (tav. XL);
S. Reinach, Répertoire de peintures Grecques et Romaines, Paris, 1922, n. 171, 6;
Ch. Dawson, Romano-campanian mythological landscape painting, Yale University Press, 1944, p. 86, n. 13;
A. Sadurska, Equus troianus, in LIMC, III, 1, pp. 813—817 e tavv., 1986, n. 8;
Collezioni del Museo Nazionale di Napoli, a cura dell'Archivio Fotografico Pedicini, I—II, Roma 1989: I, pp. 152—153, n. 208;
Pompei. Pitture e mosaici, Istituto della Enciclopedia Italiana fondato da Giovanni Treccani, I—X, Roma, 1990—2003: VII, p. 214, fig. 7;
M. Fuchs, Le Cheval de Troie version romaine: une machine de guerre?, in Iconografa 2006. Gli eroi di Omero, Atti del Convegno internazionale (Taormina, Giuseppe Sinopoli Festival, 20—22 ottobre 2006), a cura di I. Colpo, I. Favaretto, F. Ghedini, Roma (Antenor Quaderni, 8) 2007, pp. 87—88;
Bragantini, Sampaolo 2009, p. 344, n. 157. 30Cfr. S. Settis, Immagini della meditazione, dell'incertezza e del pentimento nell'arte antica, in Prospettiva, 2, 1975, pp. 4—17.
Credits:
Keywords: ζωγραφικήί pictura ars picturae painting pittura malerei peinture φρεσκογραφία τοιχογραφία νωπογραφία wall fresco frescos frescoes opera parietale murale opere parietali murali affresco affreschi freskomalerei frischmalerei wandmalerei fresko fresken fresque fresques ρωμαϊκές roman romana romano romani römisch römische römisches römischen römischer romain romaine romains romaines τέταρτο στυλ fourth style iv quarto stile vierte vierter stil quatrième style πομπηία pompeii pompeian pompei pompeiano pompeji pompeianischen pompejanischen pompéi pompéien ελληνική μυθολογία mythologia graeca greek mythology mitologia greca griechische mythologie grecque θεά αθηνά παλλὰς ἀθηνᾶ ἀθήνη athene athena pallas goddess dea atena göttin déesse athéna athéné κασσάνδρα κασάνδρα cassandra kassandra cassandre λαοκόων laocoon laocoön laocoonte laokoon laocoon τρωικός πόλεμος bellum troianum trojan war guerra di troia trojanischer krieg guerre de troie tree albero baum arbre δέντρο architectural composition composizione architettonica architektonische komposition composition architecturale αρχιτεκτονική σύνθεση column colonna kolonne säule colonne columna κολόνα στύλος vase vaso δοχείο βάζο statue of deity divinity statua di una divinità der gottheit de la divinité άγαλμα της θεότητας trojan troiano troiani trojaner troyen troyennes house of cipius pamphilus vii 6 38 casa di trojan horse cavallo di troia trojanische pferd cheval de troie equus troianus δούρειος ίππος burning torch torcia accesa brennende fackel brûlant flambeau tower torre turm tour πύργος city defensive wall fortification mura muro protettivo cittadino fortificazione mauer schutzmauer der stadt stadtwehrmauer befestigung ville mur défensif προστατευτικό τοίχο της πόλης οχύρωση temple tempio tempel aedes templum ναός pedestal base piedistallo podio postament sockel piédestal βάθρο city troy città ilio stadt troja cité troie troia ilium ilios τροία τροίη ἴλιον ἴλιος ίλιον praying person prayer persona che prega preghiera betende person gebet personne en prière προσευχή πρόσωπο palladio palladium palladion παλλάδιον mount monte ida-gebirge mont ida ἴδη όρος ίδη trojan horse drawn in the city cavallo di troia trainato in città inv no 9010