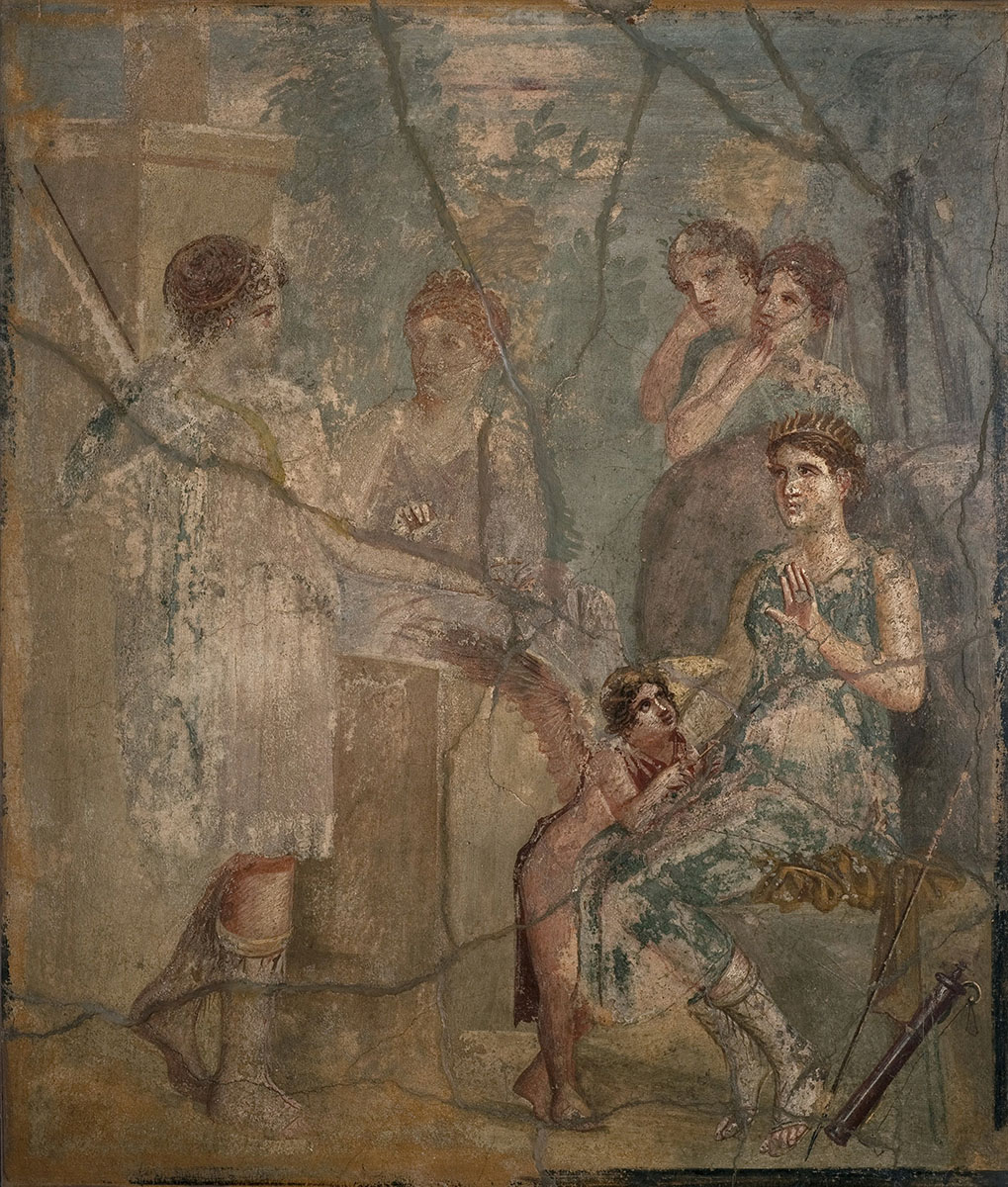 Artemis and Callisto
Fresco from Pompeii (House of Cornelius Diadumenus, VII, 12, 26).
45—79 CE.
107 × 90 cm.
Inv. No. 111441.
Naples, National Archaeological Museum, Hall LXXIV
Photo by Luigi Spina
Artemis and Callisto.
Fresco from Pompeii (House of Cornelius Diadumenus, VII, 12, 26).
45—79 CE.
107 × 90 cm.
Inv. No. 111441.
Naples, National Archaeological Museum, Hall LXXIV
(Napoli, Museo archeologico nazionale, Sala LXXIV)
Origin:
Pompeii, VII. 12. 26, House of Cornelius Diadumenus, west wall in triclinium room on left hand side behind atrium, 1863.
Description:
This painting depicts Artemis, seated and wearing a radiate crown, turning towards Callisto, the most beautiful of the nymphs in the goddess retinue. Callisto will be transformed into the constellation Ursa Major. There is an identical replica of this painting in the House of the Tragic Poet at Pompeii.
According to Richardson, he thought this may have been a painting of Aeneas and Dido? He wrote that a wall painting of Theseus abandoning Ariadne was also found in this room. Also found was a medallion with head of a Satyr, and medallions with busts. See Richardson, L., 2000. A Catalog of Identifiable Figure Painters of Ancient Pompeii, Herculaneum. Baltimore: John Hopkins. P. 146.
Unerklärte Bilder aus dem Kreise der Artemis.
253. P. Vicolo del balcone pensile N. 6. 7 (XXIII). B. 0,87. H. 1,02.
R. sitzt Artemis auf einem mit einem gelben Gewande belegten Steine, an welchem Speer, Bogen und Köcher angelehnt sind. Sie trägt eine Zackenkrone, kurzen grünen Chiton und hohe Jagdstiefel und hebt betroffen durch den Anblick oder die Rede des vor ihr stehenden Jünglings die L. in die Höhe. An ihren Schenkel gelehnt steht ein Eros mit rother Chlamys, welcher schelmisch zu ihr emporblickt und die Spitze eines Pfeiles nach ihrer Brust richtet. Der Jüngling, ein goldfarbiges Band um das kurze Lockenhaar, in langärmeligem violettem Chiton mit grünem Rande, grüner am Rande mit Gold durchwirkter Chlamys und hohen Jagdstiefeln blickt die Göttin an und erhebt im Gespräche zu ihr die R. In der L. hält er zwei Speere. Folgende drei Figuren stehen in entfernterem Bezüge zur Handlung und gehören vermuthlich zu der Klasse der in der hellenistischen Kunst üblichen Naturpersonificationen: neben dem Jüngling, doch etwas mehr im Hintergründe, ragt über eine niedrige Mauer die Gestalt eines Mädchens hervor, bekleidet mit hellviolettem Chiton, welche, sich zu dem Jüngling wendend, die R. mit zusammengelegtem Daumen und Zeigefinger ein wenig emporhebt — eine Geberde der Ueberraschung, mit welcher sie zugleich den Jüngling zur Vorsicht zu mahnen scheint. Ueber Artemis ragen hinter dem Felsen zwei bekränzte weibliche Figuren in grünem Chiton hervor, deren Blicke nachdenklich auf den Jüngling gerichtet sind. Die vordere, mit weisslichem vom Kopfe herabfallendem Schleier legt die R. an das Kinn, die hintere1 dieselbe Hand an das Ohr. Vielleicht stellt dies Bild ein Motiv aus einer verlorenen Version des Aktaion-mythos vor, nach welcher Aktaion, der übrigens auch nach einigen Spuren in der Dichtung anfangs der begünstigte Jagdgenoss der Artemis war und sich als solcher in die Göttin verliebte, zu Grunde ging, nicht, weil er die Göttin im Bade sah, sondern weil er sich erkühnte ihr einen Liebesantrag zu machen. Der Liebesantrag des Aktaion könnte auf unserem Bilde dargestellt sein. Die Gegenwart des Eros würde auf ein der hellenistischen Poesie eigenthümliches Motiv zurückgehen, nach welchem Eros diese Gelegenheit benutzt, um die jungfräuliche Göttin schwanken zu machen.
Brunn, in: Bulletino dell' Jnstituto di corrispondenza archeologica. 1863 p. 96 ff.
1
Brunn zieht es vor, in dieser Figur einen Jüngling zu erkennen, was mir unwahrscheinlich scheint.
W. Helbig (1868)
Credits:
Keywords: ζωγραφικήί pictura ars picturae painting pittura malerei peinture φρεσκογραφία τοιχογραφία νωπογραφία wall fresco frescos frescoes opera parietale murale opere parietali murali affresco affreschi freskomalerei frischmalerei wandmalerei fresko fresken fresque fresques pintura mural ρωμαϊκές roman romana romano romani römisch römische römisches römischen römischer romain romaine romains romaines πομπηία pompeii pompeian pompei pompeiano pompeji pompeianischen pompejanischen pompéi pompéien ελληνική μυθολογία mythologia graeca greek mythology mitologia greca griechische mythologie grecque ἄρτεμις dea artemis goddess artemide göttin déesse artémis καλλιστώ callisto kallisto nymph ninfa nymphe νύμφη νύμφες nympha nymphs ninfe nymphes ἔρως έρως eros éros ρωμαϊκή amor cupid amore cupido amour female dress clothes clothing garment abbigliamento femminile damenbekleidung vêtements pour femmes γυναικεία ρούχα hairdo hairstyle pettinatura acconciatura weibliche frisur coiffure féminine θηλυκό χτένισμα male footwear footgear calzatura frauenschuhe chaussures παπούτσια pharetra cucurum quiver faretra köcher φαρέτρα corona wreath kranz couronne endromis cothurnus topboot boot boots stivali stiefel stiefeln bottes ἐνδρομίς chiton khiton chitone χιτών tree albero baum arbre δέντρο hasta spear lancia speer lance δόρυ diadema diadem diadème διάδημα alatus alata winged alato geflügelt ailé φτερωτό chlamys clamide χλαμύδος stephane crown krone στέφανος στεφάνη bow arco bogen arc τόξο bowstring corda bogensehne corde arrow arrows freccia frecce pfeil pfeile flèche house of cornelius diadumenus vii 12 26 vicolo del balcone pensile inv no 111441