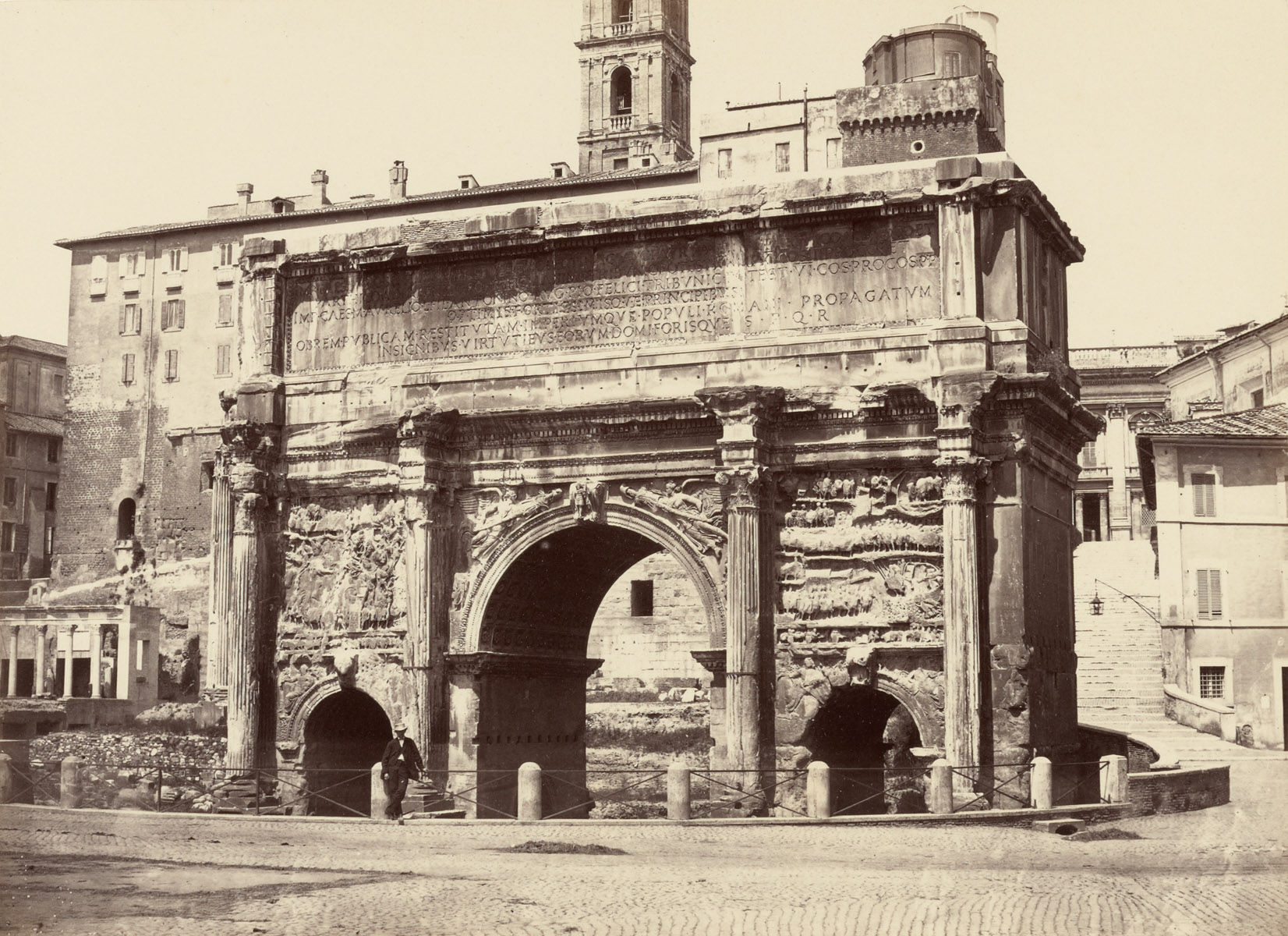 Arch of Septimius Severus, about 1860—1874
Rome, Roman Forum, Arch of Septimius Severus
Photo by Giorgio Sommer
Arch of Septimius Severus, about 1860—1874.
Rome, Roman Forum, Arch of Septimius Severus.
Description:
A man leaning on a fence in front of a triumphal arch. The arch has an inscription in Latin along the top. It has one main archway and two smaller arches, one on either side of the main arch.
Credits:
Photo, text:
Photographien Rom. Neapel. 1859 [Vol. II] [photo 26]
.
Albumen silver print, 17.1 × 23.7 cm.
Photo:
Giorgio Sommer (1834—1914)
, about 1860—1874.
Previously, the authorship was attributed to Robert Macpherson (1811—1872).
Black printed text on the mount: THE ARCH OF SEPTIMUS SEVERUS, ROME.
Inscription on the mount in pencil: 10.
(cc) 2021. The J. Paul Getty Museum, Los Angeles. Inv. No. 84.XM.885.1.11 (
CC BY 4.0
).
Digital image courtesy of the Getty's Open Content Program.
Keywords: αρχιτεκτονική architectura architecture architettura architektur ρώμη rome roma rom ρωμαϊκή αγορά forum romanum roman foro romano römischer marktplatz romain αψίδα του σεπτίμιου σεβήρου arch of septimius severus arco di settimio severo septimius-severus-bogen arc de septime sévère tabularium tabulario giorgio sommer albumen print stampa all'albume albumina albuminabzug albuminpapier impression d'albumine tirage albuminé contact a contatto kontaktabzug robert macpherson 84 xm 885 1 11