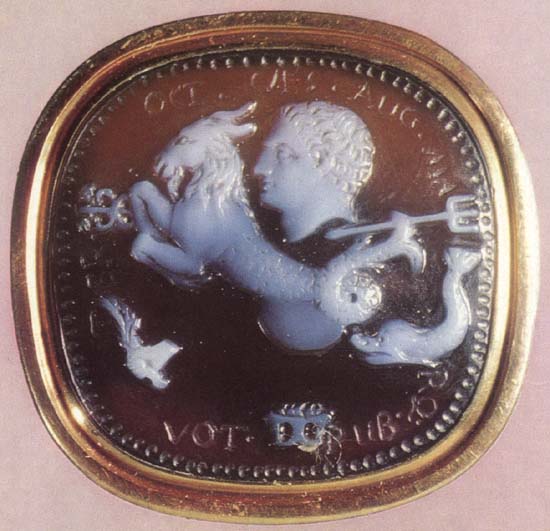 Allegory of Octavianís victory at Actium.
Portrait of Octavian. Capricorn, kerykeion, shield, dolphin, trident, altar and the hand holding a shipboard decoration.
Insribed: OCT. CAES. AVG. TER. MA. RQ. VOT. PUB.
Sardonyx. Twenties of the 1st century BCE.
2.5 × 2.4 cm.
Inv. No. ∆ 263.
Saint Petersburg, The State Hermitage Museum
Origin:
Acquired c. 1800ís.
Literature:
Maksimova, Reznye kamni, str. 99; Vystavka portreta, str. 29; N. A. Mashkin, Printsipat Avgusta, MoskvaóLeningrad, 1949, tabl. III; E. V. Fiodorova, Latinskaya epigrafika, Moskva, 1969, str. 298, ris. 75; M. Maximova. Un camée commémoratif de la bataille díActium, RA, 1929, p. 64 et suiv.
Credits:
Keywords: sardonyx cameo cameos allegory of Octavianís victory at Actium male portrait of Octavian Capricorn kerykeion caduceus shield dolphin trident altar and the hand holding a shipboard decoration insribed OCT CAES AVG TER MA RQ VOT PUB victory roman emperor Octavian August Octavianus Augustus Ottaviano Augusto Julio-Claudian dynasty dinastia giulio-claudia Julii-Claudii caduceus Inv No ∆ 263