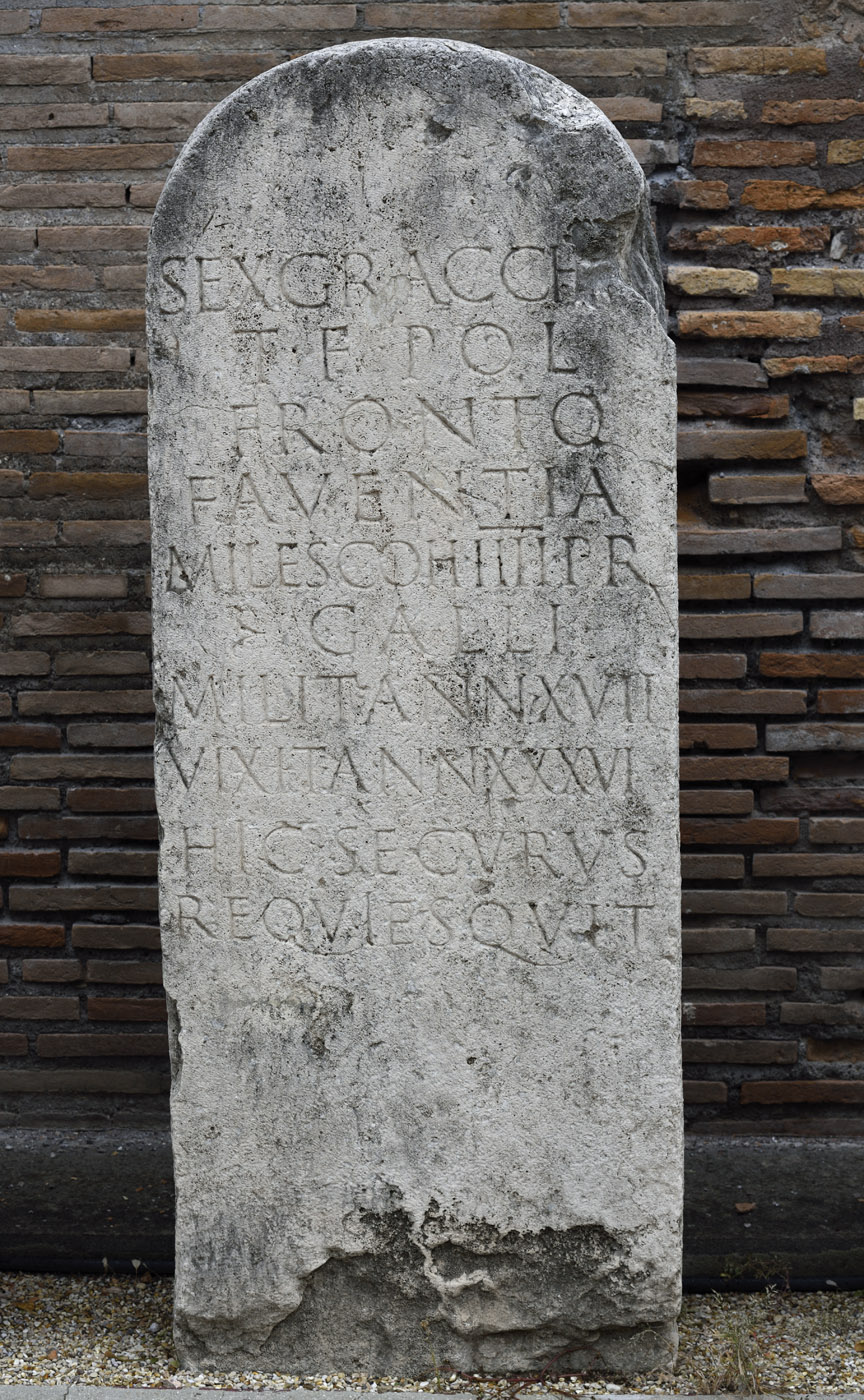 Funerary inscription of praetorian Sextus Gracchius Fronto
AE 1966, 33.
Travertine. First half of the 1st century CE.
Height 2.5 m, width 0.65 m, depth 0.35 m, height of the letters 6.5—7.2 cm
Rome, Roman National Museum, Baths of Diocletian
Photo by Ilya Shurygin
Funerary inscription of praetorian Sextus Gracchius Fronto.
AE 1966, 33.
Travertine. First half of the 1st century CE.
Height 2.5 m, width 0.65 m, depth 0.35 m, height of the letters 6.5—7.2 cm
Rome, Roman National Museum, Baths of Diocletian
(Roma, Museo nazionale romano, Terme di Diocleziano).
Origin:
Roma, the place of discovery is unknown.
Description:
AE 1966, 33
Sex(tus) Gracchi[us]
T(iti) f(ilius) Pol(lia)
Fronto,
Faventia,
5
miles coh(ortis) IIII pr(aetoriae)
((centuria)) Galli,
milit(avit) ann(is) XVII,
vixit ann(is) XXXVI.
Hic securus,
10
requiesquit
Sextus Gracchius Fronto, son of Titus, of Pollia tribe, from Faventia, soldier of the 4th praetorian cohort, of Gallus' century, served for 17 years, lived for 36 years. He rests here secure.
Funerary steles of soldiers and bodyguards of Nero
The funerary steles are dedicated to soldiers of different corps stationed in Rome: the Praetorian Guard «the imperial guard», and the urbaniciani or cohortes urbanae, troops of the police force. The series ends with the steles of Nero's Imperial German Bodyguard — Germani corporis custodes, — who were so called because they were originally recruited from the robust northern populations. Slaves at the time of Augustus, during the Neronian period the custodes were classed as free foreigners, with a military-style organisation bul without ever attaining the status of a real military force.
Involved in the death of Nero, they were dissolved by Galba.
Travertine, from various areas of Rome and suburbs and the Via Portuensis. Neronian period (54—68 CE).
The museum label

p.10
Rome. Museo Nazionale Romano.
Épitaphe mentionnée, pour l'indication de la tribu, par A. Donati, Aemilia tributim discripta (voir infra, Italie, reg. VIII) et publiée déjà par Susini, dans Not. Scavi, 1961, p. 14.
Sex(tus) Gracch[ius] | T(iti) f(ilius) Pol(lia) | Fronto | Fauentia, | miles coh(ortis) (quartae) pr(aetoriae) | (centuria) Galli | milit(auit) ann(os) (septemdecim) | uixit ann(os) (triginta sex). | Hic securus requiescit.
Probablement du Ier siecle apr. J.-C.; noter l'absence de D. M. et, à la fin, l'expression, rare dans l'épigraphie funéraire païenne, de securus requiescit.
L'Année épigraphique
Literature:
Rossini G. Le antiche iscrizioni romane di Faenza e dei «Faventini». Faenza, 1938. P. 122—123, nr. 90, fig. 53.
Susini G. Regione VIII (Aemilia) // NSA. Vol. 15. 1961. P. 14
Donati A. Aemilia tributim descripta. I documenti delle assegnazioni tribali romane nella regione romagnola e cispadana. Faenza, 1967. P. 64, nr. 124
AE 1966, 33
AE 1969/70, 196
AE 1977, 264
Kolb A., Fugmann J. Tod in Rom. Grabinschriften als Spiegel roemischen Lebens. Mainz am Rhein, 2008. S. 80—82, № 16
Credits:
Keywords: epigraphia epigraphy inscription iscrizione epigrafia epigraphik epigrafik inschrift épigraphie roman romano romana romani römisch römische romaine gravestone funerary inscriptions epitaph in pietra tombale epitaffio grabstein-inschrift de pierre épitaphe sextus gracchius titi filius pollia fronto faventia miles cohortis iiii praetoriae centuria galli militavit annis xvii vixit xxxvi hic securus requiesquit tribe praetorian iv cohort century of gallus gallius travertine ae 1966 33