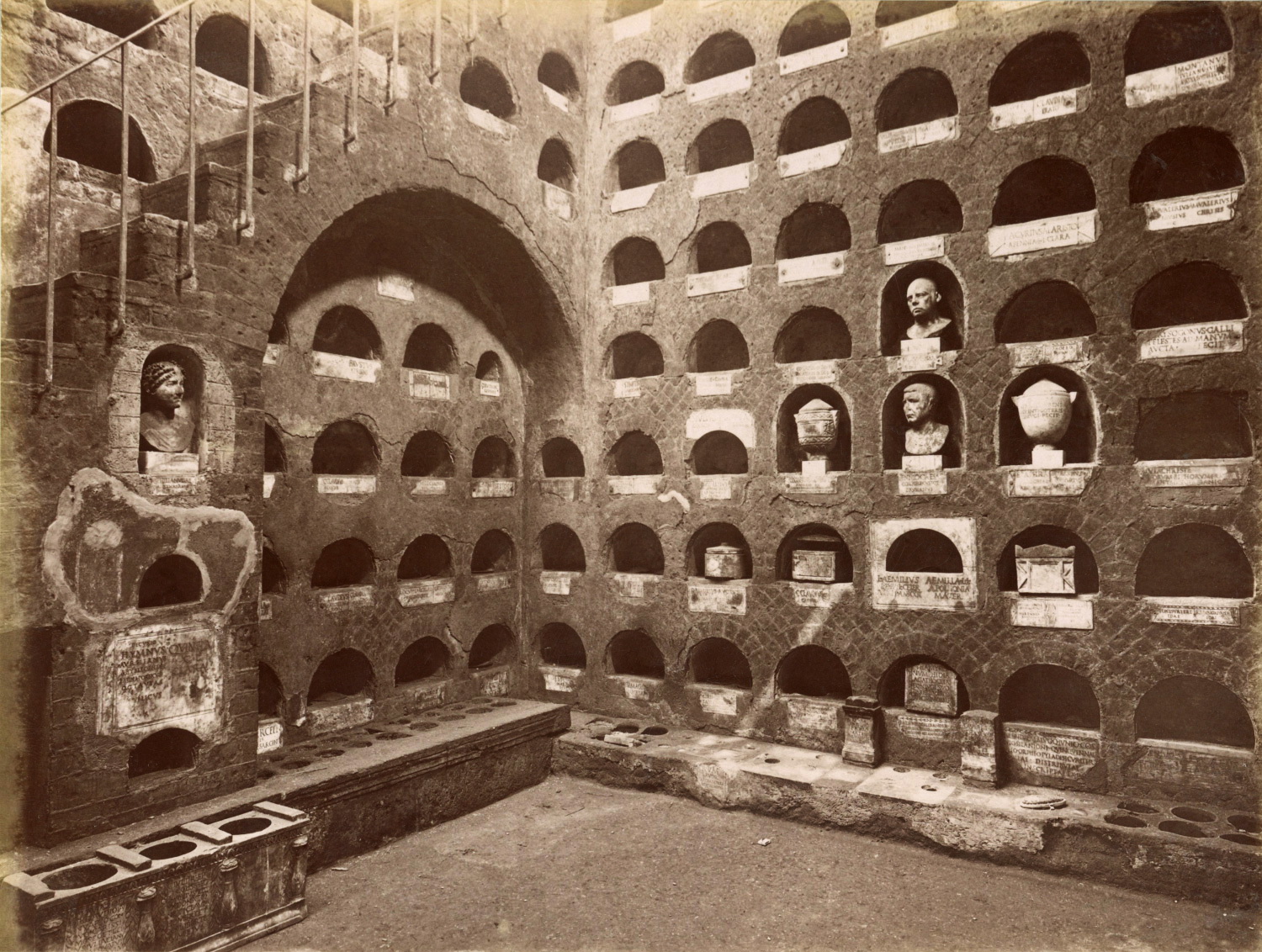 Columbarium at Vigna Codini
1st—2nd cent. CE.
Rome
Photo by James Anderson
Columbarium at Vigna Codini.
Rome
(Roma).
Credits:
Albumen print, 20 × 25 cm, ca. 1885.
Photo:
James Anderson (1813—1877)
, No. 264.
Inscription on the photo: 264. Roma. Colombario nella Vigna Codini. Anderson.
Inscription in the catalog (Catalogo delle Fotografie die D. Anderson. Catalogo I. Roma: Vedute, Musei, Gallerie e Contorni, Roma 1899, p. 1): 264 —
Colombaria di Gneo Pomponio nella vigna Codini,
presso Porta S. Sebastiano: Camera con la scala.
Keywords: αρχιτεκτονική architectura architecture architettura architektur γλυπτική sculptura sculpture sculptural scultura skulptur ρωμαϊκό roman romana romano romani römisch römische römisches römischen römischer romain romaine romains romaines κηδεία funeral funerary funeraria funerario begräbnisskulptur beerdigung funéraire ρώμη rome roma rom urna cineraria urn for ashes per le ceneri urne für asche pour les cendres tombstone gravestone lapide monumento sepolcrale grabstein pierre tombale απεικόνιση portrait portraiture ritratto ritrattistica porträtmalerei porträt columbarium vigna codini colombario kolumbarium of a man male maschile uomo männliches mann masculin un homme woman female femminile donna weibliches frau de femme porträtbüste portraitkopf head testa kopf tête scala stair stairs staircase treppe escalier σκάλα loculus loculi cinerary niche niches nicchia nische james anderson albumen print stampa all'albume albumina albuminabzug albuminpapier impression d'albumine tirage albuminé contact contatto kontaktabzug gnaeus pomponius gneo pomponio james 264