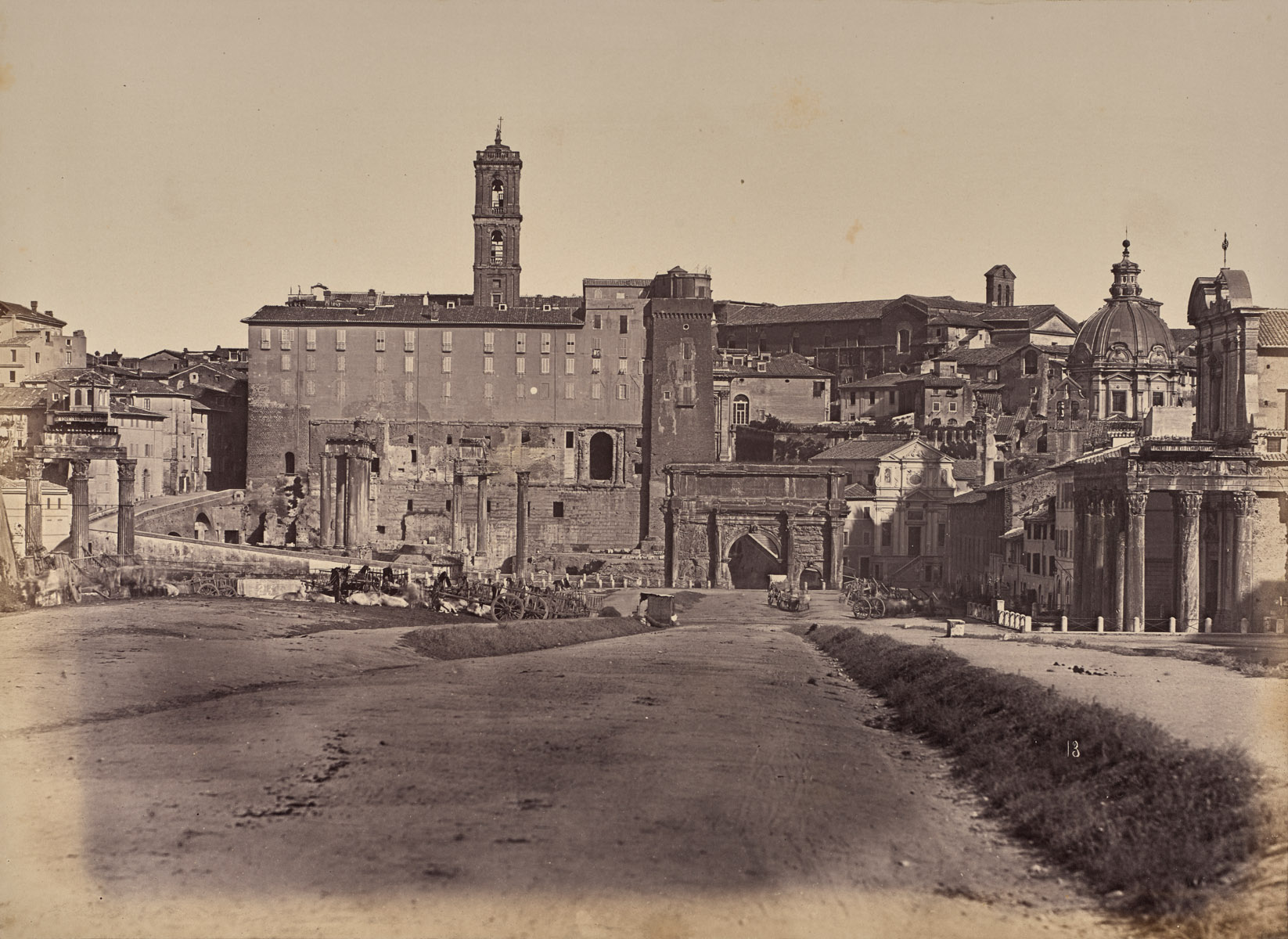 General view of the Roman Forum taken near the Arch of Titus, with the Tabularium in the background, about 1853—1855
Rome, Roman Forum
Photo by James Anderson
General view of the Roman Forum taken near the Arch of Titus, with the Tabularium in the background, about 1853—1855.
Rome, Roman Forum
(Roma, Foro Romano).
Description:
View looking down a wide road across the Roman Forum, towards the Tabularium and Capitoline Hill. The clock tower of the Palazzo Senatorio can be seen above the Tabularium. The Arch of Septimius Severus is at the end of the road, which is bordered by grass along the right side.
Credits:
Photo, text:
Photographien Rom. Neapel. 1859 [Vol. II] [photo 26]
.
Albumen silver print, 29.9 × 41 cm.
Photo:
James Anderson
(1813—1877), negative about 1853—1855; print about 1853—1859.
Black printed text on white paper label: Vue générale du Forum Romain prise près de l'Arc de Titus; le Tabularium dans le fond.
Inscription on the negative: center left: 25; lower right: 13.
Inscription on the mount in pencil under the photo: 26.
(cc) 2021. The J. Paul Getty Museum, Los Angeles. Inv. No. 84.XO.251.2.32 (
CC BY 4.0
).
Digital image courtesy of the Getty's Open Content Program.
Keywords: αρχιτεκτονική architectura architecture architettura architektur ρώμη rome roma rom ρωμαϊκή αγορά forum romanum roman foro romano römischer marktplatz romain αψίδα του σεπτίμιου σεβήρου arch of septimius severus arco di settimio severo septimius-severus-bogen arc de septime sévère columna phocae column phocas colonna foca phokas-säule colonne tabularium tabulario templum antonini et faustinae faustinæ temple antoninus and faustina tempio antonino e tempel des pius und der d'antonin faustine divi vespasiani vespasian titus del divo vespasiano tito vespasianstempel du divin vespasien ναός κάστορα και πολυδεύκη aedes castoris castori pollucique castor pollux dioscuri dei càstori castortempel dioskurentempel dioscures σατούρνου saturni saturn saturno saturne kolonne säule κολόνα στύλος james anderson albumen print stampa all'albume albumina albuminabzug albuminpapier impression d'albumine tirage albuminé contact a contatto kontaktabzug 84 xo 251 2 32