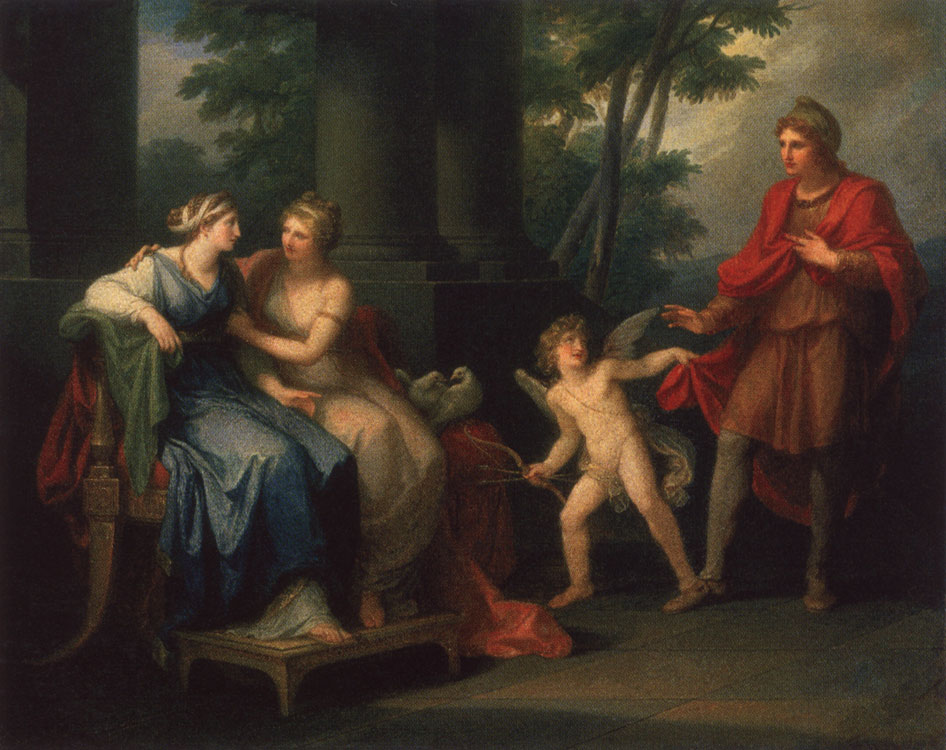 Venus is persuading Helen to love Paris
Angelica Kauffmann (1741—1807).
Oil on canvas. 102 × 127.5 cm.
In the centre, on the plinth of a column, signature and date — Angelica Kauffmann pinx. 1790
Saint Petersburg, The State Hermitage Museum
Inv. No. ГЭ 5350.
Venus is persuading Helen to love Paris.
Angelica Kauffmann (1741—1807).
Oil on canvas. 102 × 127.5 cm.
In the centre, on the plinth of a column, signature and date — Angelica Kauffmann pinx. 1790
Inv. No. ГЭ 5350.
Saint Petersburg, The State Hermitage Museum
Origin:
Receipt: 1925, from the Palace-Museum of princes Yusupovs, Leningrad.
The picture is painted under N.B. Jusupov's order, originally it was contained in the palace on Fontanka, Saint Petersburg;
after 1810 it was transported to the manor Arkhangelskoe near Moscow;
in 1831 it was sent to the Moscow house;
since 1837 — in the palace on Moika, Saint Petersburg;
in 1919—1924 — in the Palace-Museum of the Yusupovs.
Credits:
© Photo, text: Antichnoe nasledie v iskusstve Zapadnoi Evropy. Katalog vystavki. s. 78 cat. No. 67.
© 2004 — Gosudarstvennyi Ermitazh, Sankt-Peterburg.
© 2004 — AO "Slaviya", Sankt-Peterburg.
© 2004 — OOO "Kompaniya "Bazovyi element", Moskva.
Keywords: μοντέρνα ζωγραφική modern painting pittura moderna malerei peinture moderne ελληνική μυθολογία mythologia graeca greek mythology mitologia greca griechische mythologie grecque ρωμαϊκή μυθολογία mythologia romana roman mythology mitologia römische mythologie romaine ἀφροδίτη αφροδίτη aphrodite aphrodite afrodite aphrodite aphrodite πάρις paris paride pâris ἔρως έρως eros éros amor cupid amore cupido éros amour βένους venus venus venere venus vénus venus is persuading helen to love paris angelica kauffmann oil on canvas signature and date angelica kauffmann pinx 1790 helen of troy beautiful the trojan war aphrodite afrodite venus venere bow arrows pigeon dove sandal sandals inv no гэ 5350