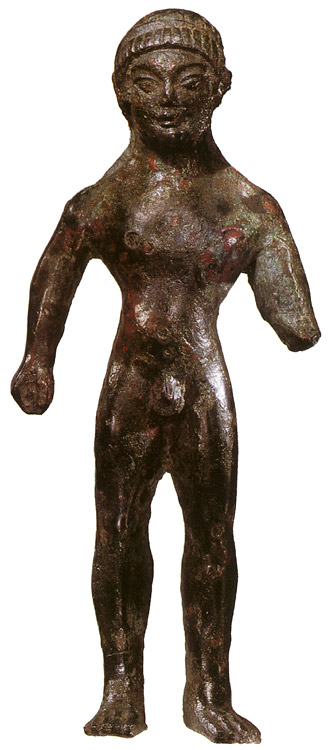 An athlete
Bronze. First quarter of the 5th century BCE. Etruscan.
Height 9 cm.
Private collection, Geneva
An athlete.
Bronze. First quarter of the 5th century BCE. Etruscan.
Height 9 cm.
Private collection, Geneva.
Origin:
No indication.
Description:
Solid-cast by the lost wax process, carefully burnished and incised in the cold.
Condition: patina anthracite-green on parts where surface still very smooth, but most of it somewhat irregular with patches of cuprite and green cuprous chloride and incrustations of hard earth, particularly over face. Left forearm missing. This statuette was the decorative element, the finial that adorned the top of a candelabrum. The candelabrum would have been composed of a tripod surmounted by a long vertical shaft to which near its upper extremity was affixed a branch-like element terminating in four spikes
1
crowned by our statuette on its profiled base.
This hollow spool-shaped element, decorated with a row of pearls on an upper moulding, is centrally pierced through the radius from the outside-in with a round hole almost coming through to the opposite side. This enabled a pin to affix our figure on top of the shaft. A comparison, so close in every detail as to be not only from the same workshop, but by the same hand, is the statuette in the Joslyn Art Museum
2
. Most unfortunately, its provenance as to find-spot or region is unknown.
Vulci was the greatest and most important Etruscan bronze centre, active for over three hundred years. It was particularly specialized in what must have been the virtual mass-production of highly decorative vessels and utensils: tripods, incense burners, candelabra, cistas supported by beautiful feet, etc. The output and the prestige of this production was such that obviously there were several workshops and, we expect, some in adjacent territories whose style reflected Vulcian influence. Though a great many bronzes can be ascribed with certainty to Vulci (see for instance, cat. no. 57), we are unsure as to a precise attribution for our kouros.
Although his function as a candelabrum finial and the Ionian influence he exudes are in keeping with Vulcian production, not to mention his eyes, facial expression and hairstyle, he is unusually delicate and finely engraved for Vulci. The writer wonders whether he and his brother in the Joslyn Art Museum might not be from a Chiusine workshop. After all, Chiusi was also known for producing utensils and much commerce reaching this centre would have transitted through Vulci.
—————————
1 Each spike jutting out radially at right angle from the next. The central point of the three-part element longer to enable the candle to be affixed on its end. For an illustration of this, we have a wall-painting: Golini tomb II in Orvieto (M. del Chiaro, Re-exhumed Etruscan bronzes, Santa Barbara 1981, p. 23, fig. B).
2 Omaha, Nebraska (USA): M. del Chiaro op. cit. no. 20, pp. 24—5, ill. 20 pp. 46-7. The comparisons given in this catalogue are not really pertinent — they are more of the type than of the specifics that enable attribution to a region.
G. Ortiz
Literature:
Exhibited and Published: Le Sport dans la Grèce Antique. Du Jeu à la Compétition, Palais des Beaux-Arts, Brussels, 23 January — 19 April 1992 (catalogues in French and Flemish); El deporte en la Grecia Antigua. La génesis del olimpismo, Centre Cultural of the Fundació "la Caixa", Barcelona, 13 May — 9 August 1992 (catalogues in Spanish and Catalan); cat. no. 106 pp. 242-3.
Credits:
© 1993. Photo, text: Olympism in antiquity. Olympic Museum Lausanne. Bertelsmann UFA. Industria Gráfica S. A. Barcelona, 1993, p. 81 cat. no. 24.
© Photographer — P. Goetelen (Geneva).
© 1993 — Comité International Olympique.