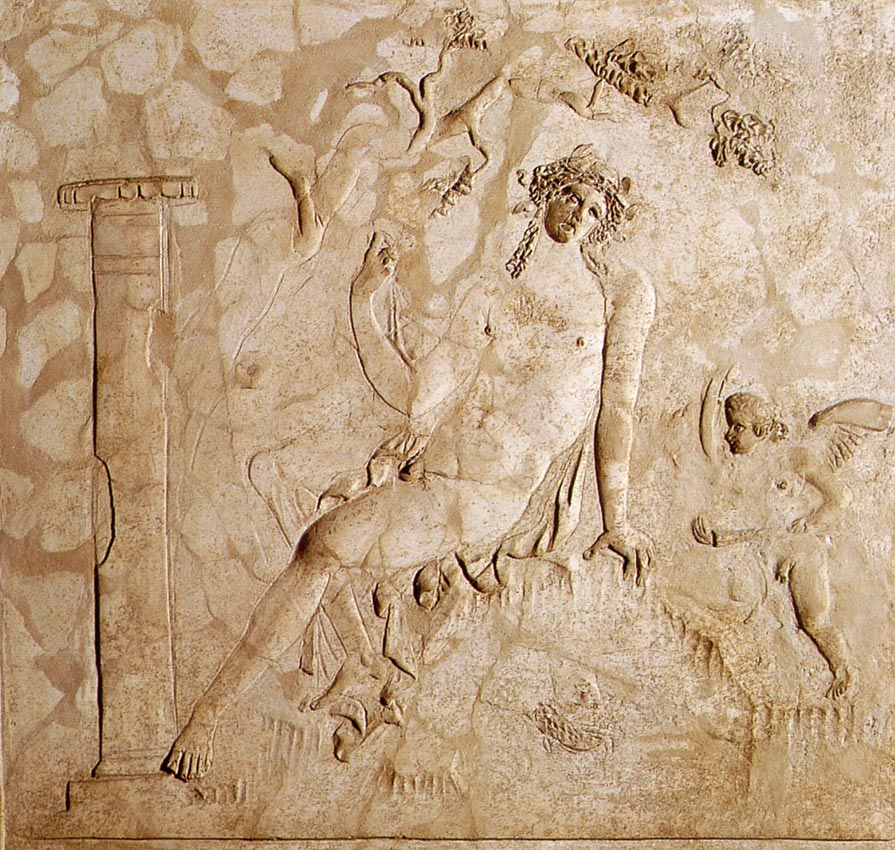 Narcissus at the fountain
From the villa of Petraro, near Stabiae.
95 × 95 cm.
Inv. No. 61002.
Naples, National Archaeological Museum
Narcissus at the fountain.
From the villa of Petraro, near Stabiae.
95 × 95 cm.
Inv. No. 61002.
Naples, National Archaeological Museum
(Napoli, Museo archeologico nazionale).
Description:
This painting represents the myth of the young Narcissus at the fountain, which decorated the west wall of the
frigidarium
at the villa, framed by ridged pilaster strips with cushion capitals and necking with
ovoli
. The white plaster base has a double cornice with
ovoli
and fillets, showing a young man in a dominant position, seated in a languid pose on a rock. His right hand clasps a fold of the mantle which covers his shoulders and his knee, while the left hand rests on the rock, acting as a support. His head is slightly bent, and his hair is long and wavy with strong chiaroscuro tones. His legs, like the rest of his body, hang loosely: the right leg is bent and the left extended in the foreground, resting on the base of the column which frames the scene on the left. The young man is looking towards a pool, which can be glimpsed below the rock and reflects his face. Behind him to the right a cupid advances holding a torch, the light shining down, who is the bearer of the sad omen of death. The scene consists of the column in the foreground, a simple structural element, and on the opposite side a large leafy tree with highlights in chiaroscuro showing jagged branches laden with leaves.
This scene is typical of the many versions of the myth painted in the Vesuvian area. The allusion to water is perfect for an environment like the frigidarium, and recurs in the representation of the river god which decorated the facing wall in the same room.
The decorative style, classicism and impressionist technique are typical of the Neronian period. This painting shows stylistic features of an atelier working just before the eruption of Vesuvius. In fact, the decoration of the baths was halted by the catastrophe on 24th August 79 AD while it was still being painted, as is evident from the excavations.
Anna Maria Sodo
Literature:
Bibl:. De Caro 1987, pp. 17—19, fig. 12 and bibliography already mentioned; Sodo, in In stabiano. Cultura e archeologia da Stabiae: la città e il territorio tra l'età arcaica e l'età romana. Castellammare di Stabia, 2001, p. 138, no. 262.
Credits:
© 2001 Photo, text: Pompeii. Images from the buried cities. Electa, Napoli, 2001, p. 86, no. 30.
Keywords: ελληνική μυθολογία mythologia graeca greek mythology mitologia greca griechische mythologie grecque νάρκισσος narkissos narcissus narciso narziss narcisse ἔρως έρως eros éros ρωμαϊκή romana roman römische romaine amor cupid amore cupido amour γλυπτική sculptura sculpture sculptural scultura skulptur ρωμαϊκό romano romani römisch römisches römischen römischer romain romains romaines ανακούφιση relief rilievo render stucco stuck stuc winged alato geflügelt ailé alatus alata φτερωτό column colonna kolonne säule colonne columna κολόνα στύλος fountain fontana fontäne springbrunnen fontaine πίδακας blazing burning torch torcia accesa brennende fackel brûlant flambeau half-naked seminude seminudo halbnackter à moitié nu sacred tree albero sacro heiliger baum arbre sacré seated sitting siede seduta seduto sitzt sitzende sitzender assis assise nude man uomo nudo nackt nackter mann homme extinct overturned invertita rovesciata umgestürzte torche inversée renversée villa petraro di somma santa maria la carita from stabiae stabian castellammare stabia stabiano stabies frigidarium at the inv no 61002