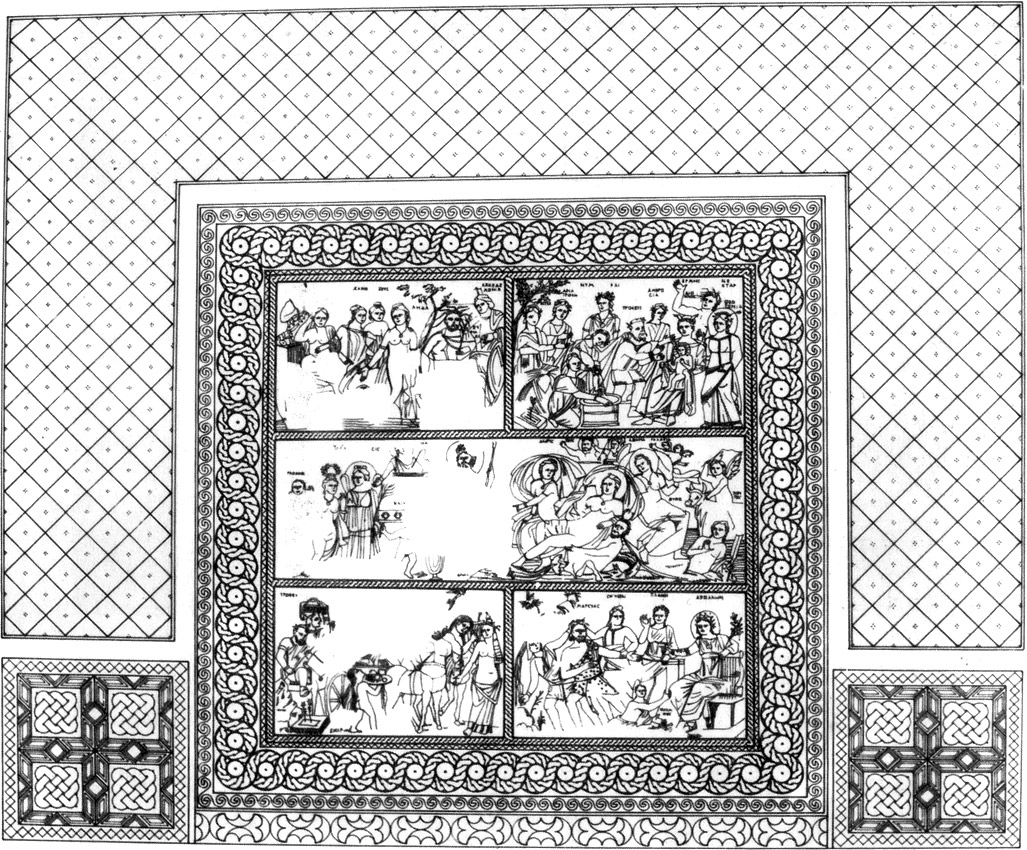 Mosaic floor in the receptional hall
Cyprus, the House of Aion.
Mid-4th cent. CE.
Paphos, Archaeological Park
Mosaic floor in the receptional hall.
Cyprus, the House of Aion.
Mid-4th cent. CE.
Paphos, Archaeological Park.
Description:
The mosaic decoration of the reception hall is composed of five figural panels within a O-shaped geometric frame opening in the direction of the entrance. The frame itself was made up of several borders, the outermost having the form of a band of white reticulatum ornament (rows of lozenges) upon a greyish background. Within this border there is a large square composed of a wave-crest and a multi-coloured guilloche. At the front, facing the entrance, there is a band of antithetical peltae, and in the front corners of the mosaic there are two squares composed of still smaller squares divided by rows of lozenges and inscribed with interlace. The figural panels were additionally provided with narrow frames composed of a crowstep ornament and a two-strand guilloche.
The pictures were set in three rows: 2—1—2. The smaller panels measure 1.99 × 1.31m., the large one 3.90 × 1.29m. All were made of stone tesserae not exceeding 2—5mm. in size. The mosaic is of exceptionally fine workmanship, the stones presenting a great variety of hues masterly used to render the volume of the figures and their individual character. All the pictures illustrate mythological subjects. At first glance they seem to be, with the exception of two, unrelated to one another and chosen in a haphazard fashion. We shall begin our description with the uppermost row of pictures.
Credits:
© 1998 Photo, text: W. A. Daszewski, D. Michaelidis. "Guide to the Paphos Mosaics". Bank of Cyprus cultural foundation, 1998. P. 63—65.