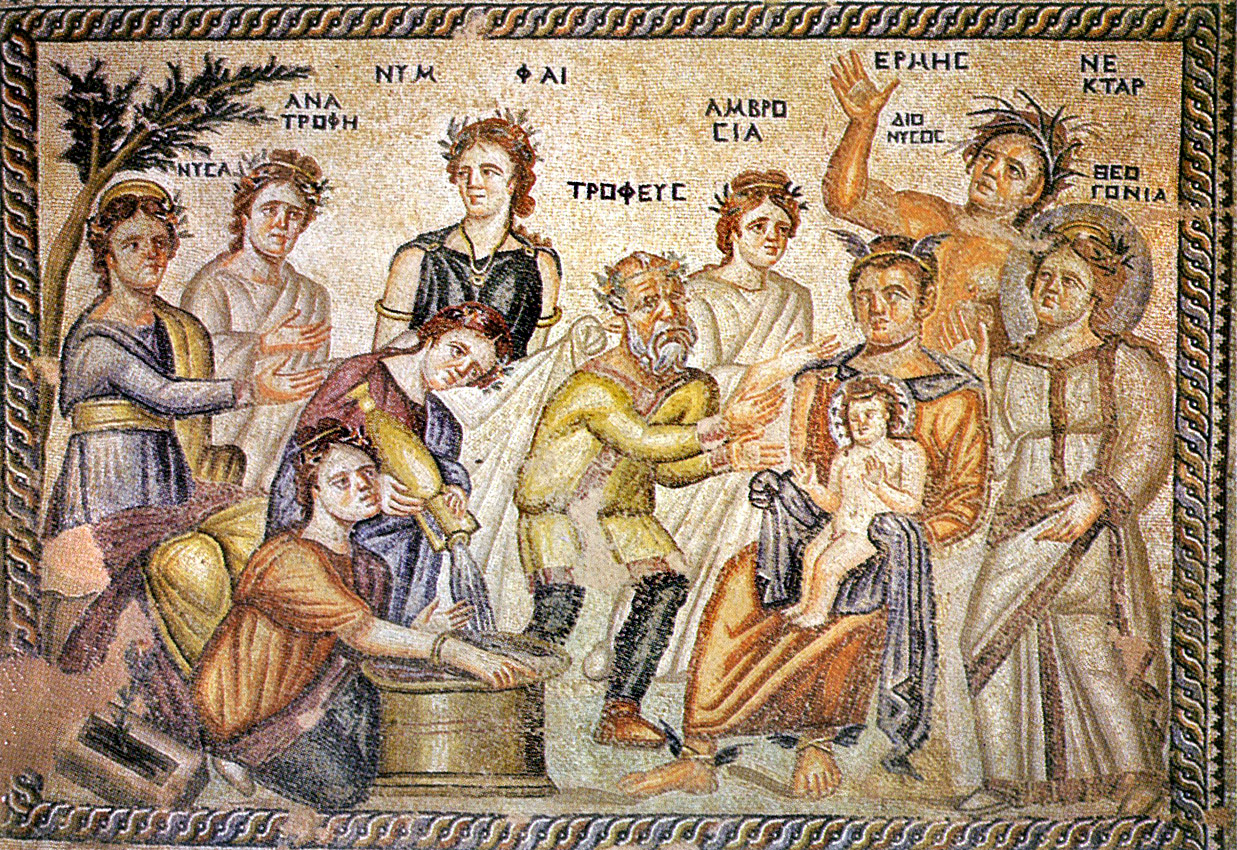 Dionysos' childhood
Cyprus, the House of Aion.
Mid-4th cent. CE.
Paphos, Archaeological Park
Dionysos' childhood.
Cyprus, the House of Aion.
Mid-4th cent. CE.
Paphos, Archaeological Park.
Description:
The scene at top right represents the moment at which baby Dionysos, seated in the lap of Hermes, is about to be handed over to Tropheus, his future tutor, and to the nymphs of Mount Nysa. Three of them are preparing his bath, while Nysa herself and a nurse, Anatrophe, sit nearby. Dionysos is naked. A golden fillet and a wreath of green leaves decorate his hair and a silvery-bluish nimbus adorns his head. Hermes is shown seated in a dignified pose resembling an emperor on a throne, clad in an ankle-length purple-red mantle. Winglets at his forehead and feet facilitate his identification which is further corroborated by an inscription giving his name. All the other figures are also identified by names written in Greek characters. The young god is accompanied by three personifications: Theogonia, the birth of gods; Nectar and Ambrosia, the divine foods assuring immortality. The nymphs in long colourful dresses, have green wreaths upon their heads which enhance the dionysiac atmosphere of the scene. Two of them wear either bracelets, armlets or a necklace. Nysa, their senior, has a broad golden diadem in addition to the wreath. Tropheus, the teacher, is dressed in a short tunic and trousers and has the pointed ears of a silenus and a wreath of green leaves with yellowish-red flowers upon his balding head. All the participants except for one nymph look attentively at Dionysos.
At first glance one is inclined to say that the scene is one of many such representations showing Hermes, who upon Zeus' order, rescues baby Dionysos after the premature death of his mother Semele and delivers him to the nymphs. Such scenes appear in Greek vase painting in the 5th century B.C. and later, on all sorts of monuments of Greek and Roman, as well as Etruscan and Coptic art. However, the unusual personifications accompanying the young god and the respectful way in which the divine child is being held by Hermes, his hands wrapped in drapery, indicate that this picture is not just a usual mythological representation of an episode from Dionysos' childhood.
Credits:
© 1998. Photo, text: W. A. Daszewski, D. Michaelidis. "Guide to the Paphos Mosaics". Bank of Cyprus cultural foundation, 1998. P. 64, 66.
Keywords: μωσαϊκό mosaic mosaics mosaica mosaici mosaik mosaïque ελληνική μυθολογία mythologia graeca greek mythology mitologia greca griechische mythologie grecque ρωμαϊκή romana roman römische romaine ἑρμῆς ερμής ἑρμείας hermeias hermes ermes ermete hermès διώνυσος dionysus dioniso dionysos νύμφη nymphe νύμφες nympha nymph nymphs ninfa ninfe nymphes σειληνός seilenos silenus sileni selenus papposilenus silenuses sileno papposileni silenos silen papposilen silène papposilène μερκούριους mercurius mercury mercurio merkur mercure greco greche griechisches grecquesё βάκχος bacchus bacco personification personificazione personifikation personifizierung personnification female dress clothes clothing garment abbigliamento femminile damenbekleidung vêtements pour femmes γυναικεία ρούχα male maschile herrenbekleidung hommes ανδρικά footwear footgear calzatura männerschuhe chaussures παπούτσια corona hedera ivy wreath di edera efeukranz couronne de lierre στεφάνι κισσού armilla bracelet braccialetto bracciale armband armreif armspange spange βραχιόλι chiton khiton chitone χιτών tree albero baum arbre δέντρο cloak mantello mantel manteau μανδύα tunica tunic tunika tunique barba barbatum beard bearded man uomo barbuto bart bärtiger mann barbe homme barbu γενειάδα γενειοφόρος άνθρωπος taenia tainia band ribbon fillet tenia tänie binden tænia ténia ταινία grass herbal a base erbe ghirlanda erba graskranz d'herbe child infant baby bambino kind enfant παιδί μωρό diadema diadem diadème διάδημα shoulder armlet spalla schulter-armband d'épaule torquis necklace collana halskette collier κολιέ amphora amphore anfora ἀμφορεύς αμφορέας belt cintura cingolo gurt gürtel ceinture ζώνη stephane crown krone στέφανος στεφάνη nimbus halo nimbo heiligenschein nimbe άλως talaria winged sandals sandali alati geflügelte sandalen flügelschuhe sandales ailées talonnières φτερωτά σανδάλια πτηνοπέδιλος πτερόεντα πέδαλα adornment adornments adornamento adornamenti schmuck verzierungen ornement petasus alatus hat cappello alato petaso geflügelter hut kappe des aïdes chapeau ailé κυνή αίδον κυνή αίδον κυνέη ἄιδος labrum bowl bacinella schale coupe floor pavement mosaico pavimentale bodenmosaik sol infante kleinkind säugling bébé nourrisson βρέφος wet-nurse nutrice amme nourrice bracae bracarum bracatus braccatus trousers calzone calzoni hose hosen pantalon legs foots with wings gambe alate beine beflügelten fersen jambes closed in shoes scarpe chiuse geschlossene schuhe fermées pouring water versando acqua wasser gießen verser l'eau house of aion villa d'aiôn childhood infanzia kindheit von enfance geometric pattern ornament motivo ornamento geometrico geometrisches muster geometrische verzierung motif géométrique bathing bagno balneazione baden baignade bain carrying the baby tutor tropheus nymph nysa nurse anatrophe mantle theogonia nectar ambrosia