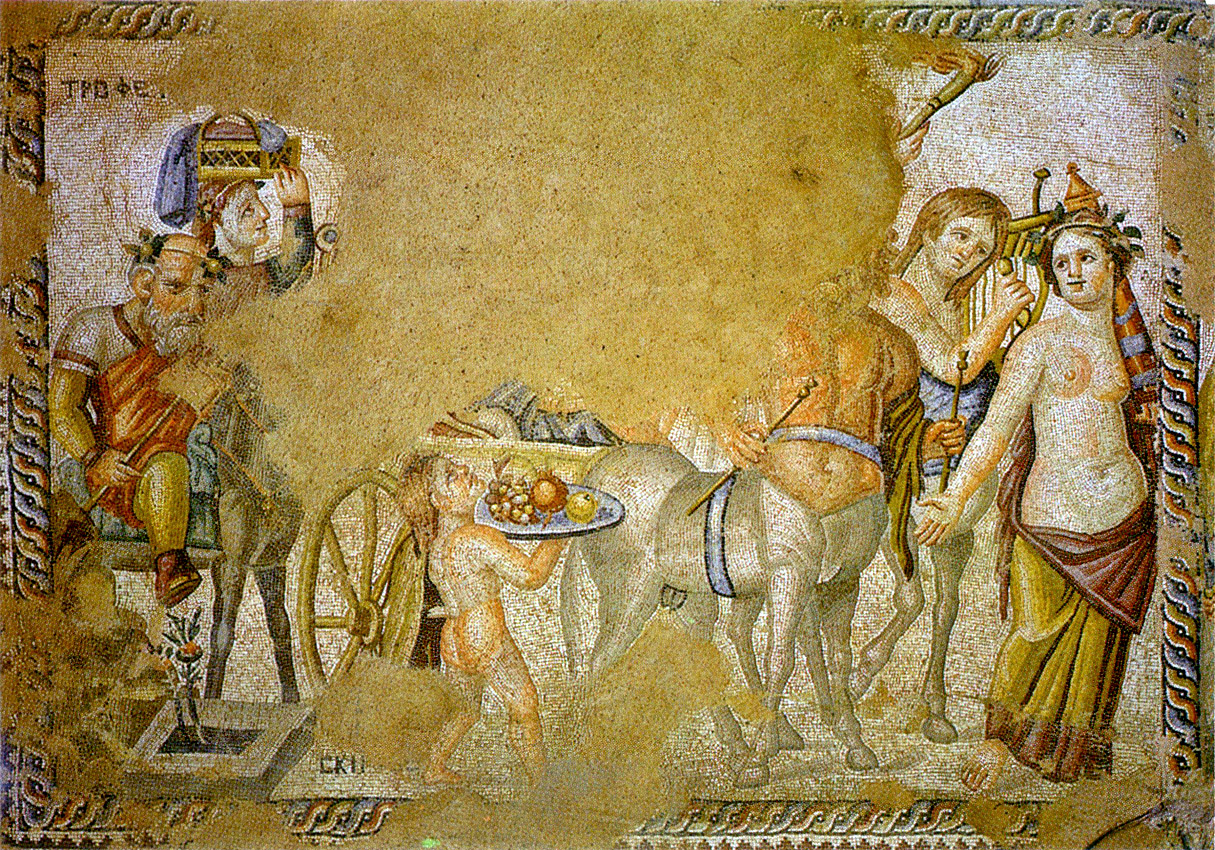 Procession of Dionysos
Cyprus, the House of Aion.
Mid-4th cent. CE.
Paphos, Archaeological Park
Procession of Dionysos.
Cyprus, the House of Aion.
Mid-4th cent. CE.
Paphos, Archaeological Park.
Description:
The bottom left panel depicts a solemn procession of the young Dionysos through the world. The god rides upon a cart driven by a pair of centaurs with a lyre and flutes in their hands. A half-naked maenad solemnly leads the group carrying a quiver upon her shoulder. A small satyr, Skirtos, brings Dionysos fruits — apples, pomegranates and grapes — arranged on a tray. Flowers spring from a square box. Tropheus, the tutor, mounted on a mule, and a girl carrying a basket on her head, follow the cart. A torchbearer once stood behind the centaurs; only his hand with a torch has been preserved. Of the god reclining on the cart, remain the crossed legs and a fragment of his blue cloak.
Although the dionysiac procession appears quite typical, its dignified appearance makes it quite different than that from the House of Dionysos in Paphos and especially those on Roman sarcophagi. There are no drunken satyrs or maenads dancing in ecstasy. All the participants proceed slowly as if taking part in a solemn religious ceremony, their faces are concentrated and full of respect for the god.
Credits:
© 1998 Photo, text: W. A. Daszewski, D. Michaelidis. "Guide to the Paphos Mosaics". Bank of Cyprus cultural foundation, 1998. P. 68—70.
Keywords: μωσαϊκό mosaic mosaics mosaica mosaici mosaik mosaïque greek greca greco greche griechische griechisches grecque grecquesё mosaico floor procession dionysos bacchus bacchante cart centaur lyre flute maenad quiver satyr skirtos fruit fruits apples apple pomegranates pomegranate grapes grape flowers flower tropheus tutor mule basket torchbearer torch cloak