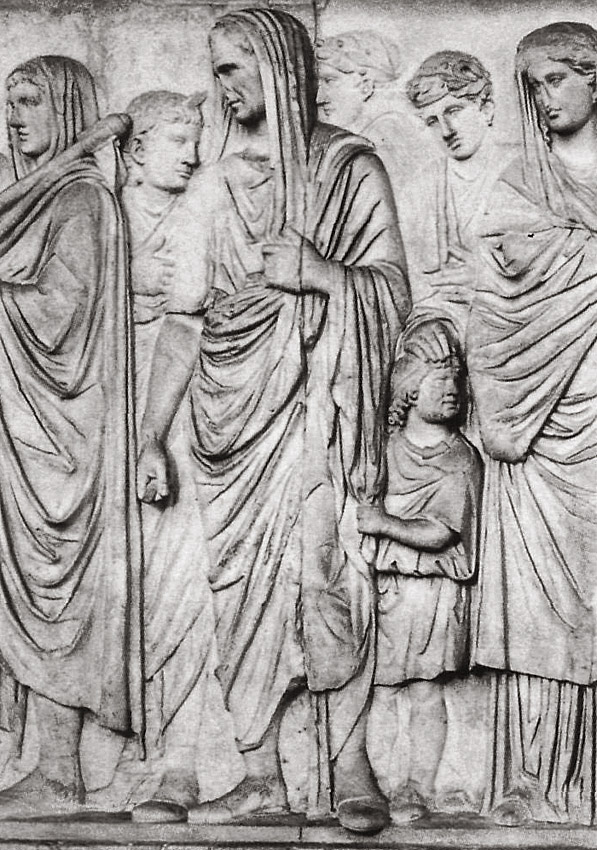 South procession. Fragment
Marble.
13—9 BCE.
Rome, Museum of the Altar of Augustan Peace (Ara Pacis Augustae)
South procession. Fragment.
Rome, Museum of the Altar of Augustan Peace (Ara Pacis Augustae)
(Roma, Museo dell'Ara Pacis).
Description:
Other than Augustus, the other personage portrayed in the procession, the identity of which is undisputable is Agrippa (south 27), the empire's strong man, the one who above any other contributed to achieve the victories upon which Rome founded its peace. Agrippa was also the princeps' friend and his son-in-law, as he had married Augustus' only daughter Julia; he was the father of Gaius und Lucius Caesar, adopted by their grandfather and destined to succeed him as rulers. Agrippa is portrayed with a hem of his toga covering his head as well, but, unlike Augustus he is not wearing a laurel wreath and has a parchment scroll in his right hand. Actually, his figure is at the same moment the dividing element and the link between two sectors of the procession: the one reserved to the State officers and the one where the members of the Augustan family are arrayed. Appearing with his head veiled, capite velato, Agrippa is portrayed as a priest (perhaps as a member of the college of the quindecemviri represented on the north side), but as one of Augustus' relatives he opens the cortege of the members of his family. With a tender gesture, a seven-year-old child (south 30) is clutching Agrippa's cloak: he is probably Gaius Caesar. His clothes are in the "Trojan" style; he is wearing a short tunic, a diadem on his head and the torques, a stiff necklace, around his neck. This seems to allude to the Ludus Troiae, the contest celebrated in the same year, 13 BC, between the youths belonging to the Roman aristocracy, that intended to renovate the competitions of the young Trojans in honour of Anchises. On that circumstance Gaius made his first public appearance and had been acclaimed princeps iuventutis, an open reference to his succession. Gaius is looking at the following female figure (south 31) which seems to return a benignant glance. Her veiled head and the laurel wreath associate this figure of high rank to Augustus and characterize her as Livia, the princeps' spouse. For her dignity, this character stands out as the most prominent among the women portrayed in the procession. However, her identification with Julia is equally founded. In 13 BC Julia still enjoyed her father's favour, and, consequently, she could rightly appear on the relief with her husband and first-born child.
Credits:
© 2007. Photo, text: O. Rossini. Ara Pacis. Rome, Electa, 2007, p. 66.
Keywords: γλυπτική sculptura sculpture sculptural scultura skulptur ρωμαϊκό roman romana romano romani römisch römische römisches römischen römischer romain romaine romains romaines ανακούφιση relief rilievo ara pacis augustae altar of augustan peace altare della pace augustea des friedens augustus autel de la paix auguste marble south southern frieze the marcus vipsanius agrippa marco vipsanio g138 gaius caesar caius g148 livia drusilla g132 julia maior iulia giulia g139