Base with modern honorific inscription in the name of Publius Aelius Coeranus.
The base — mid-3rd century CE.
CIL XIV 3586 = ILS 1158 = Inscr. It. IV, 1, 99.
Inv. No. 1702.
Rome, Vatican Museums, Chiaramonti Museum, XXXIII. 2
(Musei Vaticani, Museo Chiaramonti)
Origin:
Tivoli.
The original
is stored in Tivoli in the Villa Gregoriana.
Description: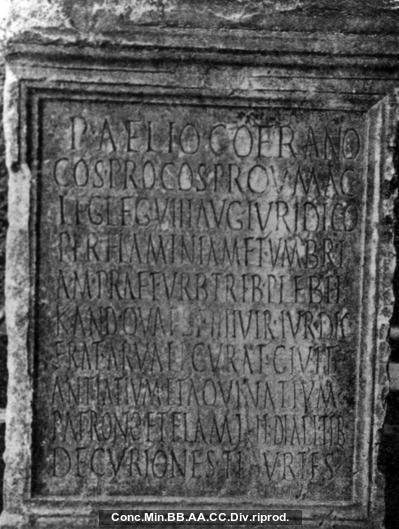 The original in the Villa Gregoriana, Tivoli.
CIL XIV 3586 = ILS 1158 = Inscr. It. IV, 1, 99.
P(ublio) Aelio Coerano / co(n)s(ulis) proco(n)s(uli) prov(inciae) Mac(edoniae) / leg(ato) leg(ionis) VIII Aug(ustae) iuridico / per Flaminiam et Umbri/am praet(ori) urb(ano) trib(uno) pl(ebei) / kand(idato) quaest(ori) IIIIvir(o) iur(e) dic(undo) / frat(ri) Arvali curat(ori) civit(atum) / Antiatium et Aquinatium / patrono et flamini Diali Tib(urti) / decuriones Tiburtes
To Publius Aelius Coeranus, consul, proconsul of the province Macedonia, legate of the 8th legion of Augustus, judge for Flaminia and Umbria, city praetor, candidate for plebeian tribunate, quaestor, quattuorvir for administering justice, Arval brother, curator of the communities of Antium and Aquinum, patron and flamen of Jupiter in Tibur—the decuriones of Tibur.
Credits:
THE GALLERY OF ANCIENT ART
Keywords: honorific inscription in the name of Publius Aelius Coeranus consul proconsul patron decuriones of Tibur Inv No 1702 XXXIII 2 CIL XIV 3586 ILS 1158 Inscr It IV 1 99 Publio Aelio Coerano consulis proconsuli provinciae Macedoniae legato legionis VIII Augustae iuridico per Flaminiam et Umbriam praetori urbano tribuno plebei kandidato quaestori IIIIviro iure dicundo fratri Arvali curatori civitatum Antiatium et Aquinatium patrono et flamini Diali Tiburti decuriones Tiburtes