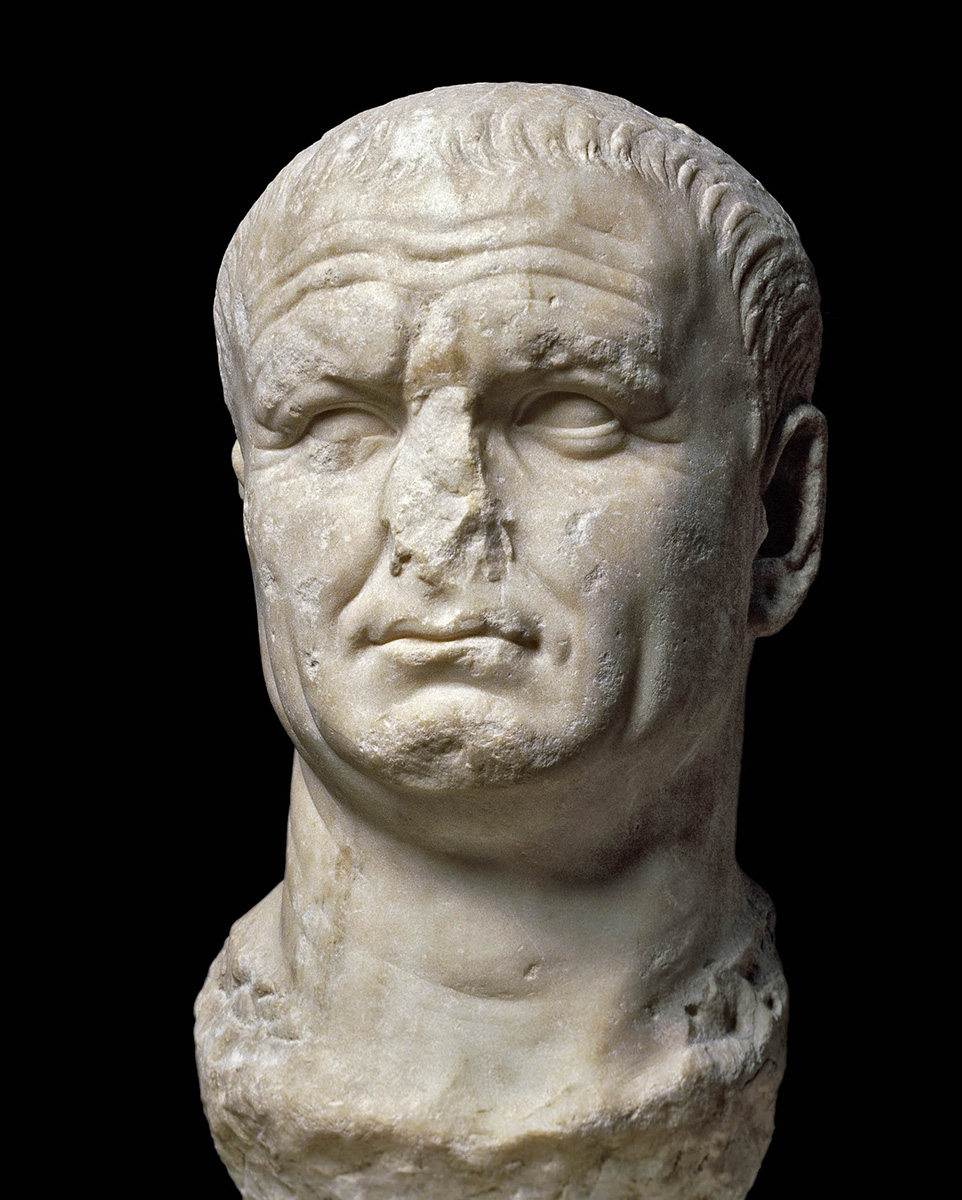 Head from a statue of Vespasian
Marble.
Rome, 70—80 CE.
Height 45.72 cm.
Inv. No. 1850,0304.35.
London, British Museum
Head from a statue of Vespasian.
Marble.
Rome, 70—80 CE.
Height 45.72 cm.
Inv. No. 1850,0304.35.
London, British Museum.
Carthage.

Origin:

Found in Carthage, northern Africa (modern Tunisia), during the excavation by Sir Thomas Reade. Purchased from John Doubleday, 1850.

Description:

Head from an over-life-sized marble statue of the emperor Vespasian, perhaps re-carved from a portrait of Nero. The nose is missing.

Date: 70—80 (59—64 Terme Type of Nero, which may have been the original portrait).

The head may have been re-carved from a portrait of Nero, after the latter's death and damnatio memoriae. This is indicated by the appearance of the marble surface on the back of the neck, where it looks like an originally longer section of hair was removed, by the disproportionatelly large ears, and by inconsistencies in the coiffure.
Portrait of the emperor: a soldier and a wit.
This naturalistic portrait of the emperor Vespasian (reigned AD 69—79) clearly shows the lined complexion of this battle-hardened emperor, and also the curious "strained expression" which the Roman writer Suetonius said he had at all times. The loss of the nose is characteristic of the damage often suffered by ancient statues, either through deliberate mutilation or through falling or being toppled from their base.
Vespasian was born in the Roman town of Reate (Rieti), about forty miles (sixty-five kilometres) north-west of Rome in the Sabine Hills. Vespasian distinguished himself in military campaigns in Britain and later became a trusted aide of the emperor Nero. Together with one of his sons, Titus, Vespasian conquered Judaea in AD 75 and celebrated with a magnificent triumphal procession through Rome. Part of the event, in particular the displaying of the seven-branched candlestick or "Menorah" from the Temple at Jerusalem, is shown on the Arch of Titus, in Rome. The proceeds from the conquest of Judaea provided funds for the building of the Colosseum and other famous buildings in Rome.
Vespasian was known for his wit as well as his military skills. When, during one of his attempts to boost the treasury, Vespasian raised a tax on public urinals. Titus complained that this was below imperial dignity. Vespasian is said to have held out a handful of coins from the new tax and said "Now, do these smell any different?". Even on his death bed Vespasian's wit did not desert him. He was perhaps parodying the idea of the deification of emperors, when he said "Oh dear, I think I'm becoming a god".
Literature:
B. Levick, Vespasian (Routledge, 1999).
S. Walker, Roman art (London, 1991), pp. 27—28, fig. 28.
S. Walker, Greek and Roman portraits (London, The British Museum Press, 1995), pp. 13—14, fig. 7.
M. Bergmann and P. Zanker, "Damnatio Memoriae": Umgearbeitete Nero- und Domitiansportraets. Zur Ikonographie der flavischen Kaiser und des Nerva, in: JDI 96 (1981), 317—412 [this head p. 344 no. 8 fig 20].
E. R. Varner, Mutilation and Transformation. Damnatio Memoriae and Roman Imperial Portraiture (Leiden 2004).
Credits:
Keywords: απεικόνιση portrait portraiture ritratto ritrattistica porträtmalerei porträt of a man male maschile uomo männliches mann masculin un homme portraitkopf roman romana römisches romain αυτοκρατορικό imperial imperiale kaiserliches impérial ρωμαίος αυτοκράτορας βεσπασιανός imperator vespasianus emperor vespasian imperatore romano vespasiano römischer kaiser empereur vespasien gens flavia flavii the flavian dynasty dinastia flavier dynastie famille flaviens γλυπτική sculptura sculpture sculptural scultura skulptur ρωμαϊκό romani römisch römische römischen romaine romains romaines κεφάλι κεφαλή head testa kopf tête marble marmo marmor marbre μάρμαρο inv no 1850 0304 35