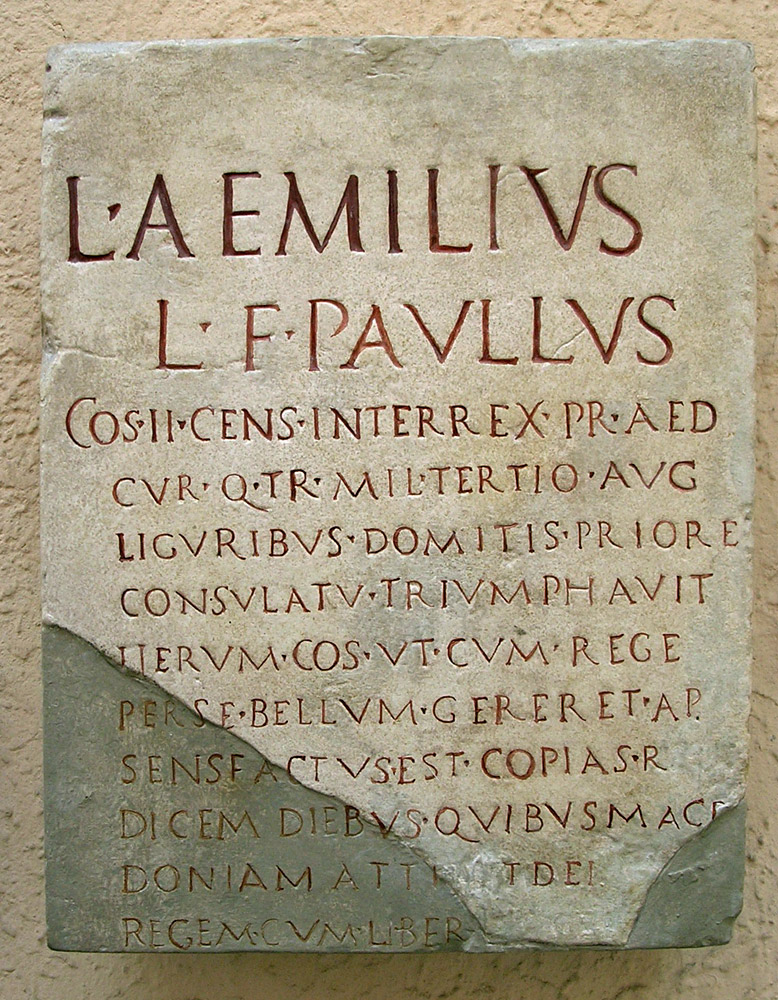 Inscription praising the consul Lucius Aemilius Paullus, who defeated the Ligurians in 181 BCE and King Perseus of Macedon in 168 BCE.
Augustan age (27 BCE — 14 CE). Copy.
CIL XI 1829 = CIL I, p. 194 = ILLRP 81 = ILS 57.
Rome, Museum of Roman Civilization
(Museo della civiltà romana)
Origin:
From Arezzo. Original at "G. Ń. Mecenate", National Archaeological Museum, Arezzo, Italy.
Description:
CIL XI 1829 = CIL I, p. 194 = ILLRP 81 = ILS 57
L(ucius) Aemilius / L(uci) f(ilius) Paullus / co(n)s(ul) II cens(or) interrex pr(aetor) aed(ilis) / cur(ulis) q(uaestor) tr(ibunus) mil(itum) tertio aug(ur) / Liguribus domitis priore / consulatu triumphavit / iterum co(n)s(ul) ut cum rege / [Per]se bellum gereret ap/[sens f]actus est copias regis / [decem dieb]us quibus Mac[e]/[doniam attigit] dele[vit] / [regem cum liberis] cep[it] / [
Lucius Aemilius Paullus, the son of Lucius, consul twice, censor, interrex, praetor, curule aedile, quaestor, miliraty tribune three times, augur, in his first consulship having tamed the Ligurians celebrateâ a triumph; in his absence was elected consul for the second time in order to wage war against the king Perseus; destroyed the forces of the king within ten days of arriving to Macedon, captured the king and (his) children.
Credits:
Keywords: laudatory inscription Ligures Perseus triumph consulship CIL XI 1829 CIL I p 194 ILLRP 81 ILS 57 Lucius Aemilius Luci filius Paullus consul II censor interrex praetor aedilis curulis quaestor tribunus militum tertio augur Liguribus domitis priore consulatu triumphavit iterum consul ut cum rege per se bellum gereret apsens factus est copias regis decem diebus quibus Macedoniam attigit delevit regem cum liberis cepit