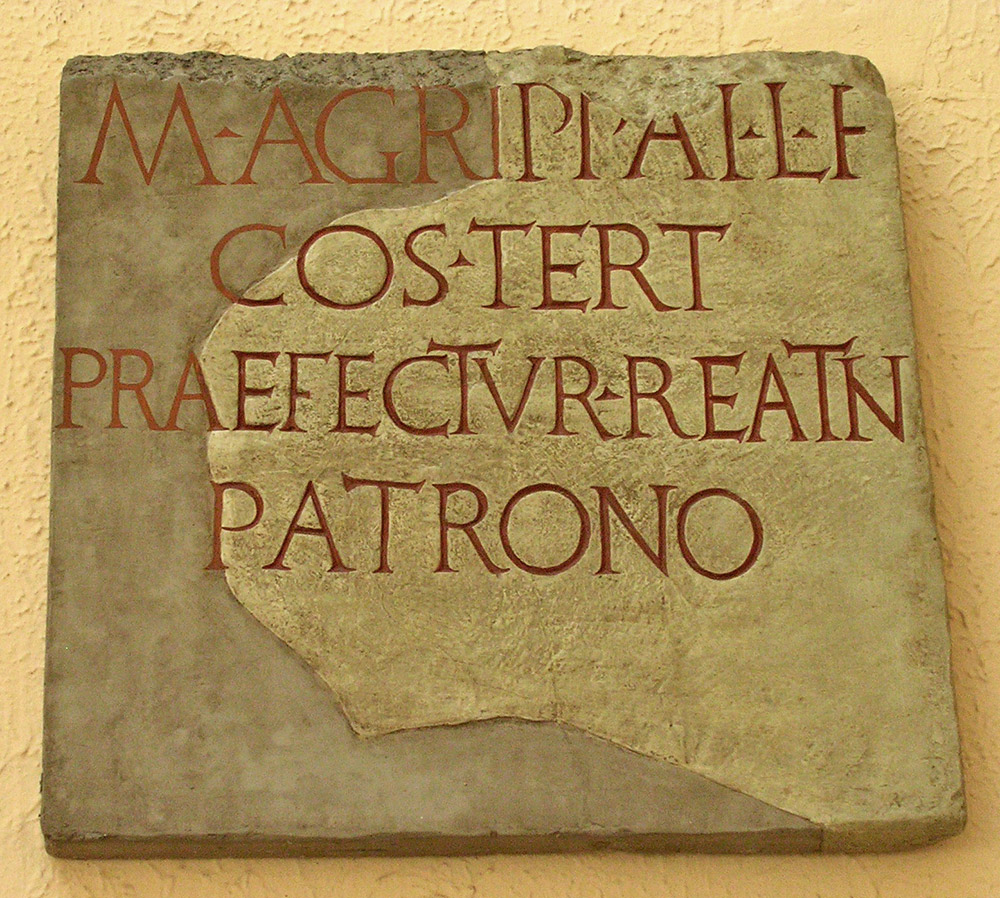 Inscription in honour of Marcus Vipsanius Agrippa.
CIL. IX. 4677 = ILS. 6543
27—18 BCE. Copy.
Height 0.43 m, width 0.56 m, depth 0.063 m, height of the letters 0.07—0.083 m.
Inv. No. MCR 281.
Rome, Museum of Roman Civilization
(Museo della civiltà romana)
Origin:
Original is found in the enclosing wall of the old prison of Rieti (
CIL
), during the demolition of the church of San Giovanni in Statua (
Rieti Museum
information); now in the City museum of Rieti.
Description:
CIL
. IX. 4677 =
ILS
. 6543
[M(arco) Agr]ịppai L(uci) f(ilio)
co(n)s(uli) tert(ium),
[pra]efectur(ae) Reatin(ae)
patrono
[To Marcus Agr]ippa, son of Lucius, consul for three times, patron of the prefecture of Reate
ρ.443 CIL. IX. 4677. Reate iacebat inter macerias ad antiquum carcerem Reatinorum; hodie in curia Schen. Ibidem adhuc.
Descripsi et recognovi. Schenardi p. 46; Henzen n. 6965 ad exemplum meum; Garrucci n. 3.
Th. Mommsen
p.619 ILS. 6543 [M. Ag]rippa L. f. | cos. tert.,1 | [pr]aefectur. Reatin. | patrono.
Reate (IX. 4677 vidit Mommsen).
1
Cf. supra N. 129, 130.
Alios tilulos Reatinos habes supra N. 2460, 3410, 4033.
Praefectura Amiternina supra N. 3701.
H. Dessau
Literature:
CIL. IX. 4677
ILS. 6543
Spadoni M. C. Reate-Ager Reatinus //Supplementa Italica. Vol. 18; Roma, 2000. P. 69.
Credits: