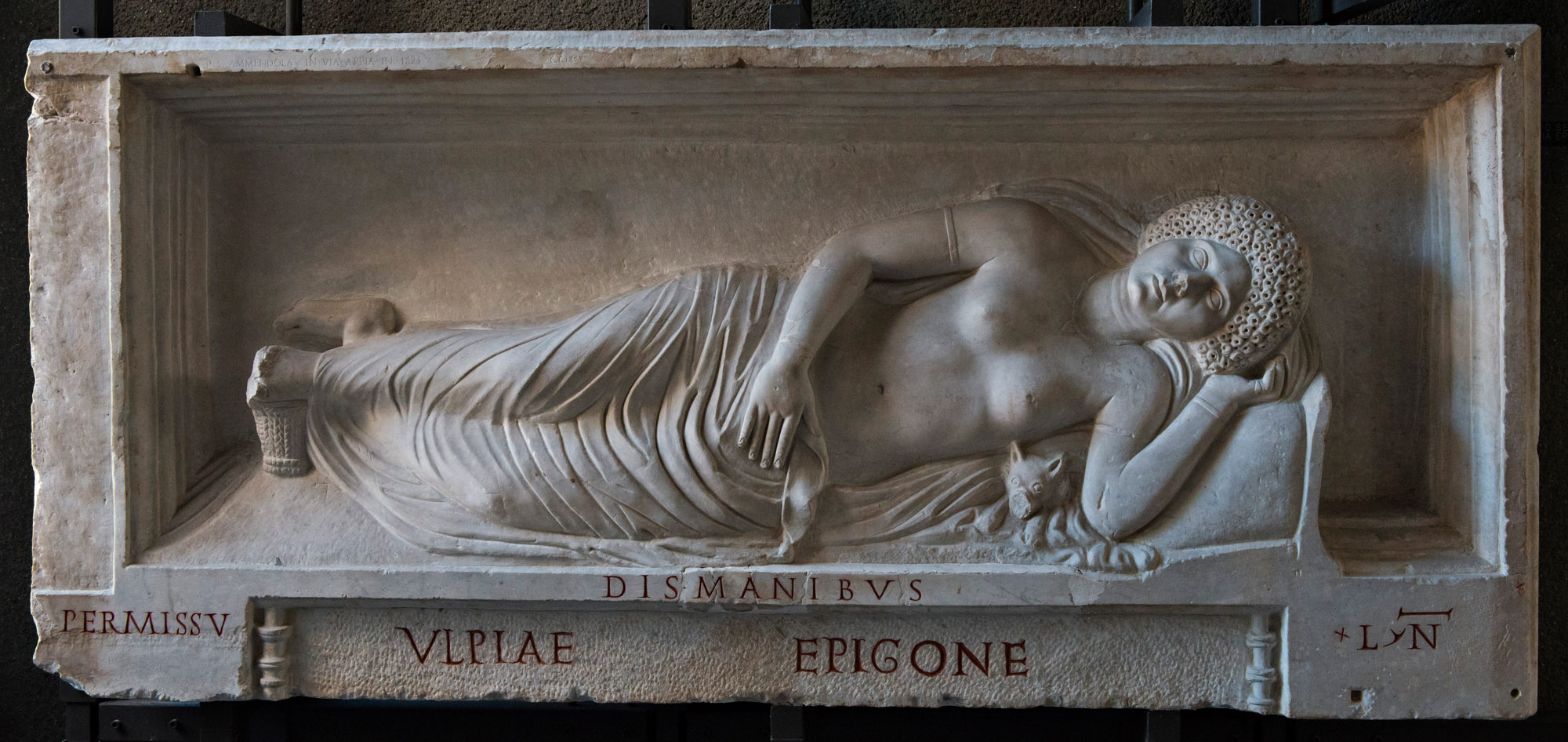 Funerary relief of Ulpia Epigone
Luna marble.
Late 1st — early 2nd cent. CE.
119 × 205 cm.
CIL VI 7394.
Inv. No. 9856.
Rome, Vatican Museums, Gregorian Profane Museum
Photo by Egisto Sani
Funerary relief of Ulpia Epigone.
Luna marble.
Late 1st — early 2nd cent. CE.
119 × 205 cm.
CIL VI 7394.
Inv. No. 9856.
Rome, Vatican Museums, Gregorian Profane Museum
(Roma, Musei Vaticani, Museo gregoriano profano).
Rome, Lateran Museum.

Rome, Via Appia.

Origin:

Found 1825 by Pier Sante Ammendola in the podere Cantoni between the second and third mile of the Via Appia Antica.
Acquired by the Vatican in 1827 for 80 scudo.
Until 1963 in the Lateran Museum, room IV, no. 254.

Description:

CIL VI 7394:

Dis Manibus Ulpiae Epigone. Permissu Luci nostri.

Gli scavi del 1825 ed il Bollo Camerlengale C. C. 1827, C. C. 5, 5. Come risulta da dati di archivio, nel luglio del 1827, il Camerlengato acquistò per i Musei Pontifici, al prezzo di 442 scudi e 50 bajocchi, dal sig. Pietro Sante Ammendola, un numero molto cospicuo di iscrizioni. Si trattava di 23 reperti «tra cippi e cinerari», 46 lastre iscritte, «circa 100 frammenti di altre iscrizioni e alcuni frammenti di marmo». Dell'intero gruppo, nell'atto di acquisto del Camerlengato7, si indica come provenienza indistinta il monumentum Volusiorum. Tutto questo materiale era stato trovato dall'Ammendola stesso nel 18258 non nella sua proprietà, ma durante scavi effettuati nel podere di proprietà Cantoni (podere adiacente a quello dell'Ammendola, come risulta dai dati d'archivio) fra il secondo ed il terzo miglio della via Appia antica: questa precisazione va fatta in quanto C.I.L. VI non tiene conto dell'esistenza del podere Cantoni (forse perché non a conoscenza dei documenti manoscritti di cui mi sono servito) e colloca genericamente tutte le scoperte relative al monumentum Volusiorum «in vinea Ammendola»9.

7

Archivio di Stato: Camerlengato, parte II, titolo IV, busta 156, fascicolo 217.

8

Vd. anche

C.I.L.

VI p. 1043.

9

Dalla vigna Ammendola provenivano, invece, altre 20 iscrizioni dallo stesso vendute, sempre nel 1827, ai Musei Pontifici al prezzo di 20 scudi, ritrovate durante scavi effettuati nel proprio podere nel 1823; si trattava di materiale non pertinente ad un unico colombario e comunque estraneo a quello dei Volusi. Dall'elenco stilato da Filippo Aurelio Visconti, Segretario della Commissione Archeologica Consultiva di Antichità e Belle Arti, allegate all'atto di acquisto, si nota come il materiale sia eterogeneo; dalle ricerche fatte nei Musei Vaticani ho potuto rintracciare le venti lastre riportate nella lista: si tratta di materiale già edito; inoltre, cosa che gli editori di

C.I.L.

VI trascurarono di ricordare, tutti questi marmi recano inciso il Bollo Camerlengale

C.C. 1827

(vd.

infra

); si resta in dubbio per

C.I.L.

VI 7456, nr. 5 della lista: la lastra in travertino si trova attualmente murata nella Galleria Lapidaria dei Musei (riq. XII, 20; nr. inv. 5822) e non è possibile, quindi, constatare se, come frequentemente accadeva, il Bollo Camerlengale

C.C. 1827

sia inciso sui bordi della lastra. […]

Marco Buonocore (1984)
Dis Manibus Ulpiae Epigone
This sepulchral relief portraying a reclining woman with a wool basket, is exceptional in its combination of elements from different traditions of Roman commemorative art. A mythological portrait and an emblematic representation of the traditional virtues are both suggested within the format of the "kline" relief. While the basket refers to her expertise in household management, her nudity proclaims that she was also attractive and fertile enough to bear children.
This relief originally adorned the façade of the Tomb of the Volusii on the Via Appia outside of Rome. The relief is made in Luna (Luni) marble, and is 0.92 m tall and about 2 m long. It dates to the late 1st or early 2nd cent. AD.
E. D'Ambra
Literature:
W. Altmann, Die römischen Grabaltäre der Kaiserzeit (Berlin 1905) 58 Ill. 50 Cat. no. 16; ll. 50 Cat. no. 16;
O. Benndorf — R. Schöne, Die antiken Bildwerke des Lateranensischen Museums (Leipzig 1867) 314 Cat. no. 448;
M. Buonocore, Schiavi e liberti dei Volusi Saturnini. Le iscrizione del colombario sulla Via Appia antica (1984) Cat. no. 69 Pl. 13, 36;
W. Helbig, Führer durch die öffentlichen Sammlungen klassischer Altertümer in Rom. Die päpstlichen Sammlungen im Vatikan und Lateran I4 (Tübingen 1963) Cat. no. 1030;
G. Marucchi, Musei e Gallerie Pontificie IV. Guida del Museo Lateranense Profano e Cristiano (Rom 1922) 25 Cat. no. 254;
F. Sinn, Reliefs, Altäre, Urnen, Museo Gregoriano Profano ex Lateranense. Katalog der Skulpturen 1, 1, MAR 17 (Mainz am Rhein 1991) 36 f. Cat. no. 13;
R. West, Römische Porträt-Plastik II (München 1941) 48 f. Pl. 14, 46;
Epigrafia 2006 (Tituli 9), Roma 2008, p. 313, A.3 (I. Di Stefano Manzella).
Credits:
(cc) 2014. Photo:
Egisto Sani
/
Flickr
(
CC BY-NC-SA 2.0
).
© 1984. Description (1): Marco Buonocore. Schiavi e liberti dei Volusi Saturnini. Le iscrizioni del colombario sulla via Αρρia antica. L'Erma di Bretschneider. Roma 1984.
P. 25, 27, 32.
© 1989. Description (2): E. D'Ambra. The Cult of Virtues and the Funerary Relief of Ulpia Epigone. Latomus T. 48, F. 2, 1989.
2021. Add. information:
https://arachne.dainst.org
.
Keywords: epigraphia epigraphy inscription iscrizione epigrafia epigraphik epigrafik inschrift épigraphie roman romano romana romani römisch römische romaine gravestone funerary inscriptions epitaph in pietra tombale epitaffio grabstein-inschrift de pierre épitaphe απεικόνιση portrait portraiture ritratto ritrattistica porträtmalerei porträt of a woman female femminile donna weibliches frau femme relief reliefs rilievo sollievo porträtrelief γλυπτική sculptura sculpture sculptural scultura skulptur ρωμαϊκό römisches römischen römischer romain romains romaines κηδεία funeral funeraria funerario begräbnisskulptur beerdigung funéraire tombstone lapide monumento sepolcrale grabstein ανακούφιση hairdo hairstyle pettinatura acconciatura weibliche frisur coiffure féminine θηλυκό χτένισμα marmor lunensis luna carrara marble marmo lunense carrarese lunensischer carrarischer carrara-marmor marbre carrare luni μάρμαρο καρράρα γυναίκα armilla shoulder bracelet armlet bracciale braccialetto spalla schulter-armband armspange d'épaule torquis necklace collana halskette collier κολιέ frizzle curl arricciamento arricciolamento ricciolo riccio krause ringel frisure frisottis pulvinus pillow cuscino kissen polster oreiller μαξιλάρι anellus annellus ring anello anneau δαχτυλίδι corbis canistrum fiscina sporta wicker basket cesto di vimini weidenkorb panier en osier ψάθινο καλάθι dog cane hund chien σκυλί kline lectus triclinaris bed couch letto bett klinê lit couche κλίνη stela stele grave grabstele stèle στήλη half-naked seminude seminuda halbnackte à moitié nue via appia from the da von lying down sdraiata liegende allongée podere cantoni aus monumentum volusiorum volusia tomb volusii cardinale camerlengo pier sante ammendola 1825 c c 1827 cil vi 7394 dis manibus permissu luci nostri ulpiae epigone inv no 9856